The Tipsy 100 All-Drink Index
After a recent visit to the local doctors' surgery to register, spaceman was told that an (estimated) alcohol intake of 40 units a week was "probably a little too high". Encouraged by this vote of confidence, spaceman decided to monitor alcoholic unit consumption from the 1st of July onwards.
There was further encouragement from the reaction to spaceman's near-meticulous recording of beverages imbibed (when spaceman had a pen and paper nearby/could be arsed). Such reactions included "you sad bastard!" and "why bother?" and served to fuel spaceman's desire to make it a little more public.
Hence the creation of this landmark index, the Tipsy 100 All-Drink Index. Historically starting at 1,000.0 points on Monday 1st July 2002, the index goes up or down depending on spaceman's weekly consumption in relation to the government recommended allowance of 28 units a week. (If spaceman consumes 50 units, it goes up 22 points; if spaceman drinks 20 units, it goes down 8 points.)
The start of the month, however, has coincided with a frightening amount of alcohol being poured down spaceman's neck, which explains the rapid increase for the first three weeks... (An increase that hasn't really slowed much, if at all.)
At the end of week 14, spaceman is considering re-scaling the graph, using a base consumption of 75 units a week (the current weekly average, roughly). Using this method, spaceman can see how any attempts to cut down a bit on the old drinking will fare. Ho hum. A decision will be made shortly.
At the end of week 15, it has been decided. 75 units is the new figure that the index moves in relation to.
At the end of week 26, it was decided to call it a day...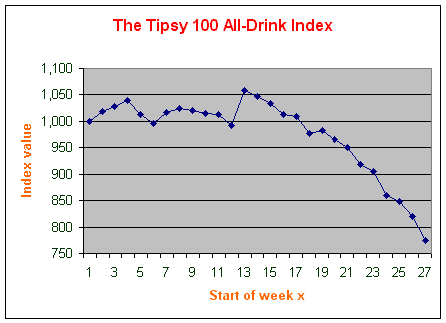 Week 1: 94.4 units
A blitzing start as, after a mere 4 bottles of beer in the first 3 days, spaceman indulges in a 4-day binge, bookended by a work curry night and a visit to the cricket (England vs Sri Lanka one-dayer). Most units: 26.9 (ouch!). Alcohol free days: 2.
Week 2: 84.5 units
A more consistent week with only the first day alcohol-free, the week more or less culminating in an all-day barbecue, the alcohol consumption at which can only be guessed at... Most units: 23.7. Alcohol free days: 1.
Week 3: 86.1 units
Spaceman's (monitored) boozing continuing relentlessly, despite an inner vow to cut down a little after two heavy weeks. However, spaceman proceeded to rack up 12 alcoholic days on the trot, finally ended on the final day of week 3. Featured this week were a birthday do and a pool afternoon/curry evening/beer night-a-thon. Most units: 28.5 (get the ambulance!). Alcohol free days: 1.
Week 4: 47.4 units
Spaceman did well this week, even resisting a free bar one day (the madman!), to rack up 4 alcohol free days at the start (5 on the trot). However, a trip to Norway for a wedding proved to be spaceman's downfall, sailing above the recommended allowance again. Most units: 20.8. Alcohol free days: 4.
Week 5: 59.3 units
A fairly average week, alcohol consumption wise. No heavy sessions, but not exactly dry either... Most units: 18.6. Alcohol free days: 3.
Week 6: 95.0 units
Oops, going so well at first, with a mere 7.2 units in the first three days... This all ended with a work social at the dogs, followed by a leaving lunch/evening do, and the finally a why-not-stay-out-'til-all-hours Saturday night. After that, Sunday was an obvious choice for rest day... Most units: 31.9 (fetch the pump!). Alcohol free days: 2.
Week 7: 82.0 units
Two curry nights (yes, two) keep the average well and truly up. Most units: 25.5. Alcohol free days: 2.
Week 8: 71.9 units
Would have been a quiet week except for a lunchtime/all afternoon/late into the night leaving do/lager for appetiser and main/aftershocks for dessert mega-bonanza. Ah well, spaceman will be good the following week. Best: 35.0 units (er, bit of guesswork in that). Alcohol free days: 2 (definitely).
Week 9: 68.5 units
Another week, another vat of alcohol. Nothing special, just a (un)healthy obsession with cans of Kronenbourg and bottles of Nastro Azzurro. Most units: 18.7 (mmm... barbecue). Alcohol free days: 2.
Week 10: 74.8 units
Er, see week 9 for details...! Most units: 21.6 (ow! sore head). Alcohol free days: 1.
Week 11: 52.8 units
Quite a quiet week (saving up for the following week). Nothing exceptional to report. Most units: 18.4. Alcohol free days: 2.
Week 12: 141.2 units
Oops. A record broken here, it seems. Spaceman is allowed the luxury of a holiday abroad, surely. This time a booze-fuelled jaunt to Ayia Napa, Cyprus. Nice. Most units: 28.7 (first full day there, oh yes). Alcohol free days: 0 (small can of Stella needed on the tedious midnight journey back...).
Week 13: 63.9 units
A relatively quiet week (by last week's standards) and below the 13-week average (currently lying around the 75 mark). Most units: 22.5 (a Friday jaunt to Leeds for a leaving do curry). Alcohol free days: 1.
Week 14: 61.2 units
An even quieter week this week, but still far in excess of the recommended maximum. Spaceman quietly decides to reign in his consumption, a plan that will not be helped by the Manchester pub crawl. D'oh! Most units: 14.4. Alcohol free days: 0.
Week 15: 54.4 units
Spaceman manages to lower his alcohol unit average despite having Day 1 of the pub crawl. Three alcohol days this week, three times as many as in the previous three weeks. Most units: 21.2 (surprise, surprise, the pub crawl). Alcohol free days: 3.
Week 16: 72.2 units
Spaceman's increasing social restraint takes a step backward, but fairly understandable given day 2 of the slow pub crawl, a work curry night at the Royal Naz and a Sunday evening jaunt to the Manchester Academy to watch Supergrass, supported by excellent new band The Libertines. Spaceman's ears are still ringing. Most units: 17.3 (the curry night narrowly beats the pub crawl night). Alcohol free days: 2.
Week 17: 42.3 units
The lowest weekly alcohol consumption by spaceman since records began. Starting off impeccably, with four straight alcohol-free days, an average Friday and a heavy Saturday (a friend's birthday do) conspire to lift it above the recommended 28. Most units: 25.0 (the Saturday, obviously). Alcohol free days: 4.
Week 18: 80.4 units
A bit of a lapse this, by spaceman's standards. Quite hard to keep the unit count down though, with two gigs (The Vines and The Electric Soft Parade), day 3 of the slow pub crawl and two birthday bashes. Spaceman promises to be good the following week... Most units: 19.3. Alcohol free days: 2.
Week 19: 59.3 units
Middle of the road week this one, with a bonfire night outing, a heavy Saturday and a few relatively quiet nights. Most units: 21.1 (the Saturday that started in time for the second half of the England vs New Zealand match). Alcohol free days: 2.
Week 20: 59.5 units
Very similar unit count to week 19, the main damage being done by a long Friday afternoon/evening in the pub. Most units: 20.4 (that Friday). Alcohol free days: 3.
Week 21: 43.0 units
Spaceman's control continues unabated (all things are relative). Almost breaking the record in week 17, spaceman notches up the second lowest total recorded by drinking weak lager and staying a lot. Were it not for a session of pool on the Wednesday, this would have been a lean week indeed, dangerously hovering near the maximum recommended amount. Most units: 15.2. Alcohol free days: 4.
Week 22: 61.7 units
A slight lapse this week by spaceman's recent standards. A stressful night watching Oldham live on Sky in the FA cup on Wednesday night didn't help (they beat Burton Albion on penalties but lost at home to Cheltenham, their bogey team, in the second round - d'oh). A solid Friday night also helped the overall total. Most units: 22.4 units (the Friday). Alcohol free days: 3.
Week 23: 28.3 units
Sound the fanfare, the record has been smashed. A careless miscalculation away from beating the government's recommended maximum of 28 units, this was a lesson in moderated drinking (of weak lager). Not even a night watching Doves, supported by the Delgados, made much difference. Best day: 13.3 units (the only time spaceman vaguely let loose). Alcohol free days: 2.
Week 24: 64.4 units
Back up to usual standards, but it's time for getting into the seasonal festivities, this being the week ending the 15th of December. The week started quietly, but a poker night and a night spent first watching the excellent Primal Scream then gatecrashing the work Christmas party (no. 1) sent the unit count shooting upward. Best day: 24.1 units (the Primal Scream night, inevitably). Alcohol free days: 2.
Week 25: 46.6 units
Unusually quietening down as Christmas approaches, perhaps a concerted effort in anticipation of almost certain bingeing. An all-afternoon/evening Christmas do (no. 2). But apart from that, not much happening. Best day: 23.3 units (have a guess). Alcohol free days: 4 (!!).
Week 26: 29.2 units
A complete anti-climax, the Christmas week. A bout of 'flu (or whatever it was) had spaceman largely cocooned in the flat alternating between the PS2/sofa and the bed. The heaviest day was a brave attempt to fight off/ignore the bug on Christmas Eve. It didn't work. Best day: 10.1 units. Alcohol free day: 1 (Boxing Day - even Christmas Day necessitated a sip of fizzy wine, interspersed with Lucozade for attempted energy boosts - it didn't work).
And that was that. As the year of 2002 approached its end, spaceman tired of the need to mentally log each drink. So, pick up your glasses and salute a fine six-month period, and here's to freedom in drinking (in, cough, moderation). For information, had the index remained based around the 28-unit recommended limit, the index would not have fallen in any week, and would have finished on 1,996.3. Ah well.