Yes, we're sorry, it's been a long time (eighteen months in fact) since the last pub stagger. What we can say? Barney got married, restricting the, er, diameter of his social circle, and spaceman became a travelling acrobat.
Pub 1 - Castle Hotel [link to be done]
But we're here now. And late as usual. An agree meeting time of 7pm is negotiated a bit later thanks to a randomly busy day at work for spaceman, who legs it home to get changed and pick up the camera, before grabbing a cab to the other side of town. Well, inspired by the landlord's reply to our previous review of the Castle Hotel, we have returned, hence the name of the pub stagger itself. The landlord describes it as a "not exactly glowing review", but looking back, it's fairly tame stuff, its biggest crime (such that it is) being its brevity, but inspiration was low (plus it suffers from preceding the classic visit to The City - nothing can compare to that).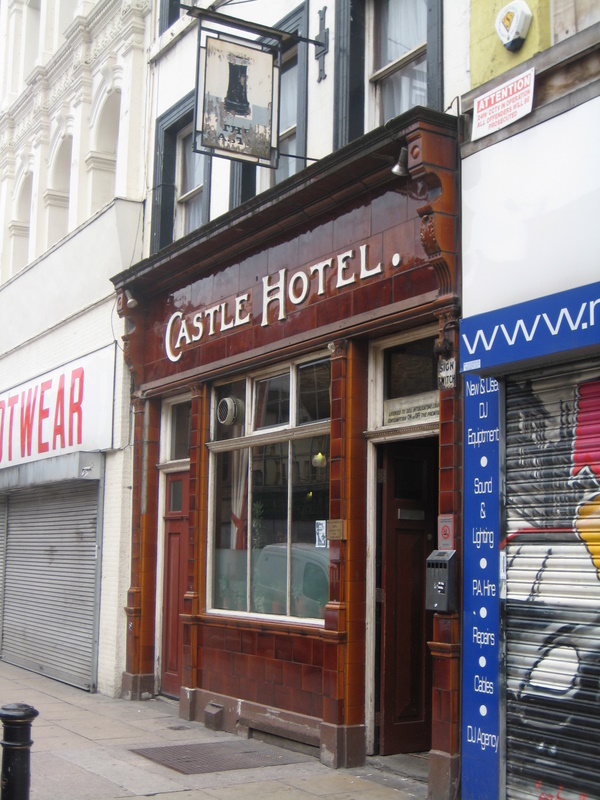 Barney is stood at the main bar in full view with two waiting pints of Carling (costing £5.60 but being served in Grolsch glasses), but it's a bit claustrophobic (especially if you need to take notes) so we head to the "piano room", aka the Bar Parlour, as we did do last time. Spaceman recalls the visit, but barney isn't so sure. Through a small gap in an indoor window (bizarre, but it could be an old serving hatch perhaps), we can just about make out a band practising, doing a strange keyboard version of the Big Breakfast theme tune (sort of), before the bassist and drummer jam together. Which is nice. This is a view of the Bar Parlour. Note the piano.
While taking notes, the guy at the table next to us (on his own) asks to borrow spaceman's pen, but spaceman is adequately prepared and pulls out another pen from the inside pocket. The man appears not to notice this flourish. Barney talks about the nearby Brazilian restaurant (Pau Brasil). Apparently they bring round skewers of meat (and more meat) for a fixed price. Spaceman enquires what Brazilian food entails ("meat" seems to be barney's answer), before cornily suggesting that it might be served on rainforest salad (sorry). Barney has stocked up on jam (Hartley's squirty jam) and toast, plus a couple of sausage rolls (an odd combination really). Spaceman just had enough time to go for a poo, get changed and head back out again. Spaceman investigates the loos, even though there is no bursting requirement, to find that the gents are through a fire exit, at the end of a corridor to some sort of (semi) outhouse. The toilets are at the end and to the left.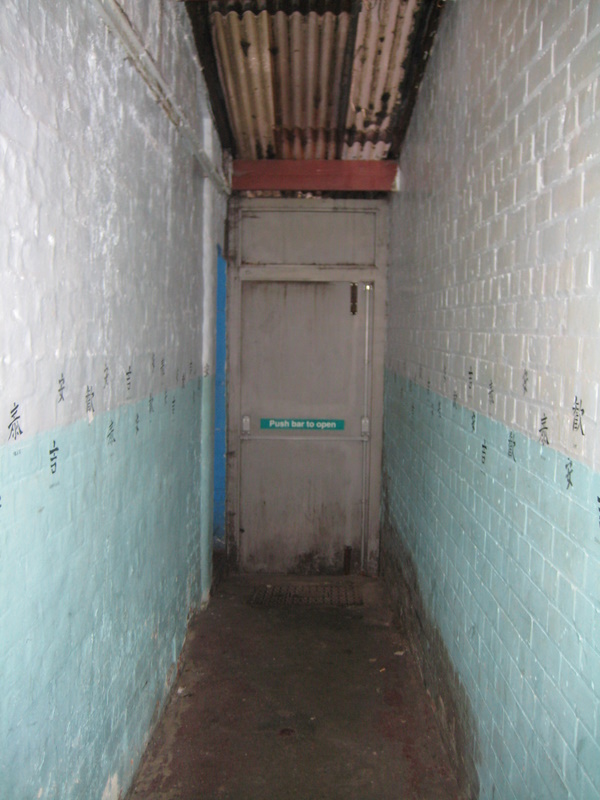 It takes spaceman a couple of goes to find the gents, first noticing a locked cellar door and stairs to "private". It seems that the ladies' toilets are in the band practice room, behind the band - so handy then. Finally, on the way out, barney inquires as to the band's name - Stray Lines apparently, and they are playing at 9pm tonight. Unfortunately, we will not be here. After one beer each, we move on, again uninspired. Sorry Mr Landlord...
Pub 2 - The Northern [link to be done]
Description here.
Pub 3 - Trof [link to be done]
This was Spaceman's first visit to Trof, which has a fairly small main bar; however, there are numerous floors upstairs, including a lounge. Barney heads off to the toilets when we arrive ("they're on the third floor!", barney exclaims – although it is technically the second floor if you count the one we are on as the ground floor, unless you are from the US) and upon returning, we engage in some banter with the barmaid about exercise versus beer. Faced with the choice of lagers, barney specifically chooses Amstel, two pints of which set us back £5.80, while Blondie is our soundtrack. There is a serving hatch which barney says is called a "dumb waiter" – suppose it is necessary with all those floors.
Barney provides some more information on the floors: the first floor is a carbon copy of the ground floor, but the top floor (the aforementioned second floor) is the "Motna"? Lounge and is half the size of the ground floor (i.e. very small indeed?). However, there is misleadingly what looks like a downward pointing finger on a hand showing where this lounge is. Barney says that it looks as if the power had been cut up on the second floor (as in fact here it just has been at 10pm?) and speculates whether they are trying to reduce their 'leccy bill. The basement is for private staff only, which has barney tempted, but there was a person walking up.
There's quite an old crowd in here – many are middle-aged, as we notice a trendy crowd arriving, or at least they are trying to be (barney thinks they are trying too hard, having too much hair. Barney recalls eating here and that they serve both greasy fry-ups and "poncy dips 'n' shit" – Egon Ronay this is not. Spaceman diligently obtains bar information from the barmaid – there are no happy hours and opening hours are from 10am to midnight from Sundays to Thursday, and 1am on Fridays and Saturdays. There are none of your usual bar snacks; instead they have lollipops and muffins or cakes on offer. Barney also provides the obligatory toilet review (we have to pee, ok – this is crucial information), referring to the tiger-print wallpaper and blackboard. The glowing review ends with the comment on quality: "smell alright – they were clean".
[Bit more stuff on there – not quite legible enough!]
Pub 4 - TV21 [link to be done]
A short walk indeed and we are in TV21, a fairly new Northern Quarter bar in which it is spaceman's turn to venture to the gents, which requires the asking of the barman...
More to come.