Having hovered towards the northern side of town for the first couple of pub staggers, it was time to switch to the southern side of town, and the scenic delights of Castlefield. Some of the venues chosen on this evening were very familiar to the boyish boozers, particularly to spaceman (having lived in Castlefield for some time) but, in Lava, there was a fairly new bar which had evaded the slow pub crawl.
Pub 1 - Choice
With barney over the wrong side of town for tonight's beerfest, a taxi was sought and, being a gentlemen, the taxi shuttled first to spaceman's flat for pick-up duties. Spaceman was happily watching Test cricket on TV, but was eventually torn away. We start at the far end of Castlefield, at Choice, which is more a restaurant than a bar, really, but there is a distinctive bar section.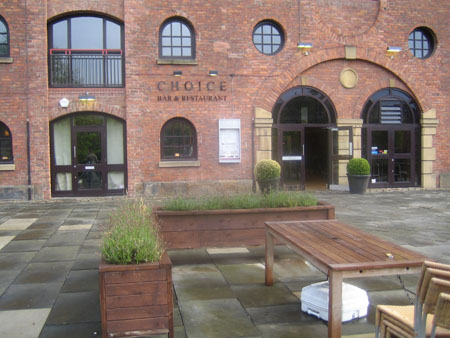 We purchase 2 pints of Stella for a mere £6.80, which is paid for by spaceman as barney settled the taxi (too right!). Stella was chosen as the only visible draught lager, but the decision was perhaps unnecessarily panicked and premature, as we later notice a greater selection than was originally witnessed. Ah well. We sit near the back by the expansive wine cabinet, shown below, on the front of which they modestly showcase their achievements.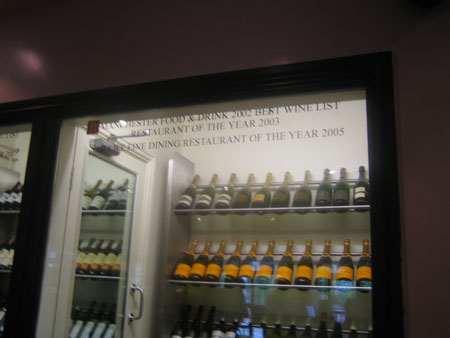 Barney declines having a go on the plinky-plonk (piano), being more of a twangy-twang (guitar) player. Barney starts highlighting errors in the menu (well, there is one apostrophe mishap) and wonders why the orange is freshly squeezed in Marple (where the oranges seem to be from). He then pooh-poohs the wine descriptions. Which is his prerogative. When quizzed on an opinion of the bar (for the now world famous barney-spaceman rating), barney opts for 6 out of 10, decreeing it "too poncey". A gratuitous into-the-light-from-within shot now follows, filling the narrative gap nicely.
We drink up and move on, discovering the view from outside Choice, which is very pleasant, despite the rain in the air.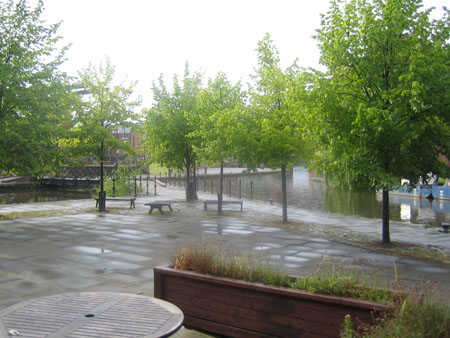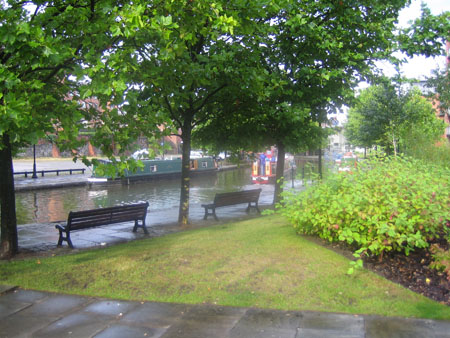 Pub 2 - Lava
A short hop across a small bridge and we were at Lava.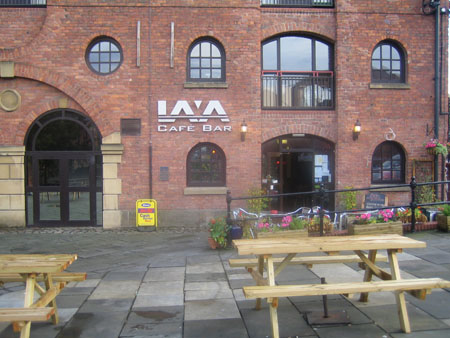 This, ladies and gentlemen, is a first time visit (FTV). Not sure how long it had been open at this time (perhaps a year?), but we discover it to be moody with candlelit tables, which prompts barney to describe it as "very cosy". Barney gets in two pints of XXXX for £5.20 (although the accent of the barman makes barney think it was £5.80 or £5.90 - the amount of change in barney's hand proves otherwise). Barney admires the "world wide pizza menu". It's inspired and features volcano-related pizzas, all except, um, "Veggie", "Mum's pizza" and "Arthur's seat" (huh?). On the main menu, it advertises Lave Rock Meals ("it's not a meal, it's an experience"). You apparently get a hot slab of rock (heated for 6 to 8 hours, no less) and you basically cook the meat and vegetables yourself. That's just lazy. Here is a view of outside. From within. Dingy, isn't it?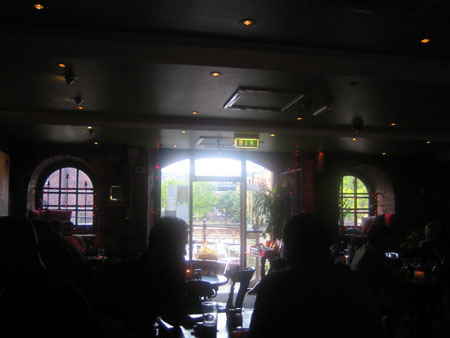 The TV nearby us shows BBC and the mid-place between Lands End and John O'Groats, while cheesy 80s tunes play on the stereo, although barney gets Chesney Hawkes confused with Rick Astley (er, easy mistake). Barney, scouring the bar area for observational comments, spots mini-packs of cereal in with a super large peanut butter jar (or two). Before Walk Like An Egyptian by The Bangles plays. While reading the menu, barney notices the comment "nut derivatives may be present", before adding "enter into a forward contract on your nuts". Very droll. Here is a shot of the bar, although there's no way of really seeing what is going on, primarily due to the dinge effect taking place.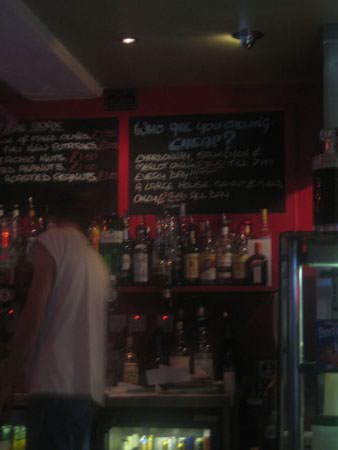 A fan in the corner keeps us cool as we turn our attention to the pub guide template, noting the prevalent smell of chip fat (we're fairly near the kitchen). Barney has a field day on the "not to be confused with" section, making the rock connection with some clever geological-based wordplay (which you don't tend to see too often these days). Suggestions include the bar Obsidian, which means, er, igneous rock (it says here) and also Jilly's Rock World (which barney describes as opposite the Temple of Convenience, visiting which is a pre-requisite, or a result of, being sweaty, having lots of tattoos, and being without a girlfriend. Billy Idol chirps up with White Wedding, but barney can't quite hear the start due to general hubbub. As part of the research, barney does some mobile phone surfing to check out the Melon Farm's definitive Manchester pub A to Z. But due to the size of the page (there are a lot of pubs on there), progress is slow. It's finally time to move on, but our first visit here has been interesting. Outside gives a view of the Hilton Tower. Look how tall it is! And then it's upside down!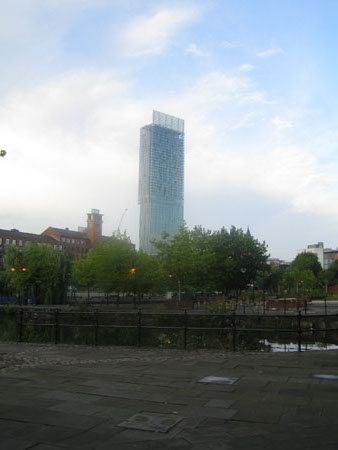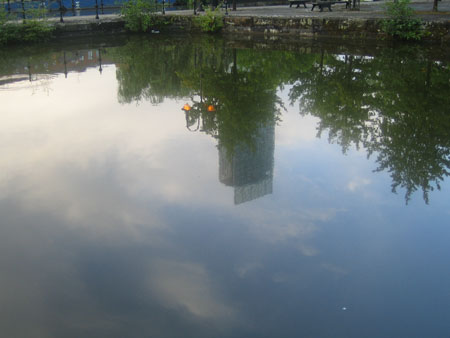 Here is a view back across the water to Choice. How lovely.
On our way to our next location, we spy the now-defunct (sob) Jackson's Wharf, which closed down precisely one week after spaceman moved in to a flat nearby (which was - thinks hard - back in December 2003.)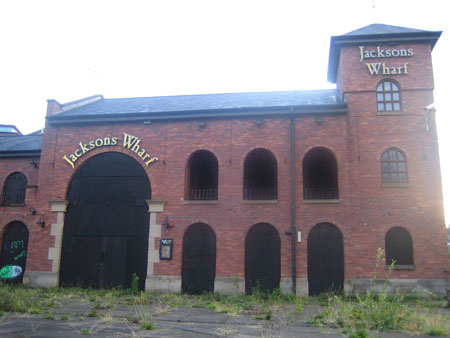 Pub 3 - Barca
Views of Castlefield's main footbridge and Barca across the water.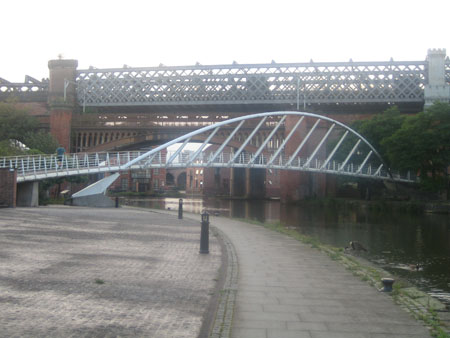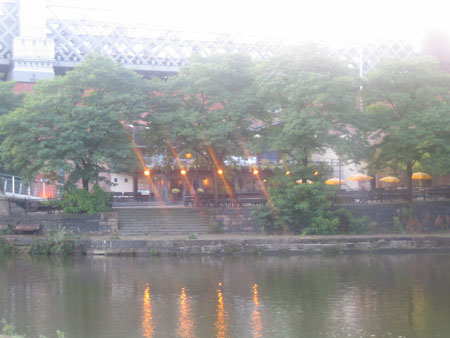 We head over the bridge and here is Barca itself.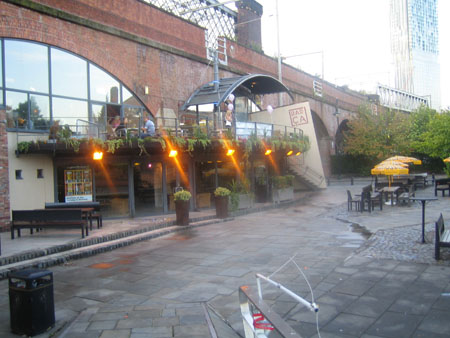 Spaceman gets two pints of Fosters (which barney prefers over Kronenbourg) for £3.90 (it's apparently quite cheap at certain times. We reminisce about five-a-side football past and present. The main bar is open but the secondary bar is not (it's normally open at weekends). Look, it's definitely not open.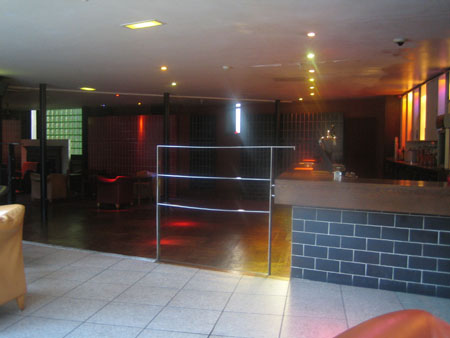 There is clearly a party going on upstairs from the loud rumbling sound - what a party it must be! Spaceman does toilet duty, discovering, with no small amount of research, 12 pisspots, 5 washpots and 3 dumppots. And, lo, it's time to go...
Pub 4 - Dukes 92
The new-ish (probably about a year or two old now) restaurant Albert's Shed hovers tantalising close to Dukes 92 (although spaceman has had mixed experiences of the Shed).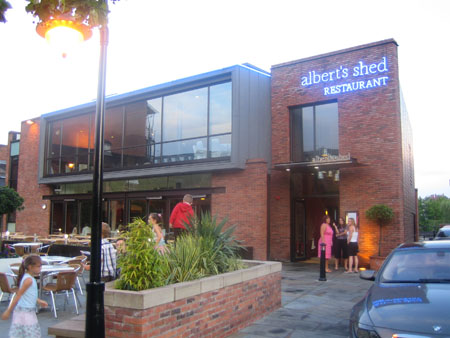 And here is the pub itself, with the outdoor seating only lightly occupied.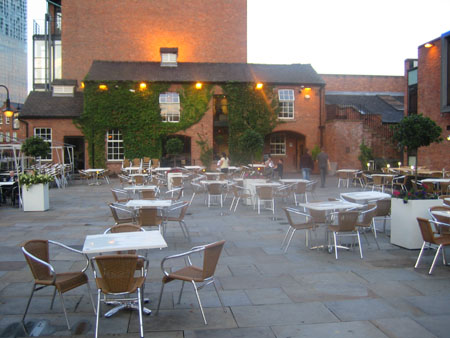 It's slightly rowdy when we get in, ordering 2 pints of Carlsberg for £5.70 ("not cheap" says barney, certainly not compared to Barca's offer) and noting two guys arm-wrestling over a table (although doubtless that wasn't the ultimate prize). Barney's mum and dad apparently have a fish tank like the one on the bar, but 7 feet tall.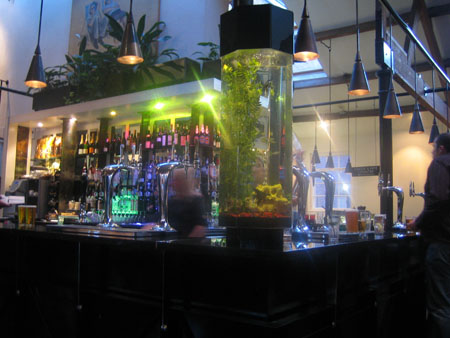 It's a fair bit busier than Barca, not bad for a Thursday night. The arm wrestling continues...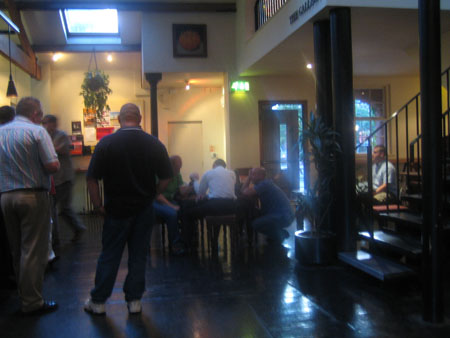 We have both been here quite a lot before, spaceman especially, so there's not too much research really needed. Outside, the seats are inadequately sheltered by metal frames with no covers; but, given that it has been raining, we speculate when covers are actually used. For sunny days, perhaps. Talk has surfaced once more regarding food - there is still no bar food and Akbar's is close. For the pub guide, barney suggests that it smells like arm wrestling and testosterone, with a hint of of phallic statue thrown in. What a lovely image. There are a couple of upstairs rooms in Dukes, including the Annexe.
It's time once more to be off, but not before taking a shot of the front end of Dukes 92. It's starting to get a bit dusky.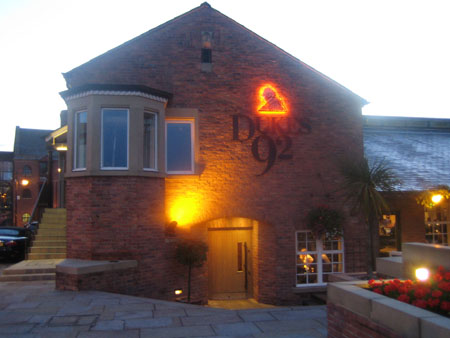 Pub 5 - Cask
Um, yes, it's definitely getting a bit dark outside.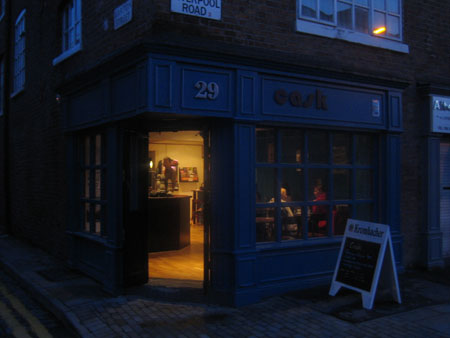 Cask is a fairly new pub (it's only been open about 3 years or so) but opposite it is what is probably a very old chippy, called The Fish Hut, which resolutely stands its ground as flats start to spring up around it.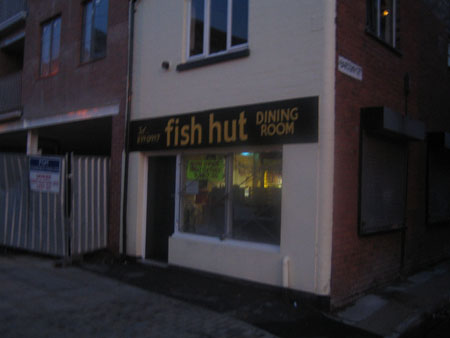 There's a good selection of beers here and we opt for two pints of Krombacher for £5.40, and then decide on two packets of crisps (Pickled Onion Monster Munch and Brannigan's Roast Beef & Mustard). We get a small, cosy brown sofa at the back of the pub and tuck into the crisps (and beer) with gusto. Barney much prefers the Monster Munch, which were recommended by the barman. Here they are in the unopened state, before the poor blighters were wolfed down by ravenous alcoholics.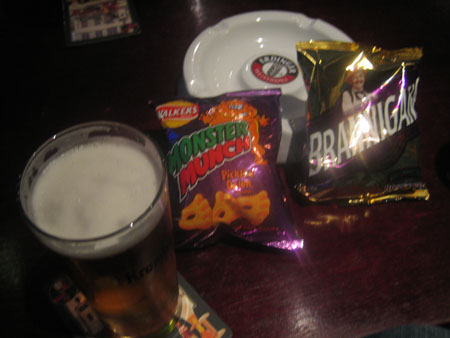 Barney spots, outside in the small courtyard, the biggest parasol he has EVER seen. Some classic tunes come on the jukebox (which is a good one), including The Stone Roses and the Arctic Monkeys. Here is a suitably bleary shot of our view to the bar.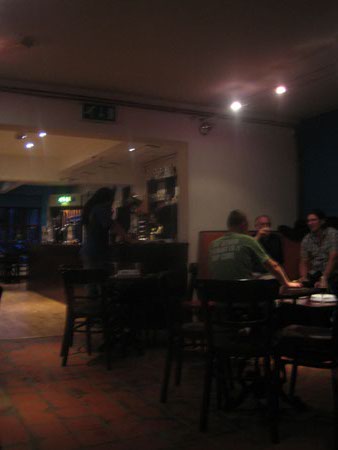 We are running out of energy and fancy a proper meal - the crisps have only fuelled our appetite.
Pub 6 - The White Lion
But we venture first to The White Lion because 5 pubs would be a bit of a poor show, although it is the number we did in pub stagger 1 (but, hey, we were younger and more inexperienced then, and the pubs were further apart). It really is night time now.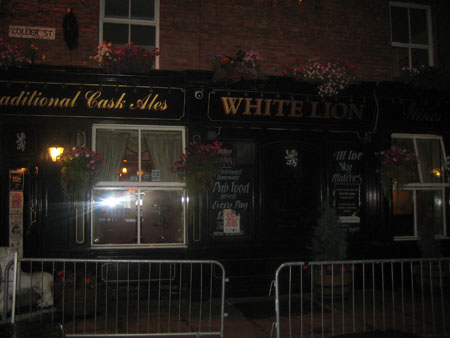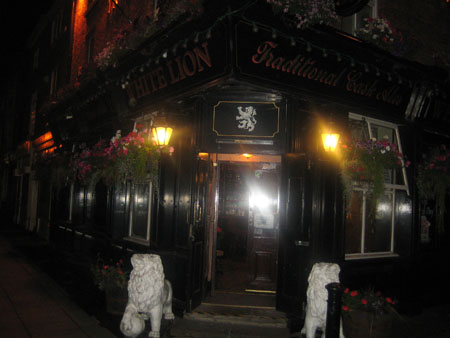 We get two pints of Carlsberg for £5.20 and find the seat we occupied for the pub crawl [LINK], which is out the back in our own little area (no-one else here). Here is our view of the bar, including the menu.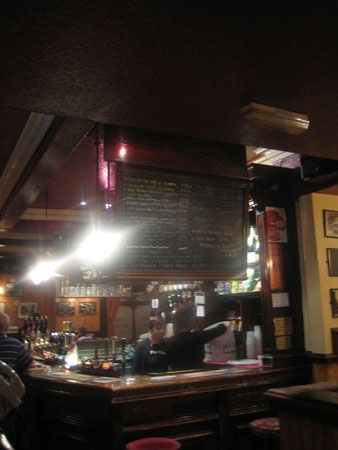 Um, killing time a bit now, so here is a picture of a picture.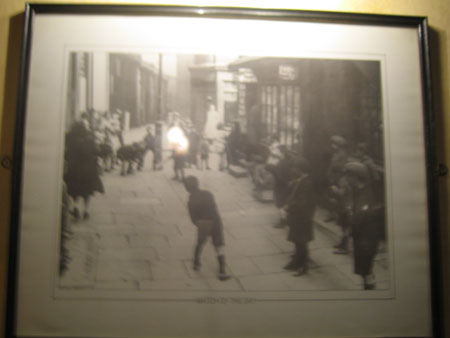 Lovely and old-fashioned, that. Full of beer, we then face a very difficult decision: Akbar's or The Ox. Akbar's wins.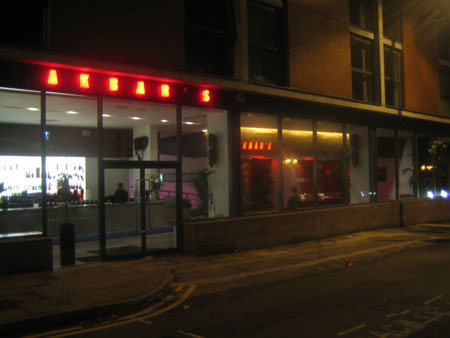 And so to Akbar's it is. Barney finally goes to the toilets (the man is a machine!) as we "suffer" the obligatory wait with Cobras (something in the region of £5 for a pair of small ones - they don't do big ones) while waiting for a table. We try mind control "Mr Akbar, we would very much like to eat NOW as we have been drinking all night!", but it doesn't work. We notice an elaborate napkin arrangement - very fancy.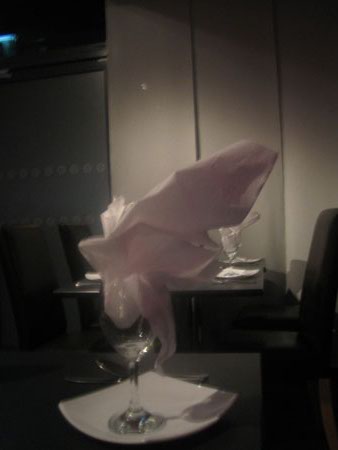 We eventually get our curry, though, and it disappears fast. Here is spaceman's starter, the spicy & tasty if slightly rude-looking seekh kebab.
What a way to end the night.