A new year and no excuses needed for drinking alcohol. It's time for the 5th pub stagger before spaceman gives up alcohol for another month (er, almost - it didn't quite happen in the end, but there was definitely a vast reduction in consumption).
Pub 1 - Mark Addy
A hobbling barney snares a taxi, but spaceman doesn't, although not without trying (having gotten into a taken taxi).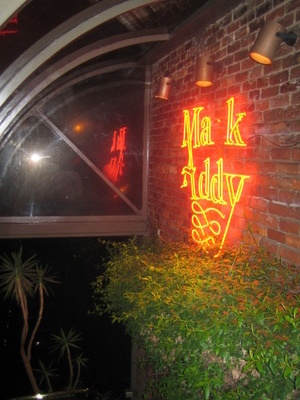 Barney is stood at the bar waiting with two pints of Becks Vier (good lad) and a packet of Burt's crisps (hand crafted by individual people name on the back of the packet). The beers, a new variety, were £5 for the pair, while the crisps are 90p (for two packets, possibly). Here is the bar, plus an amusing tap-shaped beer-serving thing, although it's just there for show.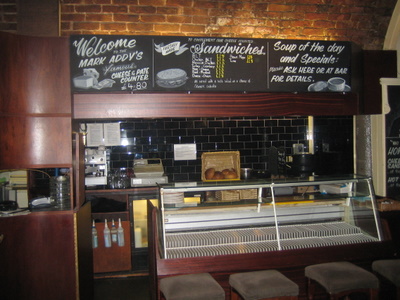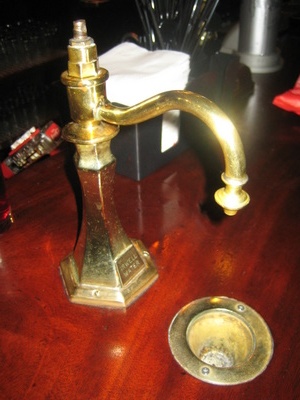 The first crisp flavour we try is hot chill lemon, although there doesn't seem to be much of a lemon flavour (just as well), and second up is salt and black pepper, which is very peppery. They apparently are raising awareness for the save the orangutan campaign, and there are also lobster-flavoured crisps, which we do not try. Here are some pictures of Burt's crisps. The salt and black pepper-flavoured crisps have been fried by Romeo.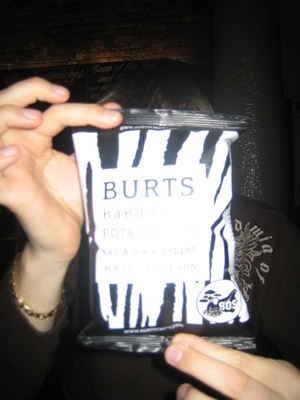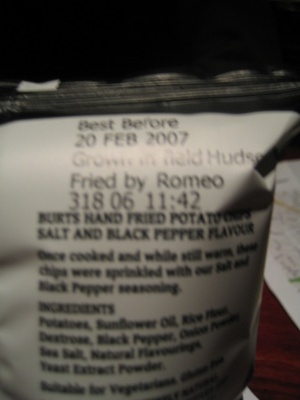 Barney chats to the barmaid for research while spaceman falls into the age-old trap of saying "I haven't been here for a while", which is what barney said earlier and basically what everyone says when they come here (except the die-hard locals presumably, if there are actually any). It's a bit quiet in here - no music, not many people, even fewer staff (two). Lunchtimes are the peak time, it seems. Barney recalls the last visit being 18 September 2003, which is deadly accurate since barney sat an exam on that day. Spaceman has been in since then.
Barney has done some research: Mark Addy is some sort of random actor, although that is obviously not where this pub's name came from. In addition, barney has plotted out tonight's plan of action, the resourceful chap. Should really be spaceman's job, being born in Salford, but barney is much better at such things.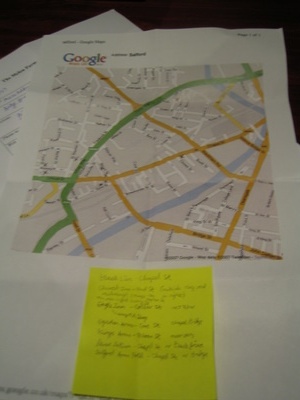 During our second pints (we have a leisurely stay), the music comes on. with a folksy version of Ever Fallen In Love [confirm this]. The barmaid says that there is currently no hot food available but she manages to wangle a steak, Guinness and mushroom pie, with chips and mushy peas. (So unfair.) As she later sits reading a paper (to recap: it's not very busy), spaceman takes a gratuitous snap.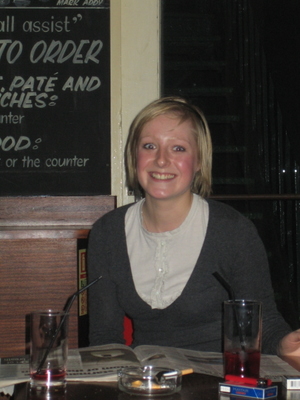 Barney gets annoyed by a random, flashing light on the Pump House building (aka the People's History Museum) opposite (i.e. across the river). The numbers shown flashing have always foxed spaceman, but we guess/discover that WBC = 6.5 billion refers to the 'world body count', but have no clue what 0.6 million refers to. Barney is also fixated by the bricked, vaulted ceiling, which reminds barney of somewhere else... but where?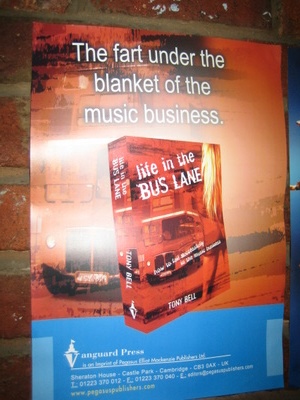 Spaceman gives the barmaid this website's address and promises (eventually, it turns out) to put the photo (of her) on. And then we leave, spotting the above charming advert.
Pub 2 - Egerton Arms
A venture into slightly new territory tonight - first up is the Egerton Arms, which is on a narrow road just off the Bridge Street/Chapel Street junction.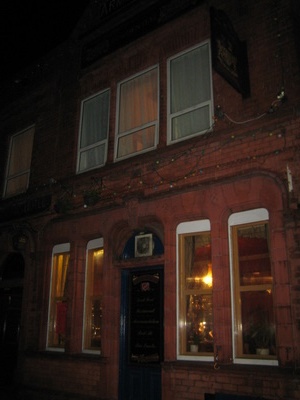 We are a little reticent (we are, after all, venturing into Salford, even if not deepest, darkest Salford) but there are no evil glares or anything (phew, eh). Here is the bar.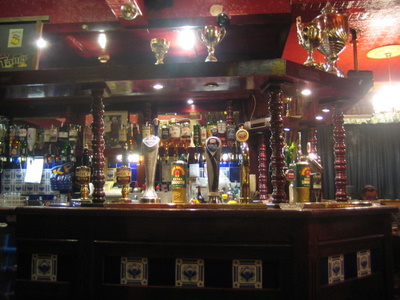 We get two pints of Fosters for £4.40. Amstel, one of barney's favourite beer, is out, as is Fosters. Looking around, we note three TVs, one showing Sky Sports and one with something on random, both of which we can hear but not see, with the third above us but switched off, for the time being. At the top of the photo above, you can seen the (presumably) mock trophies - here is a closer look.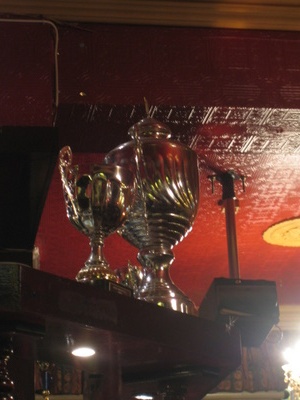 Later, the random TV is aligned with the first, to display Liverpool vs West Ham. "If you can't beat 'em, fucking join 'em" the United cry comes out at some point later (it's fairly obviously a Red pub). Barney spots a dartboard which is very old fashioned. The guy leaving even says "see you boys" - we are accepted, although we miss out on the chance to respond because we don't pay attention. A picture of some, er, pictures.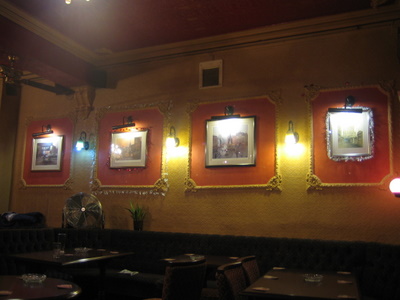 Then we're off.
Pub 3 - Salford Arms
Across the very wide Chapel Street (noting the Copperheads Hotel) to another newie, we get two pints of Fosters for £4.20 (competitive).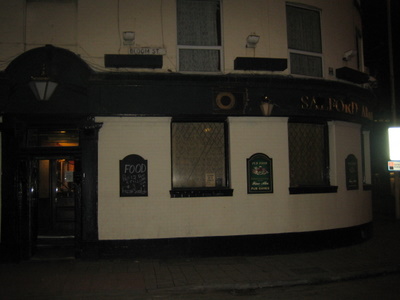 We are immediately greeted by random strangers and temporarily there is no-one behind the bar. Eventually someone (an woman) appears to serve us, but it is evident to us that it is a bit mad in this place! We decide to retire to (hide in) the pool room, where it is 50p a game, but the greeting we receive upon arrival in said room ("fuck off!") takes spaceman momentarily aback. It soon becomes obvious, however, that the random bloke who uttered these wise words was in fact talking to his stereo, which is broadcasting the radio coverage of the Liverpool match. The pool table, lest you forget what one looks like. Barney faces a tricky shot.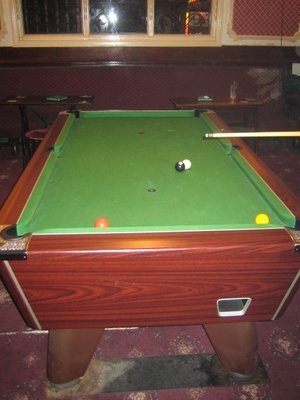 We discover that he is the son of the barmaid, and also that he has a habit of chuntering on (we are never sure whether he is addressing us or not - after a while we stop responding). Perhaps a mild form of conversational Tourette's. Meanwhile, the pool action hots up as spaceman takes the first frame before barney sneaks the next to make it 1-1. Next up: fireplace and mirror combo.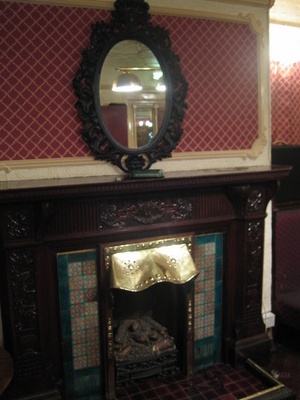 We are finally left alone as the crazy guy leaves, having cursed vehemently when Liverpool scored. We had pointed out that he could watch it live on TV in, for example, the Egerton Arms, but he acted like they were the enemy (technically, competitors, but it seemed to run deeper than that). Barney gets two more 50ps for the pool table, whispering "Quick! Escape from the mentalists" on barney's return. Barney's not very PC, but we're safe in here. Um, TV and dartboard (both not in use) And the exit from the pool room in between (shortly to be in use).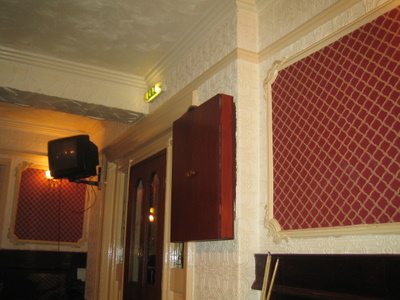 Spaceman makes it 2-1 and then 3-1 as the white stops just short of the pocket after potting the black. We notice a jukebox in the other room, but as soon as spaceman notes that it is not in use, Abba comes on! Spaceman gets directions to the toilets from a semi-resident local (it's a bit of a maze); having originally tried to head towards the ladies (accidentally, mind), spaceman is encouraged elsewhere. More Abba is being played as we make an exit.
Pub 4 - Kings Arms
A short hop across the road to the Kings Arms, where again there is no-one at the bar as we arrive.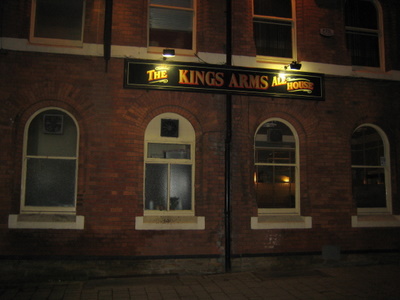 It's not long, though, before a girl does appear to serve us, suggesting that Poretti lager is "nice" (there's an eclectic selection), so we get a couple of pints for £5.20. There a lots of little rooms in this place, and a red floor, décor fans. Spaceman's photo-taking outside had attracted the attention of a young guy who pops his head out of a first floor window - he thinks he has been caught by a speed camera (why, what is he doing up there?). An old bloke walking past jokingly wants "no publicity" as spaceman shouts "It's Hugh Grant!" after him. Another shot of the outside can now be used to break up the monologue.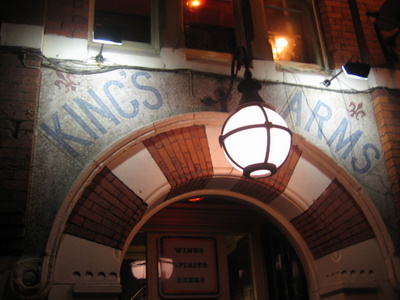 Barney nips to the toilets and puts some music on the jukebox (Kings Of Leon, Ian Brown's FEAR, Led Zeppelin's TOTP track, featuring a lot of random noodling, and the Wonder Stuff's Size Of A Cow). Suddenly the pub, which from the outside looked ok but not great (it's all relative in Salford), turns into a cool student-style bar. It's very dimly lit, but barney likes it in here, in fact that it's the best one yet (again, it's all relative). As with the other venues tonight, the barmaid spends the vast majority of her time on the wrong side of the bar. Lettering on the wall (which hasn't come out well in the photos) informs us that Beer Is Good. We'd go as far as to say that it's better than that.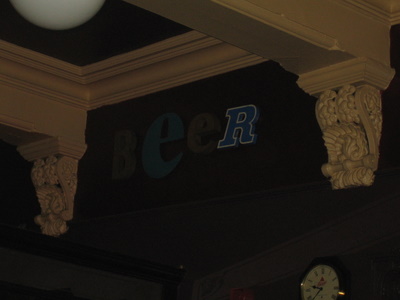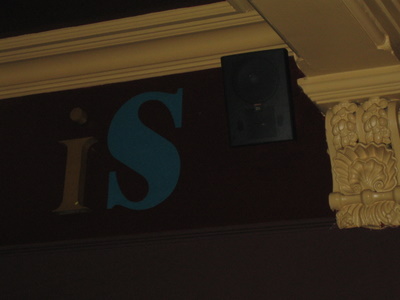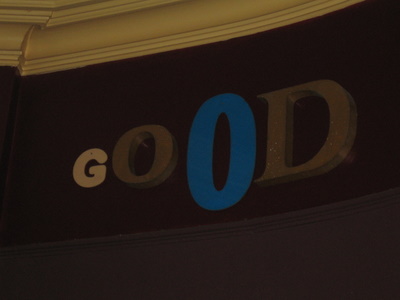 And it's time to leave, alas.
Pub 5 - Albert Vaults
We try here for one last public house before we succumb to a bit of late night food.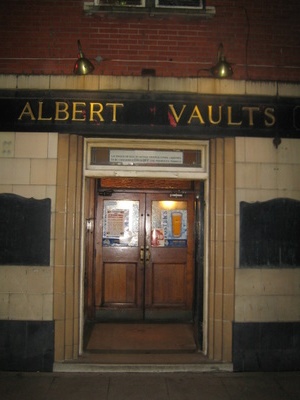 We get in two pints of Fosters for £4.20 and settle near the fire - lovely.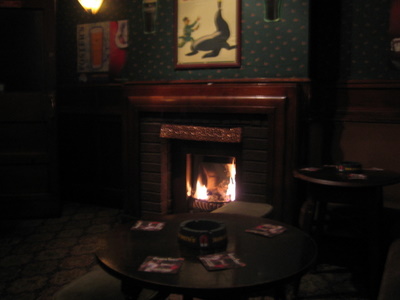 A TV shows Shameless on Channel 4. Spaceman nips to the bogs, desperate, but again (accidentally) heads to the ladies, which are on the other side of the bar. Another shot of outside, this time with the neon lights in view.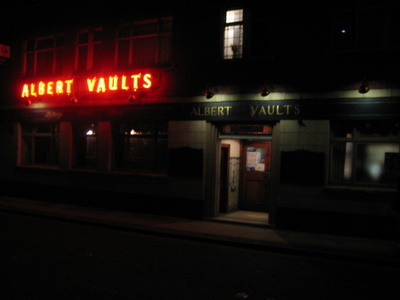 Barney keeps mentioning the nearby Shimla Pinks, but it is the destination for spaceman's (in)famous Curry Night the following evening and spaceman can't quite face a double-header. Disgruntled, barney checks the football scores via mobile telephone. Random dingy shot of bar type area.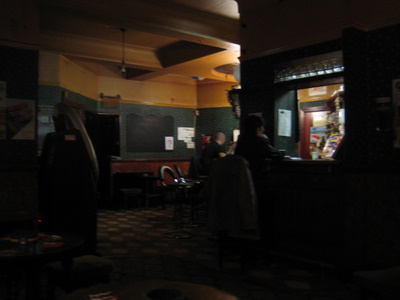 We don't last long by this point and head swiftly, and inevitably, for Oriental Express and a takeaway Chinese meal.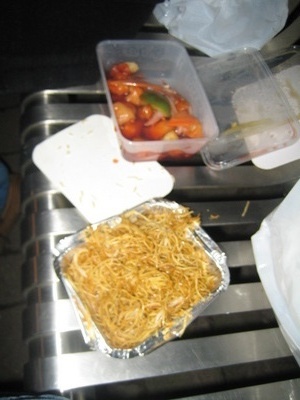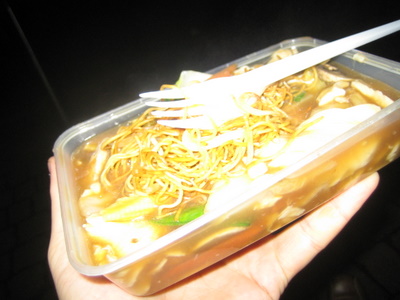 Which got a little messy.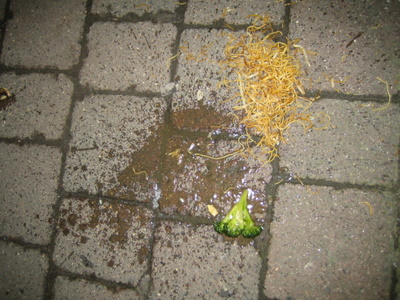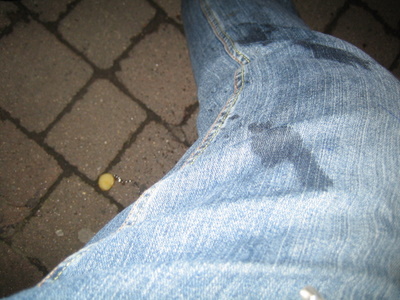 Ah well, that time of the night. Accidents happen. Still, we went home satiated and all Salford-ed out.