And so we're back! For one night only (possibly), spaceman and barney meet up for a pub crawl in the centre of Manchester. It was somewhat of an impromptu arrangement, partly inspired by spaceman's family being away in Scotland for the week and partly by barney's desire to announce some career news (barney is changing company). It was probably a tongue-in-cheek suggestion initially made by barney, but it was taken absolutely seriously by spaceman, leading to barney bemoaning a lack of alcohol tolerance these days but nevertheless agreeing.
Deliberately mirroring our original visit to the Town Hall Tavern, which was the scene of the start of Manchester Slow Pub Crawl Day 1 almost 15 years ago (how time flies, eh), barney got to the pub early and, accidentally rather than deliberately mirroring that fateful night, spaceman was a little late. Barney already had two pints of Amstel lined up (two pints for £8) having already asked for two pints of Fosters even though it was not available (a stickler for tradition, evidently). Heineken was the other choice on offer.
Whilst waiting, Barney had already worked out that the price of the two beers meant that they had been subject to inflation of 4.07% a year (assuming an increase each April, of which there have been 15 in between), which actually isn't so bad really (the two pints of Fosters were £4.40 back in October 2002). OK, so we're not comparing like with like, but it was broadly indicative of what we saw for the rest of the evening: beers were not far off double what they were 15 years prior.
Barney had kindly bought a pad and pen for spaceman's note-taking, albeit a pink pen, after spaceman had not been able to purchase one and texted barney about it. The text was fortunately timed with barney's visit to somewhere near a WH Smiths and the rest is rather mundane history (which is, it is no coincidence, spaceman's area of speciality). For the record, pink pen ink is a pain to read in evening light (i.e. as spaceman types up the notes). Thankfully, the pen was accidentally destroyed towards the end of the evening.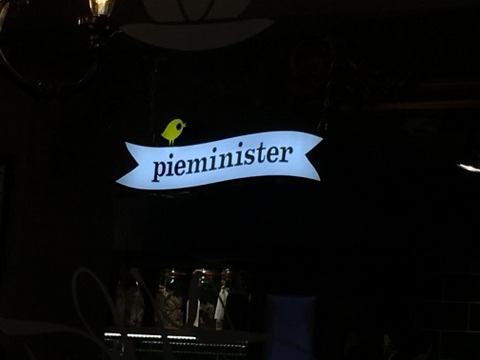 They are evidently big on pies here now, with a sign outside mentioning them plus one for "pieminster" inside (as above). Our eyes are caught by reference to the "mothership challenge", which features "how to build a mothership" instructions under the bar. Such a challenge involves consuming pie, peas, mash, gravy and shallots in as short a time as you can manage.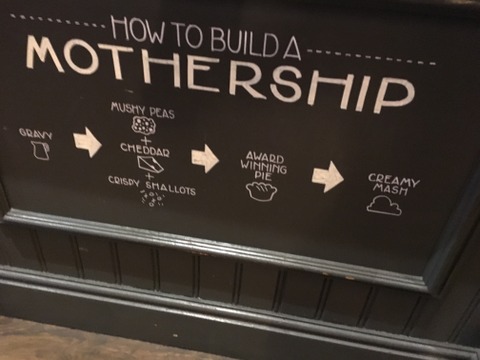 The best time was something obscene like 1 minute 40 seconds, or basically inhaling it. That said, the addition of gravy does make food much easier to eat, although spaceman would struggle with the peas.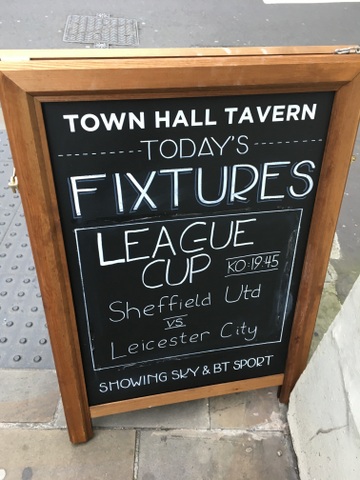 There wasn't just a sign outside for the Town Hall Tavern either: as per the above picture, they had put one down on Cross Street advertising the football. Meanwhile barney suggests various games that are available to use from Games Corner – time for Scrabble? Perhaps, but Monopoly might be pushing it somewhat. You can see the Mothership Challenge leaderboard there, if not the contents.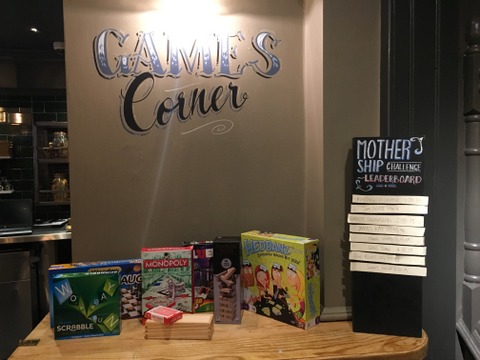 Further referencing our past practices, barney has brought along a cryptic crossword and insists that spaceman has a go. Unfortunately, it's not a straightforward one and already the beer is having a restrictive effect. At least, that's spaceman's excuse when struggling somewhat. Whilst spaceman stares blankly at the blanks, barney informs spaceman of the job news, which spaceman already knew from secret sources, whilst spaceman notes that a 20-year anniversary is on the horizon.
The Boxer Rebellion are played on the sound system – and a relatively obscure song too (from a not-well-known band) – which surprises and pleases spaceman, who is a fan. As spaceman is distracted by the music, barney moves ahead on crossword clue answering, 2 vs 1, even using a different colour to denote who deduced the solution.
As we shape to leave, barney, ever the décor specialist, observes that it has had a refurbishment since we last came. But then it was 15 years ago. Recalling the disciplined nature of pub crawling, we finish our pint and move on. The next pub in the original pub crawl was Lime Bar, but that is currently shut, due to open as Avalanche. Here is what it looks like.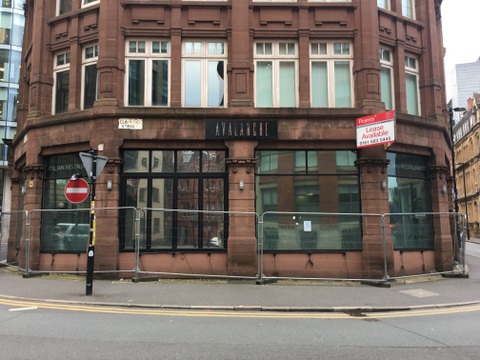 And so we head to…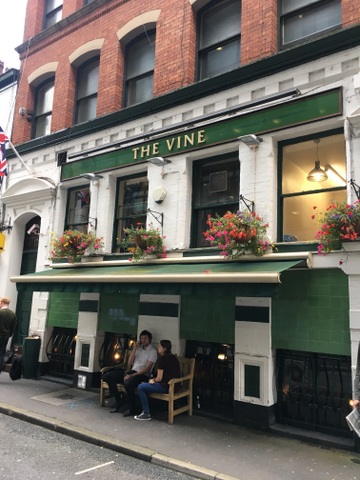 This pub (which appears to be called The Vine purely based on its signage) remains a little poky inside, and also fairly quiet, although that is because many of the current patrons are drinking outside due to the nice weather. A sign outside the bar suggests that there are many beers. Sounds good to us.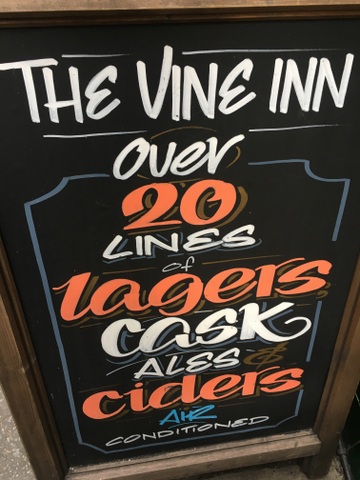 Another sign by the bar advertises house doubles for £3.20, notable only because it compares to £1.85 all those years ago. Look, here is the evidence. Of today's prices anyway.
As then, we are not going to go near them for we want to last the night. And we're not overly keen on spirits anyway. And that includes Black Russians. We of course instead plump for beer, first asking the price of Carling for research purposes, which is confirmed as being £3.80 a pint compared to £2.15 in 2002, then actually getting two pints of Amstel for £8.20 as barney likes that particular tipple (and spaceman is buying).
This pub also advertises pies (we're in the pie district of Manchester, it seems) as well as a full English [breakfast] scotch egg, which is fairly tempting and probably would be an automatic purchase if this were, say, pub six. Nevertheless, the food-curious spaceman does purchase a ploughman's lunch in a packet. Is there a better way to spend an early Tuesday evening than this?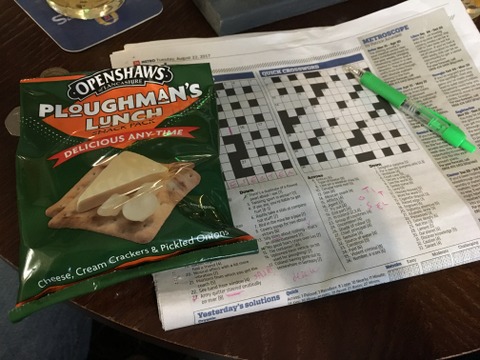 To those curious as to the culinary delights of a ploughman's lunch in a packet, it featured two crackers, foil-wrapped cream cheese and three pickled onions, which are difficult to share between two.
It's kinda fine – certainly not a revelation but nor a disappointment, and definitely a first. The main bar area still has a jukebox and downstairs is the Malt & Cask Cellar Bar, which is advertised with yet another sign. There are signs everywhere!
I mean, it's not as if we can't see the Malt & Cask Bar right there, close to the sign. Look, it's here!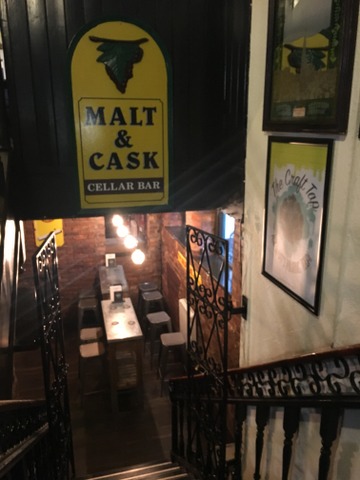 It is also advertised as a place where you can try one of their 60+ whiskies, malts and gins from around the world. Just in case you wanted further proof...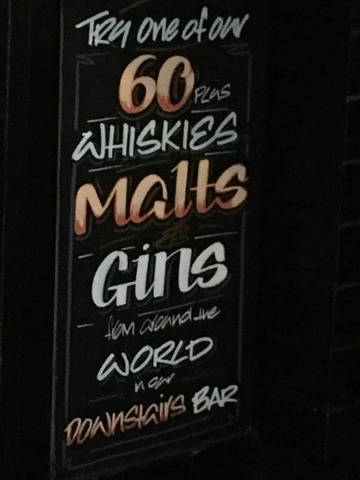 As was the case for the house doubles, this does not tempt us and we go, beer-filled, into the night. Weirdly, all the people previously drinking outside have disappeared (the sun going in might have had something to do with this), to be replaced by a van. Barney suggests that they might all have been kidnapped.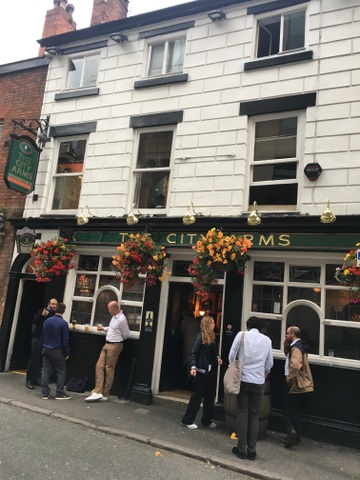 It's a short shuffle to the next door's City Arms, where pints of Carlsberg are £7.80 for two £3.92 in 2002), but not ordered, whilst two bottles of Peroni are £7.70, strangely cheaper. They do have pints of Peroni too but we are temporarily reducing the volume of consumption to make progress smoother. We wander through the pub but find nowhere better to sit than near the front door, not too from a dartboard. As you can see, there are still people persisting with standing outside. Perhaps they wandered from the Vine Inn.
The City Arms opts, with its outdoor signage, for an adjective-based advertising approach, compared to the throwing around lots of numbers method so favoured by The Vine Inn.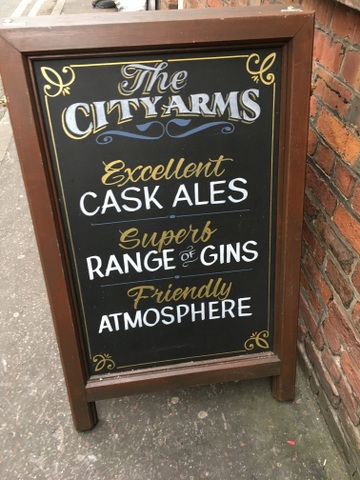 We consider chucking a few "arrahs" but the oche is basically where another couple are sitting. They offer to move but we are not so desperate to throw metal objects at a wall, or certainly barney isn't, and we don't bother them anymore. It later turns out (a few days later) that the guy in the couple who was not directly facing us was a friend of a friend, and someone who spaceman had been on a stag do with. It's a small world but evidently not small enough for spaceman's poor recognition skills to be effective.
We notice a pub crawl picture on the wall behind us. It seems to be an updated version of one we have seen before, but is also fairly old too, yet it features many pubs that still exist, despite the regular churn in Manchester. Barney says that The Font is on there twice, to which spaceman replies once in Times New Roman and once in Arial. (Spaceman may have to forego the week-long comedy slot.) Spotting Cask on the picture, barney is reminded of spaceman getting pork scratchings.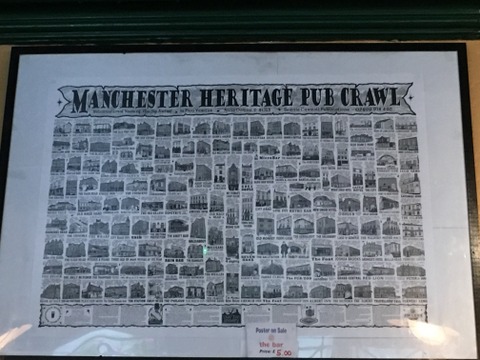 As well as declining darts, barney then says no to pickled eggs. Probably for the best. But never mind that: the big question on no-one's lips is whether we will, as last time walk into the next door along and end up in the same pub on the other side of the bar. Just before we leave, which does involve us needlessly going through the next door for nostalgia's sake, we talk about running 10k's, as spaceman is signed up for the Stockport 10k in a few weeks.
And then we're off, to discover that Slice Bar, the sixth bar of yesteryear's pub crawl, is shut and it's not actually obvious that it was ever a bar (it was the Tiger Lounge for some of the intervening period). Peering through the window, we do see some vaguely familiar stairs disappearing into darkness but that is the only clue, such as it is, that it was ever the downstairs bar that we can recall. In the picture below, it's the dark blue door slightly left of centre.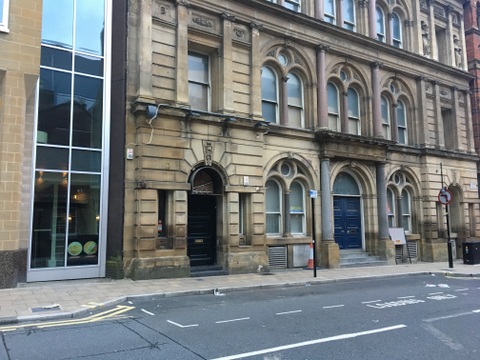 In any case, the next pub in our list is…
Pub 4 - Wetherspoon's Waterhouse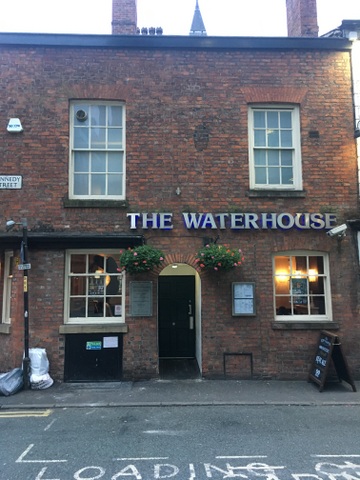 This is a place that barney looks on fondly, with all its nooks and crannies. It's the first pub where we buy the same beer as we did nearly 15 years ago and it's £7.10 for two pints of Fosters, compared to £4.10 back then. Spaceman again mutter something about them getting (close to) out-of-date beer, just for old times' sake. Shortly afterwards, spaceman gives in to the toilet temptation, naturally the first out of the two to do so.
We find a table to fail to do the crossword some more and peruse the menu, for curiosity rather than a planned food purchase. We note that it is £2.79 for Carlsberg compared to £3.55 for Fosters, so we feel like we've missed out. Never mind. Given we plan to go for a curry at some point, we're not tempted by the Manager's Special. It's almost too cheap.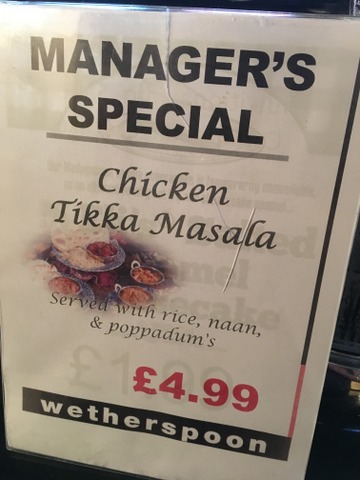 Eventually, as we get bored, the cryptic crossword completion (or non-completion) gives way to the quick crossword being completed with obscenities, primarily for amusement of barney (who, naturally, started off the proceedings). Spaceman is enthused by the possibility of having to fit rude words into the existing framework; it sometimes is easy and other times impossible.
Barney, having earlier mentioned that a medical had suggested a daily target of 4,000 of calories would be OK (something which spaceman thought was nonsense, despite barney walking around a lot each day), starts reading out all the calories of all the beers, as you do. It's nice of them to show them on the drinks menu: just what you want on a night out.
As we leave, look how atmospheric the pub looks as the light dims and the lights brighten.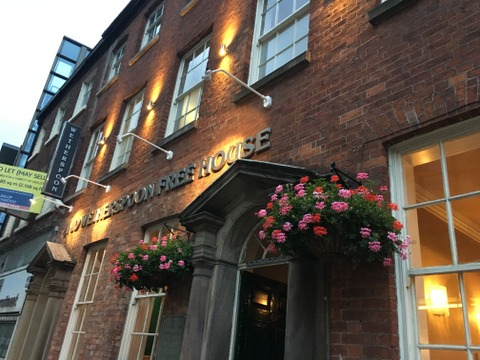 And with that, somewhat breaking with tradition, we have an intermission for food. Well, it's sort of breaking with tradition. We did have the odd mid-pub crawl chippy, but never a proper sit-down meal. Not until the end of the evening.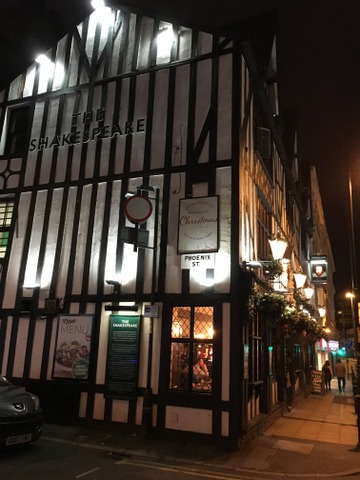 Our beer research goes up a level once more as we determine that Moretti, which we probably order, is £4.55 a pint, whilst Carling is £3.70 and Fosters is £3.40. The pints of Carlsberg during yesteryear were £2.20 a pint. Oh how we miss those days.
We don't manage to find a table by ourselves so spaceman shuffles onto the other side of a large table that a guy is already occupying, but he is comfortable with proceedings. The nearby TV shows live football, with Sheffield United being pummelled at home by Leicester in the EFL Cup.
We end up chatting to the guy a fair bit. He's a Leeds fan and currently living in Utrecht, although it's not clear why he is currently in Manchester. "It's shit and I can't come back any time soon", he laments. Our temporary companion for the evening is at least happy because his beloved Leeds won comfortably and are therefore through to the next round.
The music in here is dire, featuring Wet Wet Wet and Madonna's Hanky Panky. "What the hell is this shit?" utters someone, probably barney. We finish our beers and decide enough is enough. It's time to go to the next pub.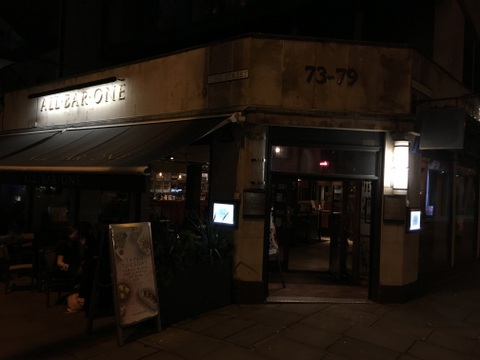 Rothwells, our eighth pub of the 2002 pub crawl, has undergone many revisions since then. We recall it being a fairly short-lived curry restaurant called Karim's and then it changed into another restaurant, the nature of which we cannot recall. It is currently an Italian restaurant called Rosso and thus we don't enter.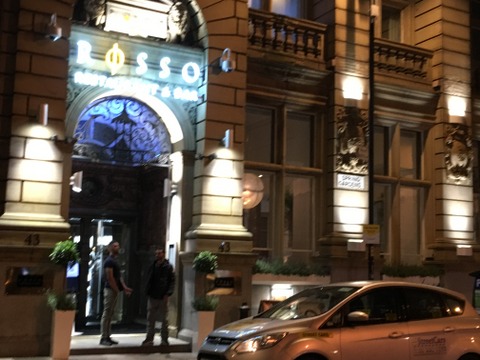 It does actually call itself a restaurant and bar, but we take the easy way out and instead head down the short incline to All Bar One, sticking to just the six pubs. Here, we order two pints of Amstel but neglect to capture the price. Whoops.
Anyway, they have a large selection of lagers here, which is definitely a good thing.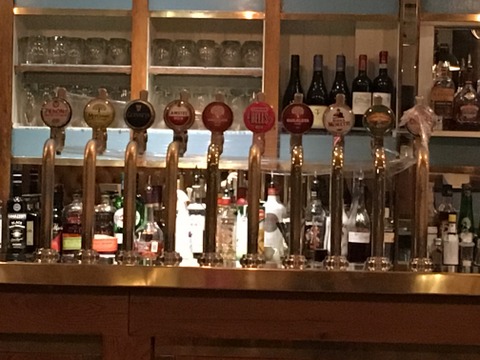 Spaceman's notes suggest barney was hoping for something, or something like that, but it's getting a bit unintelligible. We perch on stools at a table in what is quite an empty bar by this point. And sip our beers, our lovely beers. They probably didn't taste as nice as the first couple, though. It looks like we might be playing some sort of beer board game here, but we weren't.
At some point, spaceman makes the long, long walk to the toilets – up a lot of stairs, through many doors and along endless corridors. You definitely need to plan ahead for such things.
They apparently offer 5 o'clocktails (that's what the notes say) so we've perhaps missed the boat on those, although as you can probably guess we would have had nothing to do with them even if the option was there.