Saturday 17th November 2012
A free weekend for The Toad (as Mrs Toad was at a hen do) and another pub crawl was quickly suggested. We had already done the Two Heatons pub crawl a couple of times, so we decided to expand our remit slightly. In fact, we planned to double our remit, from the Two Heatons to the full Four Heatons.
However, given the number of pubs that would entail, we had to narrow our scope slightly otherwise we would never make it to the end. Consequently, we chose to visit a few pubs in each of the Heatons, thus making our potential exploits more manageable.
What will hopefully help us this time is the longer distance between bars, which will at least give us time to sober up as we go. The proximity of all the Heaton Moor bars was brutal, with no respite. We will also heed the lessons of previous pub crawls – plenty of snacks and lower strength beers.
Pub 1 – The Beer Shop (Heaton Mersey)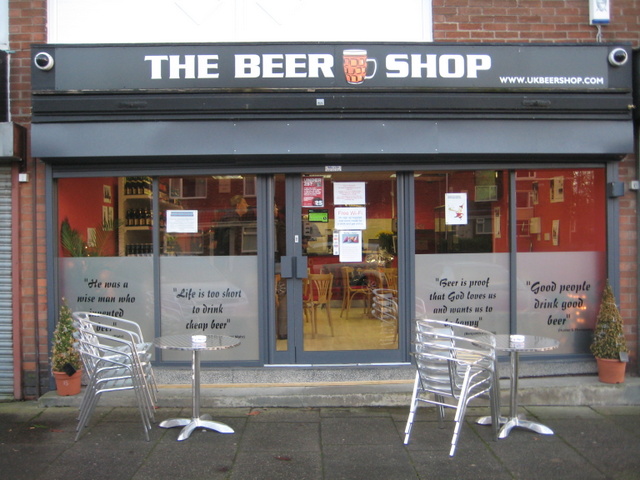 Arriving at around 3pm, this was a surprise first entry which spaceman hadn't planned for (but The Toad had in mind, it seemed). It's a shop where you can buy, and drink, beer – some of it brewed by them on site. The Toad steps up to the oche and purchases a bottle of 5 Barrel pale ale (330ml at 5.2%) and a bottle of Jever Pilsner (500ml at 4.9%) for £5.75 in total. OK, so we've not got the "weak beer" pledge off to a good start.
The Toad then reveals the consumption of two cans of John Smiths before coming out on the pub crawl, whilst watching Arsenal beat Tottenham 5-2, seemingly not having learned the lessons of previous pub crawls. The Toad has at least gone for a smaller bottle to start off the day.
The Beer Shop is in a strange location, really. It's a little bit off the beaten track, quite close to the Heaton Moor golf club. Mrs Toad had said that the Beer Shop had applied to open somewhere similar in Moor Top but the locals objected, although the guy who served us (part-owner?) didn't know anything about that.
It's quite handy to have this venue on our route since it breaks up the fairly chunky walk from Heaton Chapel (where spaceman lives) to Heaton Moor (where The Toad resides) to Heaton Mersey (where our next, and originally-planned-to-be-first, pub is), which adds up to nearly 3 miles.
The Toad's pre-crawl preparation, other than the aforementioned canned bitter, was not one but two steaks, accompanied by broccoli and spinach – clearly going for the iron and protein strategy. Spaceman went for two cheese toasties (with pepperoni and chorizo alternately), i.e. using a stodgy carbohydrates-based approach.
The Toad admits to not having been to many of the Heaton Mersey pubs before, perhaps just the Frog & Railway, while spaceman has been to one or two, but not for about 11 years, and we'll find out which shortly. So it's somewhat of a voyage of discovery today, which is jolly exciting.
Proclaiming having "had two already", The Toad breaks ranks early to visit the toilets, which are through a door to the right of the bar on a sub-layer.
A sign on the wall quotes Hunter S Thompson quoting an ancient Celtic axiom "good people drink good beer" trying to suggest that this is evident from observing that "bad people [drink] bad beer" but that doesn't quite work logically (because good people could also drink bar beer, regardless of what bar people do… but anyway).
Liverpool vs Wigan is being shown on a TV on the wall via a rather jerky picture. There have been no goals after 25 minutes.
"Not bad" is The Toad's expert opinion of the toilets on returning, with a very clean cubicle and plenty of paper towels, the lack of which being sometimes the downfall of other establishments.
As we are about to leave we are treated, via the art of eavesdropping, to the list of beers being brewed and served on draft, and these are Dissolution, Infusion, Wreckless (a champion pale ale which beat the Telford porter into 2nd, possibly) and Drunken Duck. We have no time for any further overhead questions because we have a plan, which we must follow (at about 3.30pm).
Pub 2 – Dog & Partridge (Heaton Mersey)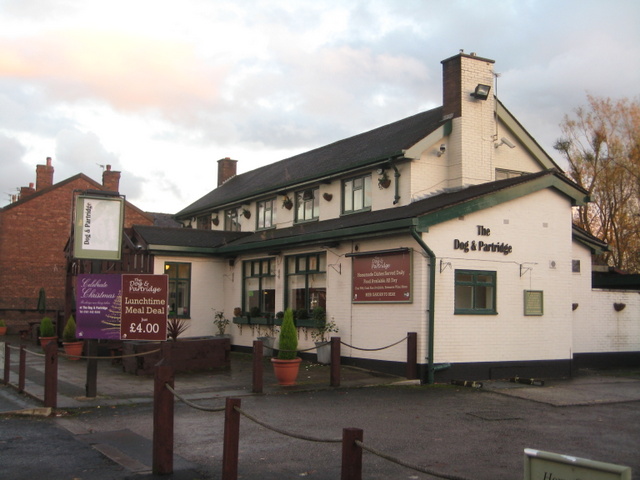 It's a mini-trek from the Beer Shop to the Dog & Partridge (about a 20-minute walk), which we have never before visited we promise you, our journey taking us down Kingsleigh Road, past Tesco, and then along Burnage Lane until we reached Didsbury Road. We're certainly ready for a beer when we (finally) get there (it's nearly ruddy 4pm when we get there).
We spend £5.80 on pints of Carling (spaceman being appropriately cautious here) and Guinness Cold (Unicorn was off). "Poorest selection of ale I've ever seen" rants The Toad. Lager choices were Fosters, Carling, Stella and Kronenbourg. We choose high seats on a long-ish table and spaceman struggles to sit down smoothly, taking several attempts.
It's not too busy but there are some clientele in. We talk about cycling and various other modes of transport. The A6 is a bit busy and dangerous to cycle along (it's where the GB cycling coach was knocked down) but that makes it a bit more exciting, and it's convenient.
This pub is also showing 3pm Premiership football, notes The Toad, and the immediately West Brom score a 2nd against Chelsea to go 2-1 up in the live game.
They have all day fish Friday - £4.95 for cod, chips, peas, bread and butter – eat in or takeaway. You heard it here first. Well, actually, maybe not as I took this photo.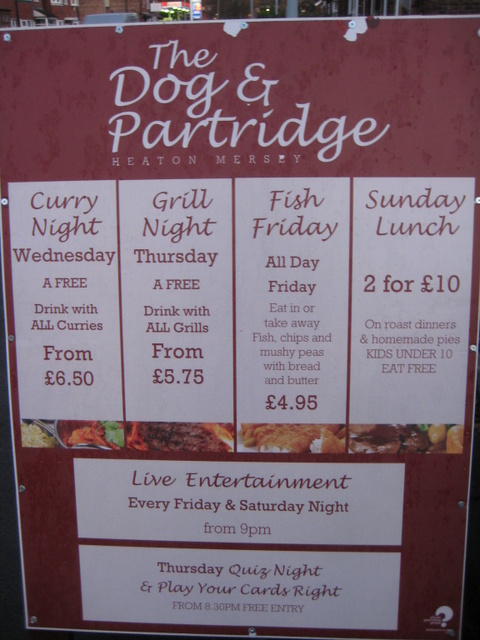 A sign outside that we noticed as we came in advertises the entertainment as Ziggy, a Bowie tribute, playing on Saturday 17th (oh, that's today).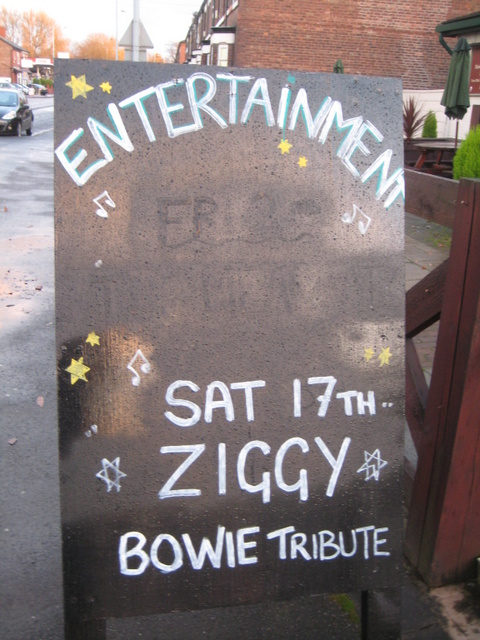 We can't stay, however, and it's around 4.30pm by the time we move onward.
Pub 3 – Griffin Hotel (Heaton Mersey)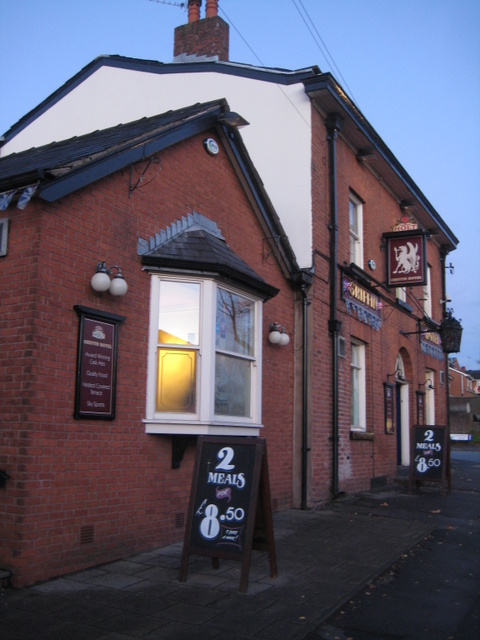 A much shorter walk up Didsbury Road is required for pub number three. It was very probably £6.43 for a Kronenbourg (it was either that or Crystal or Diamond, a not-so-classic from Holts pubs, reminiscent of the Old Monkey and others) plus a Maple Moon and a packet of salt and vinegar McCoys crisps.
This pub is also showing the West Brom vs Chelsea game, for which the score is still 2-1. Could there be a shock in store? We've just missed the England vs Australia rugby game, and we don't know the score.
We notice a sign saying that due to technical difficulties the City game can't be shown. In fact, it seems to be a City pub as there is a "City till I die" plaque on the wall. The Toad only just seems to notice this.
Despite The Toad earlier protesting about not being hungry later, due to the two steaks consumed, the crisps don't last long and hit the spot. This pub wins the 1st prize for Christmas decorations, as the tree is already up, but at least the lights aren't on yet (it's mid-November).
Sunday lunch is available for £5.25 (not today, though, 'cos it's Saturday). There is a private room with a bar for hire (the room is for hire, presumably, not the bar).
Spaceman succumbs to urinal usage – it's passable (the toilet, but also the urine), with perhaps a disc-shaped urinal (possibly – writing is not clear), 1 cubicle and 1 sink. The urinal filled with blue whilst spaceman was peeing, which is a bit disconcerting.
Pub 4 – Frog & Railway (Heaton Mersey)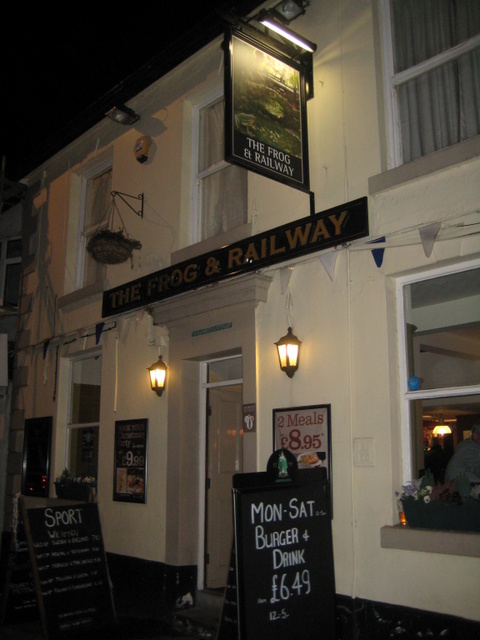 Another brief trundle up the road and we're at the Frog & Railway (at just after 5pm), where spaceman might have been before back in, um, 2001 or so. It doesn't seem that familiar but it was a long time ago.
A chalkboard sign outside advertises free bacon or sausage butties on Saturdays and Sundays between noon and 1pm, but this seems to be for season ticket holders only (it doesn't specify the club, but we could later guess – well we could if we had remembered about this sign).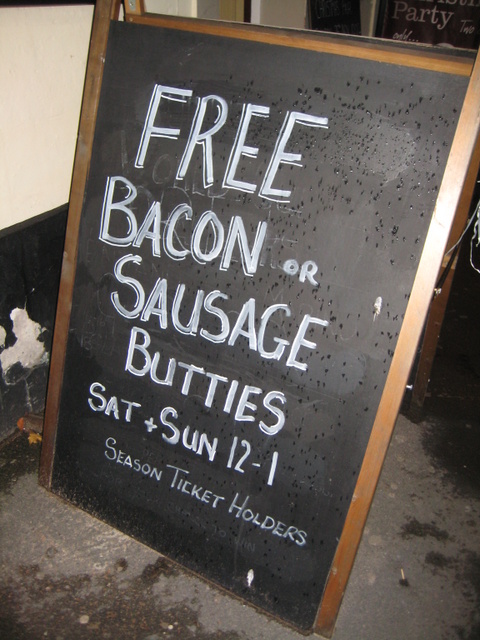 There's a bit of a queue at the bar, but luckily we're near the front. There seems to be just one guy to do the whole bar and also put United on the TV (via ESPN) when he has a spare moment. It's £4.85 for pints of Carlsberg and Ruddles Best – the cheapest drinks of the Heatons, surely.
The Toad heads once more to the toilets, which is a distinct contrast to prior pub crawls, and returns to describe them as having a "wet floor – it's either been cleaned or not", with 5 or 6 urinals and only 1 or 2 cubicles.
It's like the Tardis here – small frontage but a big expanse inside opening to a large back well-windowed area (where the church is?).
Spaceman notes that Oldham, spaceman's team, have managed to convert a 0-0 half-time scoreline away at Bournemouth into a 4-1 defeat, which is quite impressive really. The Toad peruses a randomly lying around Daily Express, but it's not much good for anything other than crosswords (of which it has a good selection, or used to anyway).
A selection of old music plays, including Hi Ho Silver Lining, but it takes a different turn when that song segues into Brimful Of Asha by Cornershop (the original, non-remixed version). That's one varied combination.
There are more families here – the other pubs we have been to have tended to be frequented by more single males. Four of those boxes where you can buy balls containing toys or sweets back up its family-oriented nature.
"It's warm in here" notes The Toad – spaceman's non-jumper strategy is beginning to pay off (it's a cold day but walking three miles and then walking into a warm pub is no place for a jumper, so just a T-shirt and jacket has sufficed).
We notice that the barman has a United top on – so this is the United rival to the City-loving Griffin Hotel. On a different pastime, a sign advertises a Power League of Texas Hold 'Em on Wednesdays at 8pm from 10th October, with free supper seemingly suggested to be part of this.
Spaceman tries the gents, which are out the back and to the left, past the snooker table, and confirms the presence of 6 urinals, 2 cubicles, 1 sink and a mysterious locked door at the end of the room. Norwich vs United are now showing, predicted to be an away win (although it doesn't turn out like that, we later find out).
Pub 5 – The Crown (Heaton Mersey)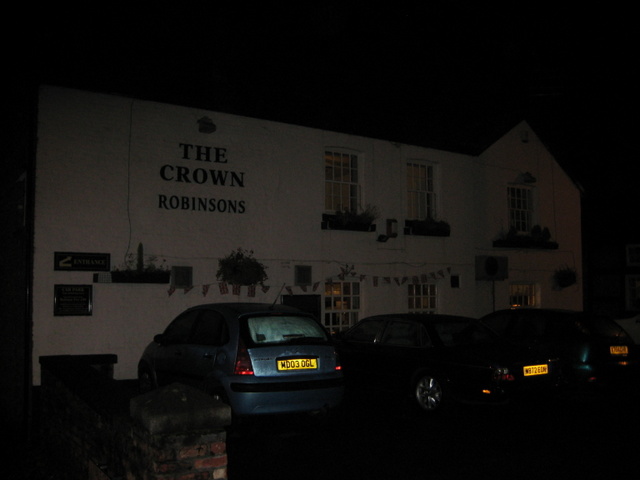 The last of our quarter of Didsbury Road / Heaton Mersey venues takes us to the Crown, at around 5.45pm. Neither of us is sure that we have been here, and memories aren't prompted by the need to go through the entrance round the back. We spend £5.80 on pints of Grolsch and Dizzy Blonde, the latter of which, naturally a blond beer, warrants a photo from The Toad.
As we came in through the back (which is the main entrance – it's not that the front was closed, it just wasn't an option), there was a bloke having a fag, but he follows us back in and it turns out that he's the barman / manager / owner (delete as applicable). It's very quiet in here, whereas the Frog & Railway had at least begun to decently fill up by the time we had left, no doubt due to the United game being shown.
There is a nice specials menu and they also do jacket potatoes with various fillings (which sounds a bit vague). The barman takes the unprecedented step of replacing The Toad's "cloudy" beer, with a fresh, clearer one. Unfortunately, spaceman does not get a refill of the Grolsch, which prompts some rather snobbish remarks from The Toad, saying that lagers "all taste the same".
We discuss the fact that the Manchester Christmas markets are open today, and are no doubt rammed. We find out that England last narrowly to Australia in the rugby, so it was perhaps for the best that we didn't watch it (spaceman had floated the idea, but it just wasn't on where we had chosen to go first).
As we are finishing our beers in order to leave, Europe's Final Countdown plays on the music system, which seems rather appropriate.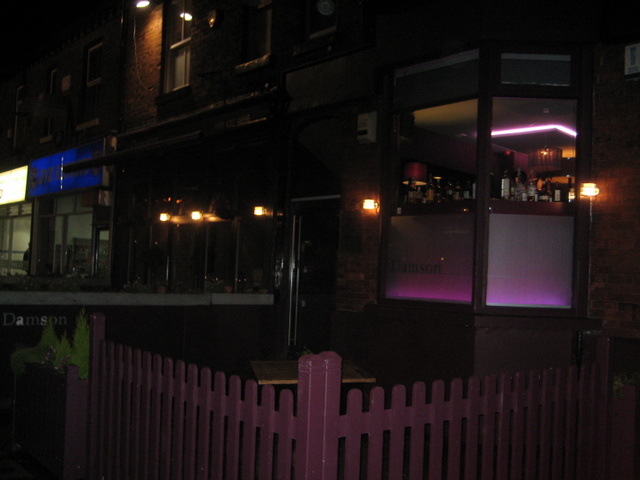 It's a bit of a fresh walk to Damson in Moor Top, part of Heaton Moor, as the sun disappears and it starts to cool down rapidly (not that it was ever particularly warm). We have a straight choice between here and the Moor Top for our next bar, but we decide that Damson is likely to be quieter at this time (which is 6.40pm) and get busier later, and so therefore it's a better option now.
During the second pub crawl, we had decided to miss out Damson, mainly in order to make our life easier, but no such plans afoot here.
Despite the time, we only just manage to get a table, provided we are out in 30 minutes (not a problem). The Toad was back out the door thinking that we had been rejected, but spaceman's persistence paid off (they had initially turned us down). We order pints of Peroni and Warsteiner, but without yet knowing the price.
We avoided Damson on our last two pub crawls, although just because we were either too drunk or it was too late at night. The drinking area we are in is busy as the tables all look booked out. There is outside seating, but no-one is sat there and we don't fancy it either. Not that we are asked.
The Toad finds it difficult to switch from real ale to lager. We get the bill as we are about to leave, ordering the bill in restaurant fashion post-consumption, and find out that the round cost us a record-breaking, eye-watering £8.50.
Pub 7 – Moor Top (Heaton Moor)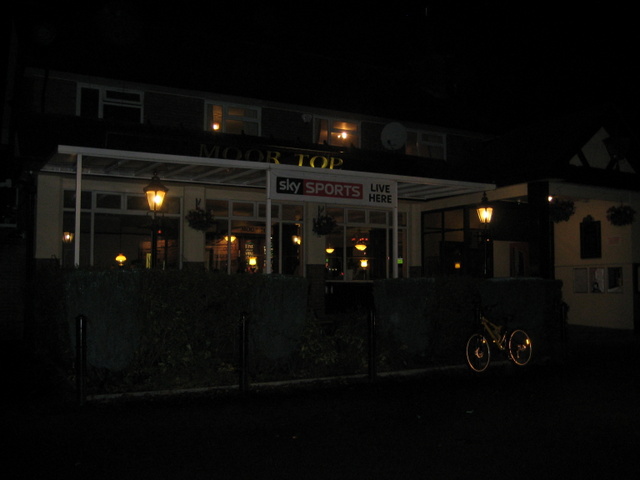 Straight to the bar, obviously, for pints of Carlsberg and Wainwright, which set us back £5.75. Spaceman nips back to get a bunch of 50p's for the pool table as it's unoccupied as everyone seems to be watching the denouement of the United game. In fact, they lose to Norwich, which is somewhat of a shock, and the pub empties quite a bit. It's about 7.15pm.
Spaceman takes the first game of pool. It's fairly evident that the last time we were here, we were a lot more drunk, rather inevitably given the volume differential. We make plans to get a chippy tea on the way to the next pub.
Spaceman scrapes the second game, and then also takes the third, but messes up the break on the fourth game, going in-off again. The Toad describes the Wainwright as "pretty good", despite not having had much of it yet.
The Toad pulls it back to 3-1, but only because spaceman unluckily goes in-off whilst potting the black. Spaceman notices that one of the fridges advertises Fosters Twist, but has no idea what it is.
The Toad grabs the pad to describe the end of the pool match, noting that once again spaceman is "annoyingly good" at pool (must be the right number of beers), describing spaceman's clear-up as a "ridiculous finish" to go 4-1 up. The Toad doesn't want to play anymore.
Given The Toad's slow progress with the pint of Wainwright, and the fact that spaceman is technically two beers behind, spaceman wanders back to the bar to get a bottle of Becks for £3.20 (there were no better bottles on offer).
Since we are just sat drinking by an empty pool table, spaceman just about persuades The Toad to partake in another game of pool, but just succeeds in getting annoyed by losing the frame. We consequently decide (well, The Toad does) to stop playing and move to another part of the pub "to enjoy it as it's meant to be".
But never mind that, it's chippy time! There is a splendid chippy not too far from the Moor Top, just next to the Savoy hotel, and we order cheese and onion pie, chips and gravy (spaceman) and meat and potato pie, chips and (possibly cold) beans (The Toad).
Pub 8 – Nursery Inn (Heaton Norris)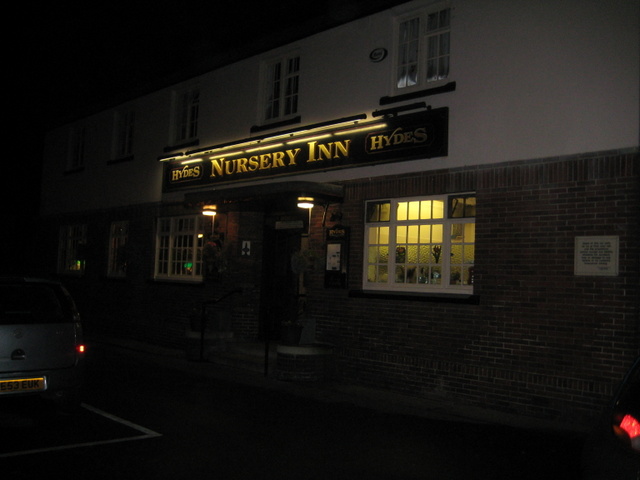 The food very much hits the spot, and we manage to finish it all before we get to the Nursery Inn at 8.40pm, the journey pretty much being the length of Green Lane. We splash out £6.01 (or so) on pints of Becks Vier and Doom Bar.
It turns that this is a new place for both of us. The Toad has a sense of people staring at us, so spaceman stares back. It's that time of night, evidently.
The Toad goes straight to the gents as spaceman stands aimlessly at the bar. It's busy in here tonight and there seems to be nowhere to sit down. A very annoying female laugh ricochets around above the hum of Saturday evening chatter.
Whilst the area we are in seems really crowded, we manage to find another seating area and, hawk-like, spot someone leaving, so we pounce to take their prime seatage, near where there looks to be some live entertainment potential.
The gents are noted as being fine. That is all. We also note the odd trait of putting sheets on the top (perhaps) of something (the writing is not clear) and we wonder the point of this is (which is hard to say, clearly).
There's no sign of any entertainment, which is a bit annoying, but at least we get to chill out.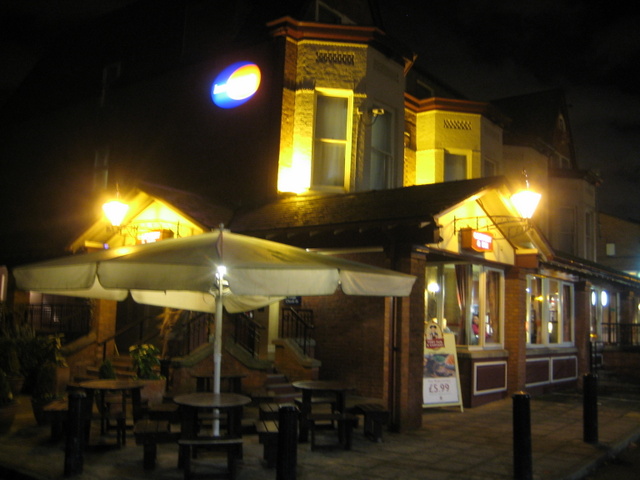 We're onto the home stretch now as we cut through by the railway line to get to the A6, in what is a reasonable walk, to reach the Toby Carvery (making its third appearance in our pub crawl saga; and it is a saga). It's probably just after 9.30pm when we get here.
It doesn't disappoint in that it smells of meat juice again, although that's less appetising after a chippy meal. We order a pint of Becks Vier and a pint of Thwaites Original. The Toad has run out of money so spaceman settles up (previously, The Toad had paid in each odd-numbered pub), although the price is a bit elusive (to our meagre beer-addled brains). Spaceman can't be bothered asking (or maybe did ask – it's hard to say), but the price may have been £5.75.
It's quiet in here, but it is getting later and all the diners will have left. Boring TV is one – something or other on the BBC – but that's Saturday evenings for you. It begins to annoy The Toad that the boxing is not being shown.
The barmaid says that she's not aware of the other side being open still, so we can't get any leftover Yorkshire pudding, for example (not that we want to).
There are lots of presents being stored underneath the TV in what looks like a fireplace, but not right now since there's no fire. The Toad then starts to get annoyed at lots of old people staggering around and saying goodbye in what seems to be the longest process known to man.
The Toad disappears to the toilets, confirming that they are the same as they were last time; meanwhile there is depressing news of the Middle East on BBC news.
It's really empty as we finally finish our beers and head to our last venue of the evening.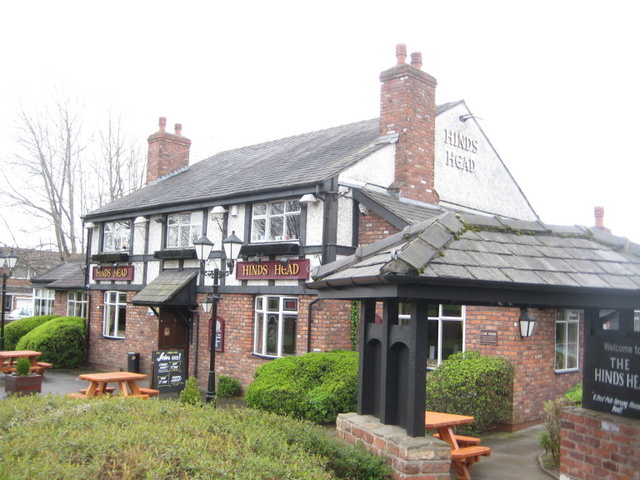 Two pints of beer, comprising one Becks Vier and one Timothy Taylor, plus a packet of spicy Monster Munch (the satiating power of the chippy having evidently faded) might have cost around £7.
We notice a large group of old people not moving around much, as is their wont. But suddenly a DJ's voice crackles into life, trying to encourage dancing and, seemingly, tongues. The gaggle of people in the party on the left of the pub makes it seem busy tonight.
Quiz night is on every Tuesday night, spaceman notices on a sign up on the wall, although it does not the next one as being in October.
Still falling victim to the dreaded munchies, spaceman heads back to the bar for some more salty corn-based snacks, this time buying not just a packet of spicy Monster Munch, but also some bacon fries. The Toad is occupied with texting and doesn't notice the packet thrown over the table.
The DJ puts the Killers on, who spaceman notes cancelled a recent gig partway through due to the illness of the singer (Brandon Flowers). The next tune is Disco 2000 by Pulp, although the DJ annoyingly talks over it. The Toad plays on the iPhone while spaceman listens to this song.
Possible Muse segues into Don't Leave Me This Way by the Communards. Spaceman finishes the first pint but The Toad is still drinking, so it's time to double up for the second time (thus also handily catching up the two beer deficit) and another trip to the bar yields a pint of Peroni in exchange for £3.20.
But what is most important to remember is that Club Tropicana drinks are free (yes, the next song is Wham). And when Whitney Houston's I Wanna Dance With Somebody (Who Loves Me), we realise that we are trapped in different era (i.e. the 80s). It starts to become quite horrendous as Whitney is followed by another cheesy and obligatory (it seems) song at what seems like a wedding. Unfortunately the writing is too scrawl-y to figure out exactly what song was being played.
We vote with our feet (er, does that make sense?) and walk out, but only because we have finally consumed all our beer for the evening.
Well then, that was a bit more successful wasn't it? Ten pubs, twelve beers (if you include The Toad's pre-crawl beers alongside spaceman's extras) and some vague semblance of consciousness at the end of it (certainly the memories are stronger of the last couple of bars than for the previous pub crawls).
It seems clear that the main difference between this one and the other two was having to walk reasonable distances between each group of pubs, which helped with the general sobriety (it's all relative). We both walked a little over 6 miles in total, spaceman reckons, over the course of about 8 or 9 hours.
We didn't do all the pubs of the Four Heatons, as that would be excessive to say the least, and there are a couple of pubs further down the A6 that are within the boundaries of Heaton Norris that we could have included rather than heading back to the old favourites in Heaton Chapel, but we decided to stay closer to home.
Who knows where we will end up next time (if there is a next time)…
The End