Well, weíre back on again. After much date ping-pong, and a few postponements, we are finally here. After spending so long agreeing on an available date for spaceman and The Toad, it was with rather late notice when barney was asked and alas availability was defined. So we abandoned the idea of going to Sale, as it didnít seem worth it, and instead settled on another trip round the Heatons, not least because of the new bars that had opened, but also for convenience (for spaceman, anyway).
We have a long text conversation to come up with the long list of potential pubs, slowly narrowing that down to 10. The pubs that we considered but ultimately rejected were Thomís Bar (formerly Orangery), Tusk (formerly Kro Bar), Time And Place (formerly Blue Cat) and the Beer Shop.
There then following some debate about the name of the pub crawl extravaganza, with spaceman initially suggesting Old Faves And New Bars, albeit disappointed with the lack of rhyme, Old Stars And New Bars, Old Faves And New Raves. The Toad correctly pointed out the lack of being a raver and suggested an opening of New Haunts, to which spaceman completed the rhyming couple with New Jaunts. And thus we had a winner.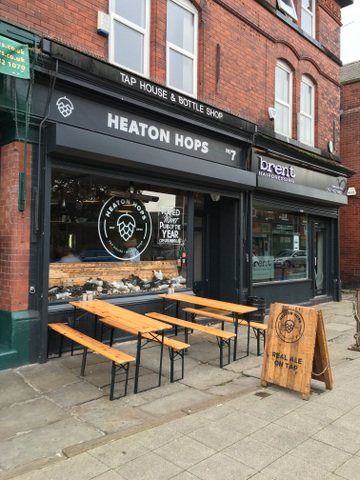 Approximate time of arrival: 3.20pm
Heaton Hops has not been open for that long (maybe a year or so?) and is a new bar for both of us, despite spaceman living quite close and wanting to go for a while. Thatís spacemanís modern social life for you. Spaceman orders pints of Hafbrau (draught lager) and Engine Vein (draught golden ale) for £7.40 and chats to the barman.
Behind the bar, they serve Kettle chips for available snacks (which, to be completely clear to The Toad, is not a portion of chips served in a kettle, despite ever more inventive serving dishes one tends to find in bars and restaurants these days).
Itís reasonably busy upstairs and so we try downstairs, with The Toad venturing down the darkened steps first (and sensibly finding the light switch) while the barman commented about it being a dungeon but without the chains, etc. Spaceman remarked in return that such things were extra. Here are the rather steep and precarious stairs (for a place which encourages alcohol consumption).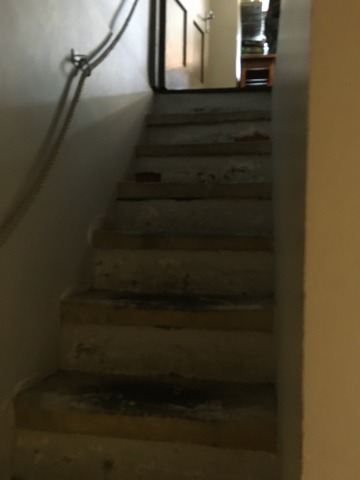 It remains just us downstairs for the duration and, when we start drinking, The Toad tucks into his drink with relish, necking half the pint in a few short minutes while spaceman scribbles these notes. The Engine Vein is not as hoppy a golden ale as The Toad thought it would be but it does leave a nice aftertaste (not that The Toad is giving it that much chance).
We notice a vaguely amusing sketch on the wall.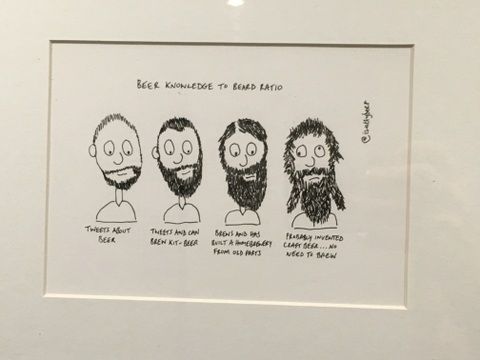 Spaceman is finding the writing quite hard work, being out of practice. We discuss alternatives, including a Bluetooth keyboard linked to the iPhone. Next time, maybe. Typing would be much more modern (although probably old-fashioned in this day and age).
They seem to have stolen lots of school chairs to furnish the downstairs, and they are a bit low for the fairly high tables, forcing us into an odd posture. Meanwhile, the Arctic Monkeys play on the stereo system.
We then discuss our respective experiences with growing fruit and vegetables this year. The Toadís tomatoes have not been that successful this year but one cucumber and some blackberries were obtained. Spaceman has had quite a few tomatoes and some cucumbers. We both have grown lots of sage but we rarely use it. What crazy lives we both lead.
Out of the blue, The Toad notes that he is getting married in the summer, so there will be a new Mrs Toad. Talk of weddings moves on to sport as we remember that the Ryder Cup is on today (the second day of three).
So in our quest for visiting ten pubs, we are going to try to take it easy to make sure that we make it and that we can vaguely remember our afternoon and evening (although the point of the notepad is to capture all the bits we do forget).
Approximate time of departure: 3.45pm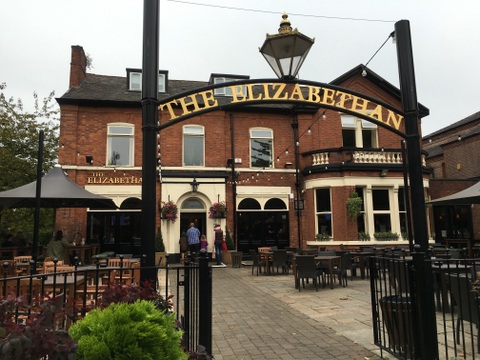 Approximate time of arrival: 3.55pm
Weíd become quite warm after the stroll along School Lane and Heaton Moor Road, passing many of the cash machines of the vicinity, the first of which spaceman grabbed the opportunity to extract some notes from. En route, we also passed the official boundary between Heaton Chapel and Heaton Moor, designated by the train track. We were moving to the, er, right side of the tracks.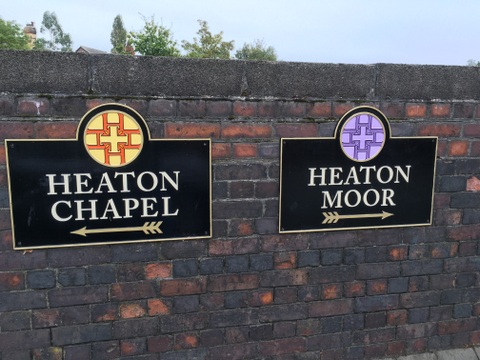 The Toad orders two pints, one of San Miguel (although spaceman immediately questioned the decision of going for that over the weaker Carlsberg) and one of a ruby ale, the name of which escaped The Toad when we sat down to chat and drink. The pair of them came to £7.30.
Seeking a spot where we would not be expected to dine, we reflected how this was one of our old haunts, where we would frequently meet, as it was about as close to equidistant between our then homes as you could get. The Toad had lived in the Heatons for around eight years but has been away (i.e. living somewhere else) for almost three years.
The Toadís beer is a hoppy ale and quite dark in colour, whilst the pub itself smells somewhat of meat and gravy. Not as overpoweringly as at the Toby Carvery, though (from memory Ė we werenít going today). ďYour proper pot food pub,Ē opines The Toad (whatever that means).
On that subject, The Toad gave praise to the Turnpike, a very nice Lees pub which does very nice food. Itís off the M62 towards Leeds but before the farmhouse and highest point. (Some later research shows that it is this pub, which is more or less equidistant between Rochdale and Huddersfield).
The Toad makes his own entertainment as spaceman scribbles, eschewing the BBC News live-feed on the big TV behind us and obtaining live streaming of the Ryder Cup on The Toad's phone as spaceman fails to persuade spaceman's Sky Sports app that we are in the UK. McIlroy holes a great putt as we tune in, as Europe seek to try to overhaul the deficit in the foursomes on day 2. The Toad's phone is perched precariously on a rail above the condiments holder.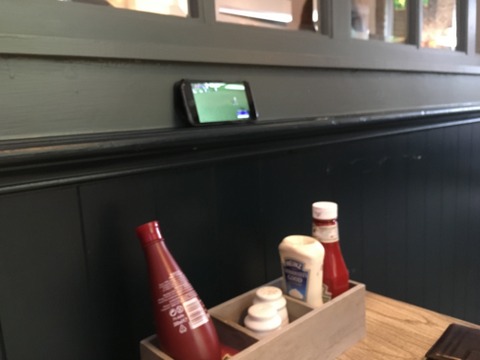 Here is a close-up of some putting in action.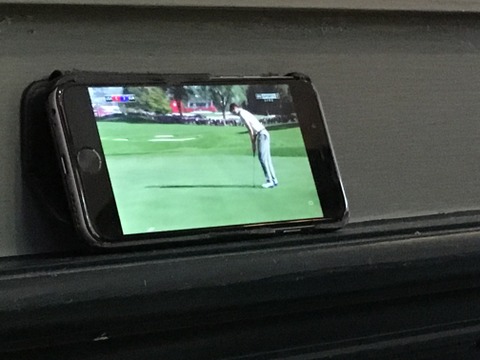 Today, Spaceman has been satiated at lunchtime by the classic pre-pub crawl meal Ė cheese on toast, whilst The Toad was still munching on crisps in the drive over, following a more steady sandwich lunch (sweet chilli chicken from Martinís bakery, sandwich fans).
The pints are going down steadily (which is what you want Ė if it starts flowing like milk then youíll be in trouble), certainly not as fast as the initial stages of our Heaton Hops visit.
Our conversation turns to curries (lovely curries), spaceman having had one the previous night (lazy post-work treat). We discuss the origins of the chicken tikka masala, which legend has it was born in Glasgow (although spaceman had mistakenly thought Birmingham) based on a request for more sauce and the use of tomato soup, although explanations vary (it seems).
Outside the front of the pub there is outdoor seating, which we are not brave enough to use, but it is beginning to fill up. We speculate what all the other people out drinking on a Saturday afternoon are doing, since they are not performing such a public service as we are, and are simply drinking during the daytime.
The Toadís final word on alcohol here is that the Jumbo Star (for that is what the ruby ale was named, as The Toad did a bit of research by walking vaguely past the bar on the way out) was ďa very average pintĒ.
Approximate time of departure: 4.30pm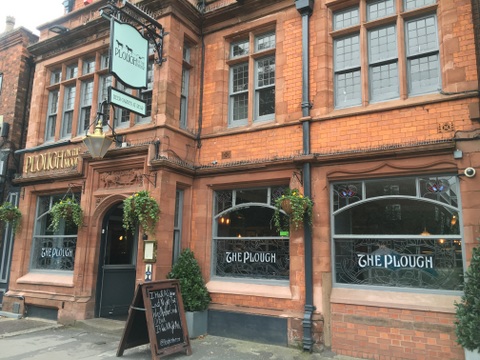 Approximate time of arrival: 4.35pm
A short shuffle up and across the main road gets us to the Plough, as we glance at the Town Bar and Thomís Bar (formerly the Orangery) on the way. Spaceman gets a pint of Becks Vier and a pint of Hop Fiction pale ale (5.2%) for £8.40. The Toadís beer is cloudy to start, but when it clears and it is drunk, ďmmm thatís niceÖ citrusyĒ are the comments uttered.
This vaguely amusing sign greeted us outside. Thanks to social media, this kind of sign can do the rounds every so often, of course. Perhaps not this one, though.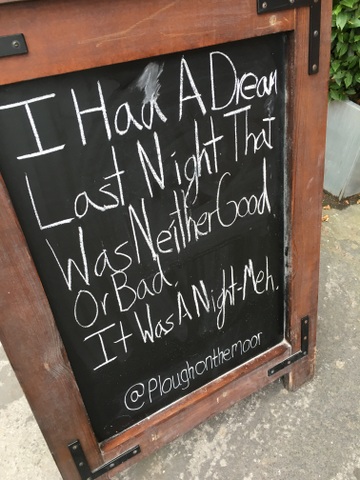 The Toad thinks that the Plough has had a facelift. It had a fairly big make-over a few years ago so it was a little hard to tell, but it did seem to be heading a new direction. For one, the pizza oven has been shut since August (The Toad was sufficiently curious to enquire, which was excellent journalistic work).
We find some seats back towards the window and The Toad breaks the news that his notice has been handed in, with a move to Oldham Council the next move. In amongst the work and general financial chat, we did notice that itís not too busy in here.
While we are sat there, we are switched from the daytime menu to the night time (er, evening) menu.
A dog wanders up to our table, distracting spaceman somewhat as the Toad gets confused regarding commuting times and experience. Not sure why exactly (the notes donít elaborate).
The Boxer Rebellion (of whom spaceman is a fan, but who are not hugely mainstream) appear on the stereo (with latest song Letís Disappear, complete with funky bass). Spaceman mentions having seen them for the first time at Glastonbury in 2009, but Glastonbury is The Toadís idea of a nightmare because of a perception of it being claustrophobic. However, spaceman reassures The Toad that itís actually a really chilled-out place (and also a pretty massive site).
Tame Impala is then played, and itís almost as if spacemanís iPhone on shuffle is dictating the playlist. Which would be nice.
Spaceman is first to break on the toilet front, if thatís the right phrase, and noted carefully that it comprised 4 urinals, 2 sinks and 1 cubicle. Spaceman sneaks a look out the back whilst up and about.
That's not a great angle (difficult because it's quite small) so how about this.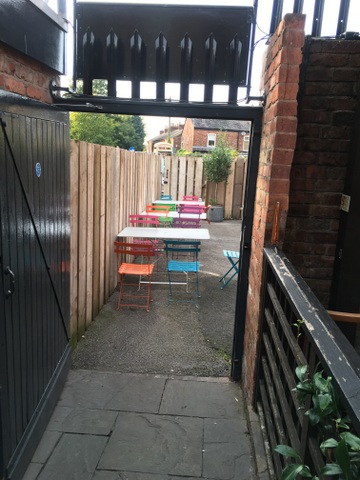 Nope, still not great. The shot above is taken further in from the first point of view (i.e. the door on the left is the on in the background in the original). Anyway, on spaceman's return, we watch Pieters hit a 20-yarder (or maybe footer) to go 3 up with 3 to play in the Ryder Cup.
On perusing the menus in more detail, we discuss the contrast between quinoa salad and chips, cheese and gravy, that both grace the menu. They also appear to have pumpkin and kale croquettes (according to the written notes and indeed the photo Ė a menu available on the internet suggests that these also comprise goatís cheese, but thatís not this variant). Weíre not going to try it, but itís a bit of an unusual starter (we'd already had lunch, as discussed). As you can see below, the croquettes are served with lemon and basil houmous. That's a mind-bending combination, right there.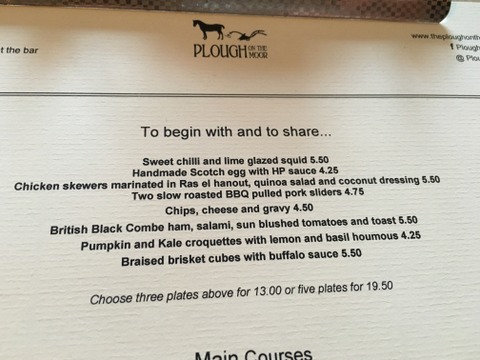 The Toad has slowed down with the beer consumption and appears to have developed a cold over the last few minutes. Which is no good. Here is a shot of the bar.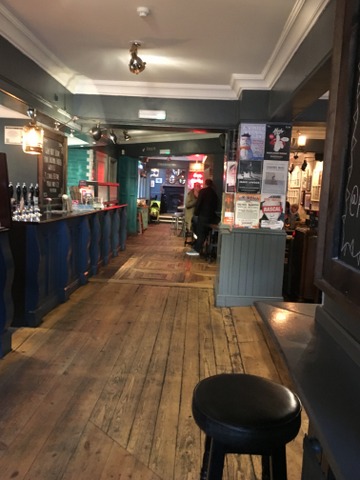 We leave with The Toadís view of the Plough ringing in our ears, which is that it has changed for the better Ė The Toad likes it although would bemoan the lack of a pizza oven if hungry. In short, itís more of a bar than a pub.
Approximate time of departure: 5.10pm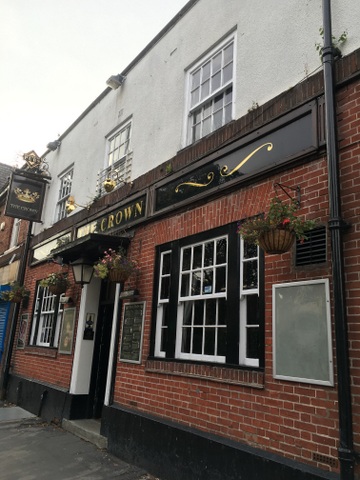 Approximate time of arrival: 5.15pm
A generous five minutes travel time is allowed for as it is very close by - in reality it was probably more like one or two. We enter and purchase pints of Carlsberg and Longdendale Lights for £6.95, the cheapest so far. Other lager choices were Fosters and Heineken.
Itís much less fancy here and now quite a contrast between it and the Plough where we had just been. Gaelic football is on the TV, which is not what we really want to watch, not least because we have no idea whatís going on. The Toad continues to live-stream the Ryder Cup via phone instead.
As we wander through to the back of the pub, the TV on the other side of the wall has football discussion on. They could surely have put the Ryder Cup on there, but we donít particularly feel compelled to ask.

The other side of the pub was rejected; we could see an old man gazing out at us as we looked. When we walked in, The Toad commented that it smelled of stale piss (thankfully quite quietly), which is not a pleasant odour generally. Perhaps a refurb is in order.
It remains fairly empty in here throughout our stay Ė The Bar That Time Forgot, perhaps. Our drinking pace has slowed further, showing our unfamiliarity with such consumption and/or our wisdom at not overdoing it too early.
Spaceman relents again on the bladder front, clocking that there are 3 urinals and 1 cubicle, with a communal sink. In the toilets, a TV match fixture list advertises Germany vs Northern Ireland next to Peterborough vs Bury, which are clearly of comparable stature. Whilst up and about, spaceman checks out the beer garden at the back, which has been done up since last time.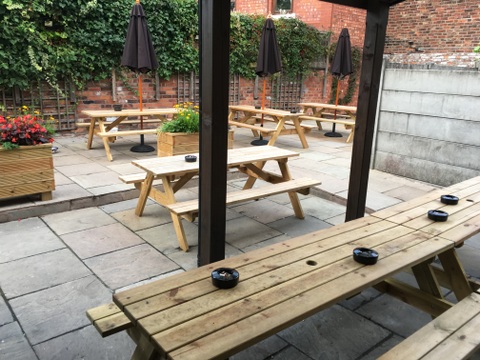 Meanwhile, the Toad succumbs to the call of nature, finally Ė a wise choice before the journey to the next bar. Too many times we (mostly spaceman) have rushed to the toilets when arriving at a pub.

In sporting news, the Ryder Cup is nip and tuck, as it ebbs and flows and we continue to watch it. Itís going to go down to the wire on the Saturday. Finally tearing ourselves away from the golf, we debate the next venue. We consider Tusk or Time and Place, but in the end decide that we will go to Bottle first and then make up our minds.
Approximate time of departure: 5.50pm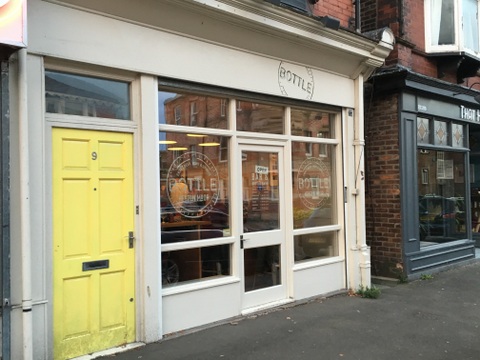 Approximate time of arrival: 5.55pm
As we wander down Shaw Road, we suddenly find that Bottle is upon us. We werenít exactly sure of the location and so its appearance, opposite the local curry house the Kushoom Koly, surprises us.
There is an eclectic mix of beer on offer, but we settle on pints of Irlbacher Helles lager and, with the Toad having asked for a hoppy beer, Weird Beard Mariana Trench (yup, you read that right) for £8. The Toadís alternate option was a pint of Thornbridge Jaipur X, but that was 10% strength and so not really an option at this stage.
Whilst waiting for our beers, or perhaps having initially received our beers, we check out the small, rather cosy beer garden and we try to get our bearings in terms of whereabouts in Heaton Moor we are and what we can see.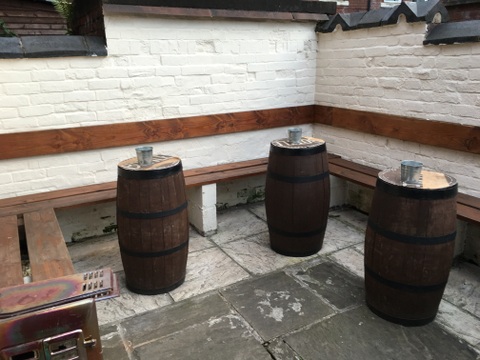 However, itís quite fresh and so we donít stay outside for that long. There was a threat of rain for today but the chance was downgraded and we are sans coats.
The main bar areas, which is very well stocked (as you can see in the picture below), is reasonably busy but we donít have an issue getting a table as we might have done at Heaton Hops (upstairs and indoors, at least).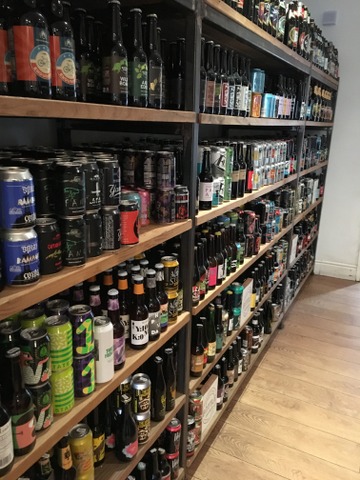 Weíre not actually sure what venue this bar has replaced. It wasnít another bar, thatís for certain. We then move on to debating the next pub to visit. We have a number of choices but decide on the Moor Top as it has apparently been done up and it is well-placed for food being opposite a chippy.
We notice the following picture, which has a Northern-bands-as-beer-mats theme.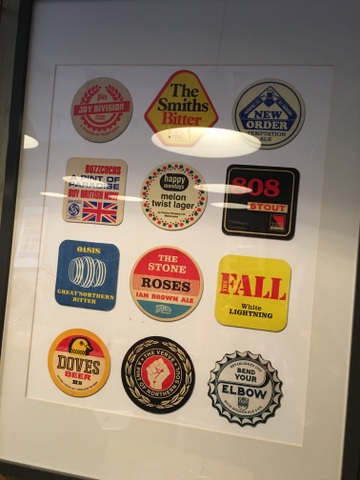 The Toadís other half texts to request details of our progress Ė up to five pints is the answer. Meanwhile Garcia halves his game, completing a great comeback. It is all to play for in the evening (or afternoon over in the States) session.
Approximate time of departure: 6.30pm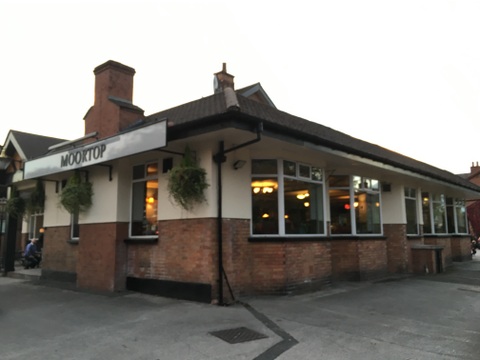 Approximate time of arrival: 6.40pm
On entering, we are greeted by a family food / salt and vinegar sort of smell. We obtain pints of Longdendale Lights (as purchased in the Crown) and Carling for £6.80. Spaceman, like a leaky fountain by this point, went to the toilet immediately and had to deal with a guy who remained there the entire time without doing anything but with no explanation forthcoming. There was someone in the cubicle it seemed, so maybe he was waiting for someone to come out.
There are three pies of the day, which feels very extravagant, but also quite tempting. But since we are going to go to the chippy opposite, we pass on this.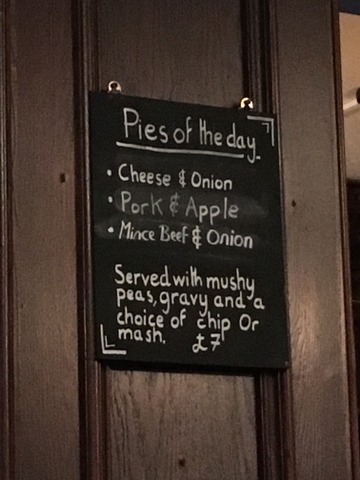 BBC News is on the TV but no Ryder Cup, although weíre betwixt and between sessions anyway. We discover that the Moor Top does not seem to have been done up all that much, but it did gave us a fresh 10-minute walk from Heaton Moor to help sober us up a little (perhaps wishful thinking).
Spaceman then curses gently having realised that Becks Vier is on tap, a much better choice than Carling (in spacemanís world anyway; theyíre probably all the same to The Toad.
Weíve sat, for some reason, near a plethora of ketchups, HP sauces and salt/pepper/vinegar sachets, as we chat a lot about the demands of children (to recap, spaceman has two, The Toad has one).
Approximate time of departure: 7.10pm
After another decent walk along Green Lane from one pub to the next, we arrive well-satiated having consumed a chippy tea on the way. We visited the New Britannia, a solid chip-serving staple of the Heatons.
The timestamps suggest that it took us a good 45 minutes in total, but that was largely due to waiting for The Toadís battered sausage (perhaps needlessly requested in preference to an unbattered sausage). Spacemanís cheese and onion pie, chips and gravy was ready quite quickly, but The Toadís battered sausage, to accompany chips and beans, took ages.
Phwooarrr, eh? No battering required this with this lovely carb collection.
Naturally, spaceman had easily devoured the meal by the time we reached the Nursery Inn, but The Toad had not quite finished, revisiting the polystyrene container once more before ditching it in a nearby bin.
Walking alongside the Nursery Inn, it sounded very noisy but when we get in there itís relatively quiet, which is a little puzzling. There was also no sign of the live music that we encountered on our last visit.
We spend £6.55 on pints of Amstel and a pint of something else for which the writing has let spaceman down. Here is what has been written.
The Toad later thinks that it was something to do with sailing or boats, even going so far as to look on the gallery pictures on the Nursery website, realising that these are perhaps slightly out of date.
We have a (very mildly) aggravated tete-a-tete with an old gentleman who gives the barmaid a pound and very much seems to be a regular. He seemed fairly insistent on getting back to his usual seat, although he soon disappeared, presumably to the toilet.
We feel like we have broken the back of this pub crawl, with just 3 or 4 bars left to go (yes, weíve now started to count them down, a sure sign of our waning stamina).
We of course engage in more watching of the Ryder Cup, now that the next session, the fourballs, has started. We notice a sign which refers to Fizzy Friday; it does feel a little bit flat for a Saturday.
We sit quietly for a while just watching the golf, although we have had nearly 7 pints so itís perhaps understandable. Then The Toad tries the gents, which are a bit old school but didnít smell too bad, which was a bonus. For those wishing to visit the pub in future, please note that the hand dryer was very sensitive.
There is also a chippy opposite this pub, although it was shut on our arrival so itís a good job that we didnít rely upon it. Spaceman did notice it open when cycling home the other evening, but weíre not altogether clear of the opening times. The Toad begins to show signs of getting sleepy.
As we leave, we notice that the party might have been happening upstairs.
Another shot from outside, just because. No idea either.
Spaceman is desperate for a pee and so we go here next rather than to the Magnet (which would have made more sense for the route as it is further away). The Toad buys pints of Malt IPA and Kozel (a Czech lager) for £6.30, which seems pretty cheap, especially with spaceman lending (OK, giving) The Toad 15p.
We are welcomed, by a sign, on entering the pub. We'd certainly be foolhardy to have too many more beers, etc. A sign outside advertised it being the Pub of the Year 2014, according to Campaign For Real Ale, aka Camra.
This is what the bar looks like, just so you know. It's a very neat array of beer pumps.
Itís pretty quiet in here as well Ė are we missing all the parties? On our inter-pub journey, we went past the Indian Express takeaway, which was our end of pub crawl food venue on the first Stockport pub crawl.
They advertise a large selection of bottled beers, but it's not really the right time for us to be trying them all out.
Weíre going ok, we tell ourselves, just two more pubs to go. A sign advertises pork pies and cheese and onion pies for £2.85. Here is proof, since this account is now operating as much on pictures as it is on words. It was that time of the night.
We had a lounge or vault choice on entering; we went for the lounge as it sounded cosier. Not sure if this constitutes proof, though.
The Toad doesnít finish his beer, saying it is really flat and not nice. Any excuse. And, with that, we moved on.