We went for a 3pm start, as had become preferable, getting a lift off The Toad's girlfriend to begin our journey The Toad having split up from Mrs Toad since the last pub crawl, gossip fans). We would be walking northward towards the Heatons from the far end of Stockport, so getting driven there was very handy and much appreciated.
This pub crawl took place a day short of a year after the previous one.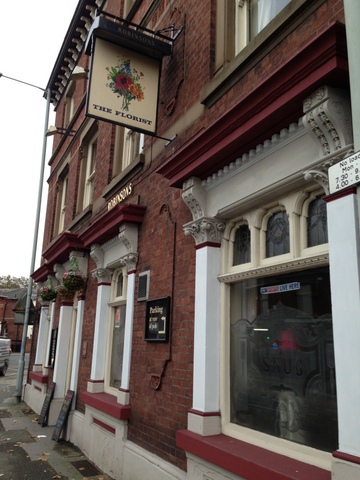 Approximate time of arrival: 3pm
Our first stop was The Florist, a Robinson's brewery pub located in the Shaw Heath region of Stockport and one of the pubs visited by Likesa on her crawl.
Pints of Tom & Berry ("too many Dizzy Blondes last night", says The Toad) and Carling Extra Cold (the other choice was Fosters – Carlsberg Export was off and, in any case, is a bit too strong to start off a pub crawl with) cost £6.05. On the way in, we noticed this sign.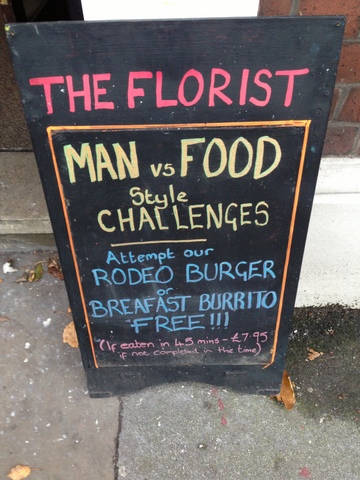 Whilst in some ways it would be a steadfast way of lining the stomach, it's 3pm and we've already had lunch. And in any case, the vast quantity of food suggested by it being a "Man vs Food" challenge would likely lead to having no room to consume beers.
Regardless of such challenges being on offer, the pub is pretty empty, with a completely deserted, but we find what we're looking for in the form of a room with the England vs New Zealand rugby union game on the TV. We join three gentlemen watching it just as England score a try to pull the score back to 17-10.
We notice a hatch to the bar in the wall in our side room, a nice feature should we want beer without having to go back round to the main bar. Of course, we won't have another beer here because we have many more places to visit, but it's good to know it's there.
When we were waiting for our beers to be poured, the barmaid was seemingly chatting about slow cooking pig overnight. The Toad later noted that one of the patrons at the bar had stared at him unbrokenly as we came in, perhaps anticipating some sort of staring competition, so The Toad quickly switched gaze to the beers on offer.
Slightly distracting, while trying to watch the rugby match, is the radio commentary of a football match (presumably a lower league match as there were international fixtures on the previous evening and thus no Premiership matches) from another part of the pub.
A menu on the table beside us shows a range of sandwiches and burgers, as well as more substantial meals such as meat & potato pie, chips and gravy (although it includes soup in this list, which is clearly less substantial than a burger, but oh well). Seemingly no sign of the food challenges, but we don't look too hard.
There's not much in the way of light in the area we're sat in, which has a sort of orange tint, as the light starts to diminish outside even though it's not much past 3pm. There is a beer garden at the back which we don't try out.
The rugby game starts to get quite exciting as an impressive comeback from England seems them pull it back to 20-16 (from 17-3) at half-time. We definitely need to find somewhere that is showing the game for the second half.
We make an executive decision not to go to the Bamford Arms, a Beefeater on the A6, instead planning to go across to the Sun & Castle next, hoping the rugby is on.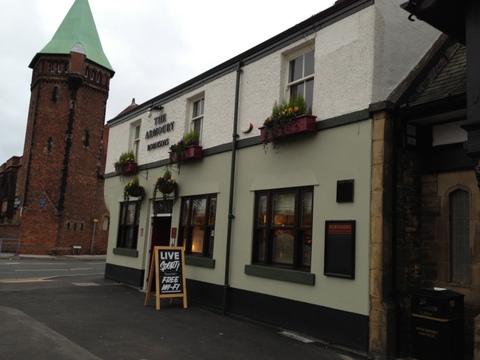 Approximate time of arrival: 3.30pm
We make our change to already amended plan as we wander to our next location. We first notice, from a distance, the Swan and assume that this will be our next visit, thinking that the AMS sign is just a solid advertising investment.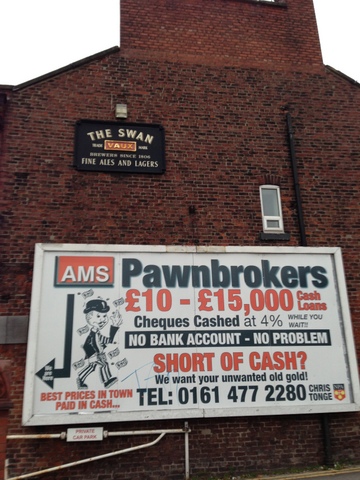 However, as we get closer, it turns out it actually is a pawnbrokers, and therefore not a valid venue for our crawl, being not a pub. AMS presumably haven't bothered getting round to removing The Swan sign.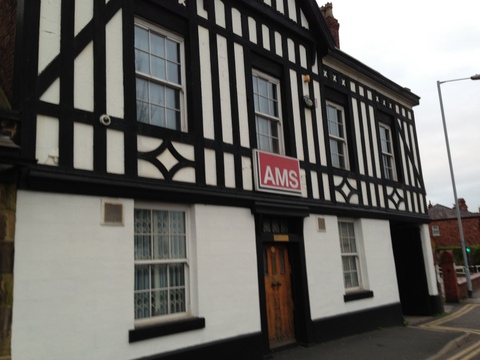 We do spot the more modern-looking the Armoury next door, though, which was another one from Likesa's list. It takes the place of the non-existent Swan as our second pub of the crawl.
The sign outside the Armoury advertises live sport as well as free wi-fi, so we're not complaining, and the promise of live sport meant we were hopeful, and sure enough it has the rugby on.
Having said he'd had too many Dizzy Blondes, The Toad orders a pint of… Dizzy Blonde (3.8%). Spaceman settles on a pint of Fosters (super chilled) as again only Carling and Stella as choices, although only when we sat down does spaceman notice the Coors Light which could have been an option. The pair of pints was probably about £6.
There's quite an impressive bar snack selection – in particular, The Toad asks if spaceman will be having a pickled egg. Maybe later. Also featured, mini cheddars, bacon fries, standard crisps and Bombay mix, which prompts a conversation about the percentage content of pubic hair and urine in communal offerings. Splendid.
It's much busier in here than it was in The Florist – The Toad thinks it has clearly had a refurb reasonably recently. We perch slightly awkwardly on the outside of a table in the middle of the room, but we can see the TV and we're not too much in the way of the flow of traffic.
We're not afforded the luxury of any commentary for the rugby, which reduces the impact slightly (the Twickenham crowd, in particular, had sounded really up for it). Instead, we get to listen to a selection of admittedly good tunes, from Joy Division, the Smiths and Stereo MCs.
The Toad likes it in here, noting that if he lived in the vicinity, he could see it as his local. Score update: a penalty to England makes it 19-20. Close!
There's another side to the pub which we noticed when we came in. It has a dartboard and presumably some regulars. Score update: England take the lead with another penalty, 22-20. Song update: Fool's Gold then Blue Monday.
Spaceman breaks first to go to the toilets (due to, er, a pre-crawl coke and some water at home). Going to the gents involves the discovery of an area leading to many nooks and/or crannies, including an upstairs, disabled and gents' toilets, a beer garden and a private function room. The toilets featured 3 urinals and 1 cubicle (The Toad required an update on spaceman's return, as is tradition for these excursions, rather than for some sort of unnatural obsession with male toilets).
Another Smiths song comes on, but then silence. We've finished our beers so we're just waiting for the game to finish. This is a dilemma of sorts as there is still 10 minutes left, but it is a marathon not a sprint.
The Toad wants a photo of the Trooper beer, inspired by one of Iron Maiden's best songs, apparently, and brewed in their honour, so that he can text it to his friend. Here is my slightly blurred photo of it.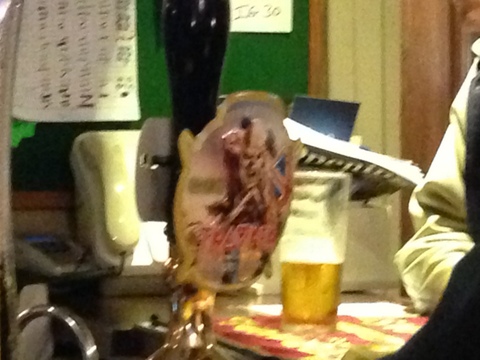 We do stay for the end of the match and witness a New Zealand surge to take the match 30-22, but it was a great effort by England against a team which is currently dominant in world rugby union (their 13th straight win, unbeaten in 2013, 1 defeat in 34 matches).
Mildly disappointed, but at the same time quite proud, we continue in our quest.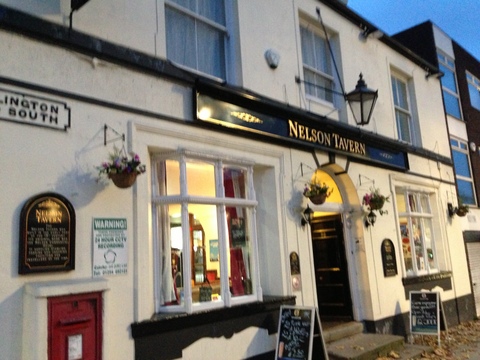 Approximate time of arrival: 4.30pm
This pub sits on the corner of the A6 and Greek Street. In fact, there is a good view of the Town Hall from Greek Street, as this photo demonstrates.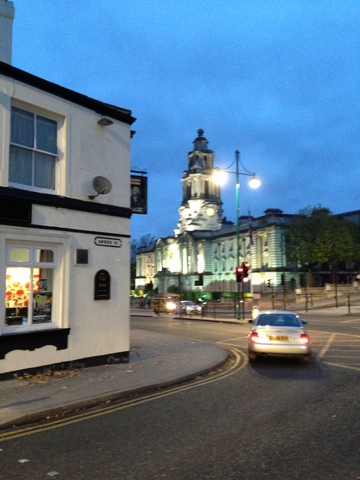 It's quiet at around 4.30pm, with snooker playing on the TV (which is a bit confusing because we weren't aware of any tournament on). Perhaps they were showing the rugby before and this is the programme that is on afterwards. Or they are missing the Premiership being on.
Suddenly, however, music comes on – a bit of dance music in fact. We ordered pints of Amstel and Dark Mild for £5.80. The Toad's picture has made it through to his friend, who has replied with the comment "one of the greatest things I have ever seen".
The Toad relents and goes to the toilet, mildly distressed at having gone so early (for him). It did smell of urine as we came in so perhaps that was a prompt. Spaceman had eyed up the bar snacks but we hold fire for now.
Whilst we waited to be served, we couldn't help but overhear the barmaid and a customer having a conversation, although it seemed that they were having trouble hearing each other, as £400 was confused for £1,200. It wasn't clear what on earth they were talking about, but given they talked a lot about maintenance, perhaps a bike or a car. We didn't care to ask.
Football is now on the TV; a rematch of Juventus vs Real Madrid (so last year's Champion's League final?). The Toad returns to note that he is not impressed with the long metal urinal with yellow blocks all along. No, they tend not to be the best. The handwash was running out and clearly had been diluted, and water sprayed everywhere out of the taps. If we were awarding marks for a toilet experience, this would evidently not score highly.
Karaoke is advertised on the wall as being on Friday nights, so we've dodged a bullet there. Three Jagerbombs are £6. No to both of these, basically.
The signs outside advertises more offers: five purple WKDs or five Carlsbergs for a tenner, with a bottle of wine £9.50. The far sign beckons people to "come enjoy our new beer garden", which is open 7 days a week from noon.
There's not really much more to say about this place. It's a little devoid of atmosphere – perhaps it will pick up later – so we end up chatting about houses and cars for a bit. And then we move on.
As we leave, spaceman sees the opportunity to take a picture of a well-lit Town Hall in the darkening afternoon (it's not quite evening just yet).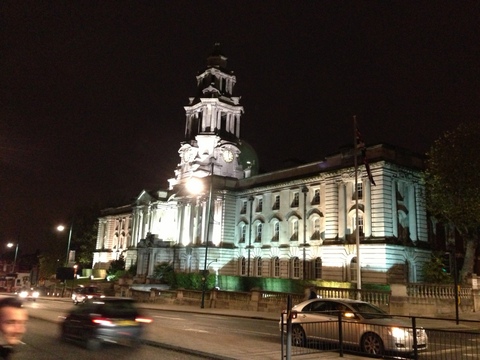 We also noticed this on the other side of the road. We had many choices - we chose the nearest pub.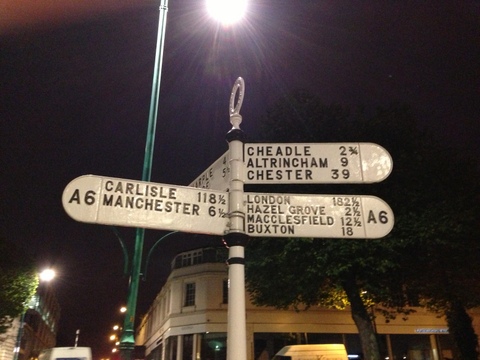 Which happened to be...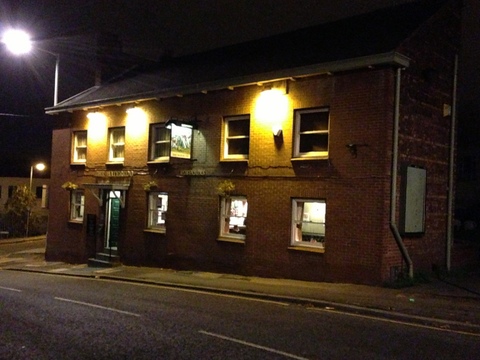 Approximate time of arrival: 5pm
This is another unplanned stop, at a place which was awarded pub of the year in January 2013 apparently. We order pints of Trooper and Carlsberg for the mildly expensive (compared to the others so far) £6.35.
Embarrassingly, spaceman couldn't hang around to pay as he had to pee, so he passed his money to The Toad and ran. There was again the magical combination of three urinals and a cubicle. To get there, spaceman had to almost go back outside the pub (almost, but not quite), moving from the lounge to the public bar area, where there is a dartboard and a pool table.
A lady is setting up a sound system in the lounge area (where we are) – presumably doing a turn later. We had walked past the pool table on the way but it isn't really what we're looking for (not sure The Toad wants to play spaceman).
Wonderwall plays on the jukebox and it's 1995 in the students' union all over again. Back in 2013, it's quiz night on Thursdays, with a gallon of beer the award for a winning team (which the internet has just confirmed to be eight pints). They would be both imperious and imperial.
Based on a sign on the wall behind, it seems that Vicky is the name of the person setting up the potential night of music. We suddenly get a brace of Arctic Monkeys songs, namely the excellent Fluorescent Adolescent and the also-very-good Fake Tales Of San Francisco.
We suddenly realise we've not seen Vicky for a while, so we must assume that we will see no (musical) action during our stay. Perhaps she is on later.
There's not much happening here (which is one of the themes of the day) so we move on.
Time of arrival: approx 5.45pm
As we come back towards the A6, we are tempted by a "Bull" pub down a side road but we are already adding too many to our original list, and we are only human, so we decline, walking back to the A6, past the double yellow line parking area.
The Town Hall Tavern is not what The Toad expected, being part-gothic, part-biker (there are a motorbike helmet and leathers on one of the tables). We get pints of Robinsons dark mild and a pint of Budweiser for £5 (which is cheap but they both taste pretty bad). We sit in an area at the front of the pub which is completely unoccupied.
This sign probably sums up our current venue: a sign saying "Friday is Rock Night" and no people. (Okay, it's Saturday, but still.)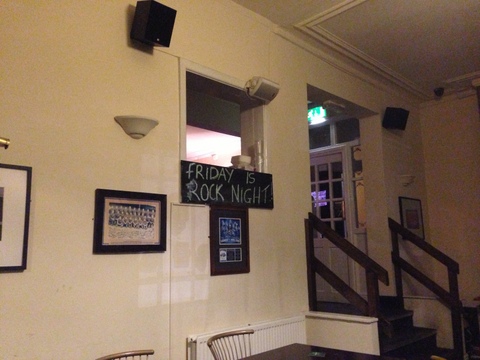 James playing on the stereo system followed by a countrified song offers something of a contrast. The gents' toilets offer the usual three urinals and a cubicle – perhaps it is in line with town planning rules.
A picture on the wall of the 1966 football World Cup winning side sits uneasily beside what is basically a framed photo of random (we presume) girls on a night out. Other photos show (or seemingly show) architectural elements of Stockport, including one of the bus station with the famous viaduct in the background.
The Toad sets the pace on the beer drinking again although spaceman was struggling with the taste of the pint of Bud. To quote "lagers all taste the same" – well this one tastes like shit.
Just as I'm struggling to finish the dregs of an awful pint, Last Nite by the Strokes comes on, thus making it slightly a less painful experience. Onwards.
On our walk down the hill, spaceman gets a picture of the Plaza, a recent destination for watching a live Postman Pat show with spacedaughter and spacegirl.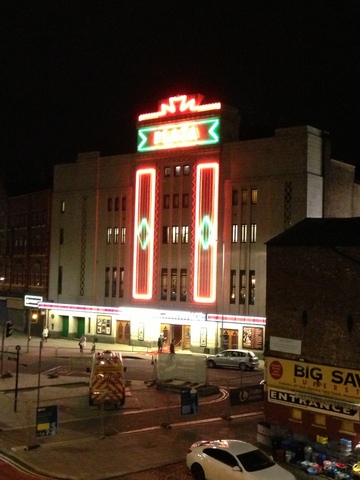 And with it being November, there is a big Christmas tree near the shopping centre.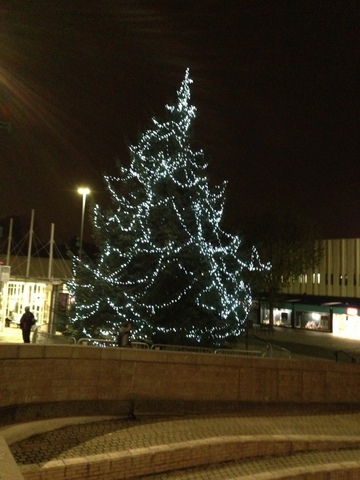 As wandered round shopping central, we spotted another unplanned pub opposite the Plaza.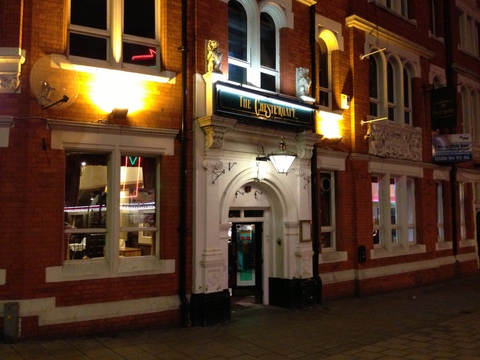 Approximate time of arrival: 6.25pm
In the absence of any obvious cash machines, Spaceman borrows £10 off The Toad to potentially fund the next round. Pints of Kronenbourg and John Smiths (The Toad's old favourite) are purchased for £5.90 and a further 75 pence is proffered in exchange for a small packet of bacon fries (which are also rather retro in The Toad's eyes).
We find a table in a quiet area, although it's not like there are that many people here. We've yet to go anywhere thus far on our crawl, apart from the Armoury, that has been really buzzing. Perhaps it is simply the time of night, or rather evening, since it is about 7pm – maybe they all go mental after 8pm. This was another pub not on the list, but given its proximity to the A6 we feel that it is a must.
A remixed Celine Dion song comes on the music system, prompting some well-justified facial contortions. Spaceman again visits the toilets – there was one long urinal with yellow blocks and one cubicle. Just in case, y'know, you were wondering.
Some right old crooner then plays – we are far from appreciative of the quality of music being broadcast. Famous last words from The Toad: "I can last until the Pineapple".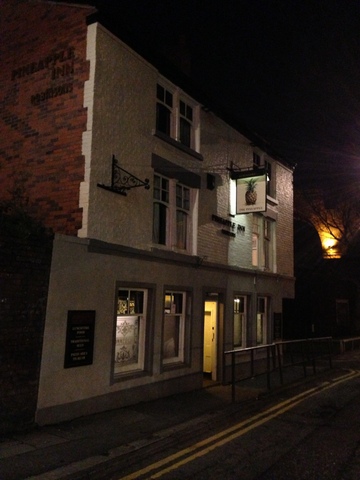 Approximate time of arrival: 7.05pm
We pass The George, which looks (unexpectedly) open, but The Toad isn't keen, so we head past it to here. It looks shut and the door is resistant, but we persevere and make it inside.
The Toad goes to the toilets (having survived as promised) while spaceman gets in pints of Trooper and Carling (there were no other lagers evidently on offer) for around £6 (spaceman immediately forgot what was actually paid – but seems to have later confirmed it as £6.05 with the barman). Spaceman also gets a large packet of crisps to deal with the onset of the munchies.
There are lots of old people in here (nothing against them; just a fact), very much talking about random stuff, as is their wont.
An old-fashioned and, more importantly, free jukebox tempts spaceman into selecting some music but, given the lack of modern choices, is limited to a selection of Simon & Garfunkel, Phil Collins and the Beach Boys. The Toad points out that there are lots of plates on the wall, particularly liking the NYPD one. Here is what those plates look like.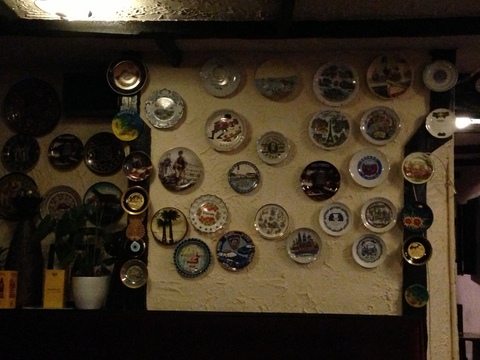 The Toad likes the idea of free music and so goes up to the oche (ok, that's for darts), but spcaeman is reminded of another choice, UB40's Red Red Wine, which means that The Toad will have to wait.
The Toad takes quite a long time deciding on the selection, in the end picking U2's Desire first up. The Toad gets suddenly annoyed with the pint, which appears somewhat unsatisfactory (perhaps too cloudy) having drunk about a quarter and so gets it exchanged, getting a pint of Unicorn to replace it (probably what we need, more alcohol).
A slippery floor warning greets spaceman in the toilets – it (hopefully) seemed to be due to the intermediate sink area – as well as the bog-standard (aha ha) three urinals and one cubicle. The warning sign is thusly.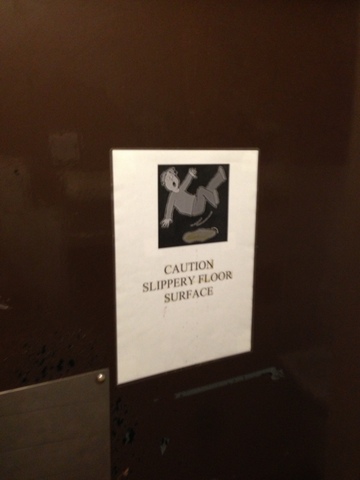 As we leave, The Toad steals a bar mat for his collection, and we note that the bar area is getting a bit busier (getting closer to the magic 8pm – perhaps spaceman was right). The free jukebox is definitely a good feature.
Spaceman gets an imposing shot of the famous Stockport viaduct on the way to our next pub of the night...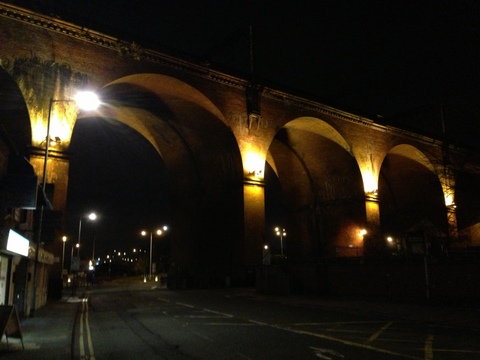 ...which is this one.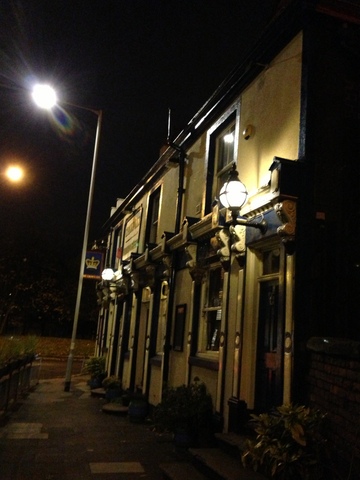 Approximate time of arrival: 7.50pm
We found it a bit hard crossing the road to get from The Pineapple to The Crown (which both reside in the shadow of the huge viaduct previously mentioned). We shell out another £6 (probably) a pint of Krombacher and a pint of Absolution by Abbey Dale, a Sheffield-based brewery.
A strange-looking fridge sits by the bar, which we discover contains some home-made pork pies costing £1.50 each. Highly tempted and slaveringly hungry, we purchase one, accompanied by mustard.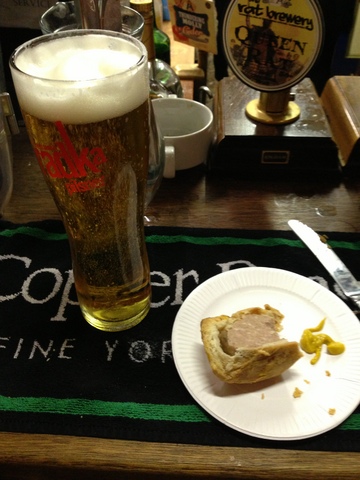 It was very nice – in fact, the Toad really enjoyed it, claiming it to be the best pies ever tasted. It was also some welcome, high quality stodge, so much so that we get another to share.
The Crown was much more well-populated than previous pubs, but we were getting to the peak time so it's perhaps not that surprising. On the wall, we notice a mounted, framed selection of taps – not something you see every day.
This feels like a real pub compared to the other venues visited today, which seemed somewhat forgotten shells (again, other than the Armoury).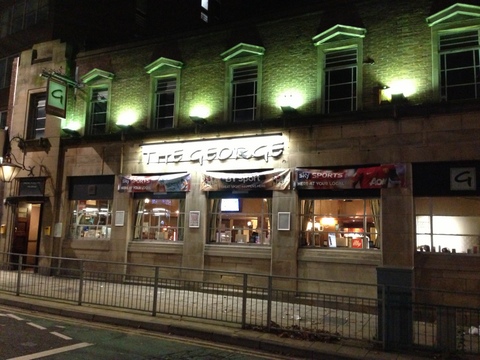 Approximate time of arrival: 8.45pm
We walk past The George, hoping to get our tea from the chippy we had seen open before near the Plaza, but unfortunately it is shut. This denies us some much-needed food (for all the tastiness of the pies and quantity of packets of crisps, we really wanted something more substantial to set us up for the final push – after all, it worked wonders in the third Heaton Pub Crawl).
Given it is open, en route and bladder urges are taking over, spaceman wants to go the George, although The Toad is not especially keen. In spaceman's view, given the critical state of affairs, we don't have much choice. If only they had fridges of pork pies, then The Toad might be more tempted.
The Toad gets packets of Mr Porky and cheese and onion crisps to satiate us. Spaceman is not particularly keen on pork sratchings, but hey. The Toad loves them, and that's what counts – I can always munch on the cheese and onion crisps (which I did). Alas, though, they are not home-made pork pies.
We watch a bit of Grand Slam of Darts, Taylor beating Wade 3-2. We're happily munching snacks and watching the darts for a while, when suddenly loud music comes on (there are some ineligible notes about this music, otherwise spaceman would be more specific).
There isn't any recorded information on pints or prices here (not done a very good job tonight) so we must move on.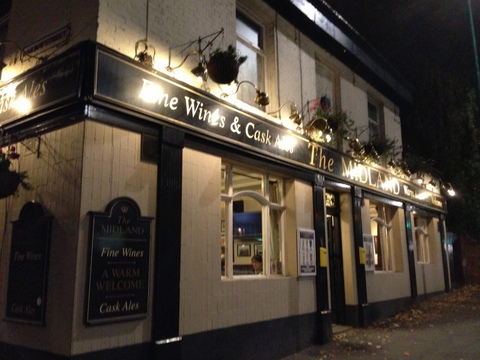 Approximate time of arrival: 9.30pm
The prices were a bit silly at the Midland – a pint of Carlsberg and a pint of bitter for just £4.10, plus 30p for "ringos" – all seems too cheap. We had forgotten this place was here, so it adds to our list of places left for the evening.
Spaceman asks for some darts since we're sat near a dartboard and the barman helpfully turns the lights on for us. We were perhaps inspired by watching darts at the George.
We play 301 first, The Toad winning the first game but spaceman equalising by hitting double-15 at a first attempt (possibly). Out of shock, spaceman took a picture. Yes, that is in the double-15.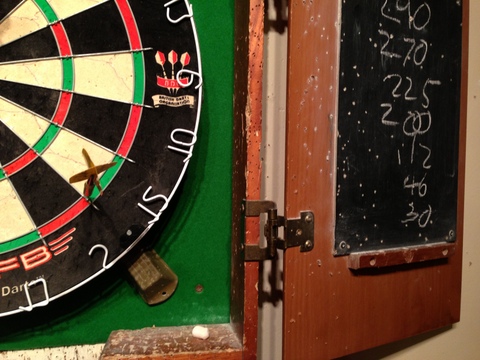 As a decider, we play round the clock, i.e. scoring from 1 to 20 and finishing on bull. Spaceman's performance is rotten in this variant and The Toad streaks ahead, taking little time to get the bullseye once there, all the more impressive for the amount of beer that we have consumed by now.
As we were playing darts, we had forgotten about the fact that we were on a pub crawl, the story of which would appear on a website, so there is not much more to say here since my notes are minimal. (Also, playing darts meant that we weren't particularly paying attention to life in the pub, which is always a good source of inspiration for the prose.)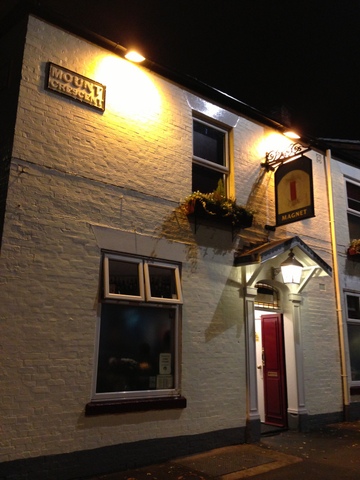 Approximate time of arrival: 10.15pm
We order a pint of Paulaner and something for The Toad (obviously I'm not getting good at writing down what The Toad is having). It's very busy in here, reminiscent of The Nursery Inn perhaps for that feeling of being somewhere to which everyone else has already been invited. We're a bit confused as to exactly how many pubs we have left to do on the final stretch of the A6 (the answer is two: The Railway and The Hope Inn).
Spaceman's Paulaner seems very cloudy and it turns out that, once my taste buds kick in, it is a wheat bear, which is not to spaceman's taste at all. On top of that, I'm running out of room to fit all the beer in given the absence of anything substantial to soak it all up (crisps and pork pie notwithstanding).
We take a seat and sit there wondering if we can make the remaining two pubs. It's not looking good, particularly since we have a lot to drink here (the pints seem huge and are going down slowly) and it's around 10.30pm. Thirteen pubs does seem rather a lot – we didn't manage more than 12 in the three Heaton pub crawls.
Eventually, we come to the conclusion that we're not going to make two more pubs – in fact, spaceman is struggling so much with the wheat beer that we decide to call it a day halfway through (although The Toad may well have finished his beer – recollection is hazy and my notes are again a bit iffy). The pull of a takeaway curry on the A6 is too strong. It's 10.45pm, so we have been drinking for nearly 8 hours, having (almost) consumed 11 pints.
We stop off at the Indian Express and seem somewhat disappointed when it takes them a while to actually cook the thing (reassuring really). The Toad has quite a way to go and so we flag down a taxi (spaceman naturally cadging a lift).
And that was that…
That felt like a reasonable achievement (eleven pubs is no mean feat), but spaceman has some mild dissatisfaction with it - not least because a beer was left undrunk. We didn't learn the lesson of the one where we got it spot on, the Four Heatons crawl, i.e. have a substantial meal before the home stretch.
That said, we had the difficulty of the pubs being close together which was always going to be a challenge. This was evident by my poor note-taking, which became somewhat of a scrawl towards the end. Not that it's ever perfectly-scribed, verbose prose by the tenth pub. But it's normally at least a little readable - always frustrating when there are semi-formed words that just can't be deciphered.
However, we have managed to move the local pub crawl feature on somewhat, turning it into a more ambitious regional variant, just by moving down the A6. Perhaps similar to Likesa's pub crawls, whereby different towns or villages are chosen for each crawl, but also not dissimilar to the Pub Stagger, just with a wider reach.
'Where we will turn up next?', spaceman wonders…
The End