Saturday 15th February 2014
To start the ball rolling, the Toad picked up spaceman from the Heatons, driving back to Woodhouses, The Toad's new home location, via a Morrison's petrol station.
When this crawl was originally planned, spaceman had thought we would be revisiting Stockport given our slightly unsuccessful attempt at visiting all the pubs that we wanted to. (We later hatched a revised plan for a second Stockport pub crawl in which we would start at the Hope and work our way down into Stockport.) But The Toad had other things in mind – namely a home tour of the local pubs in the area. It was all new to spaceman, but that is never a bad thing.
It's been a miserably wet day, but we don't really mind that too much if we're going to be in pubs, although the crawling aspect means that we'd rather not get soaked en route for any of the long walks that we may encounter if that's all the same with you.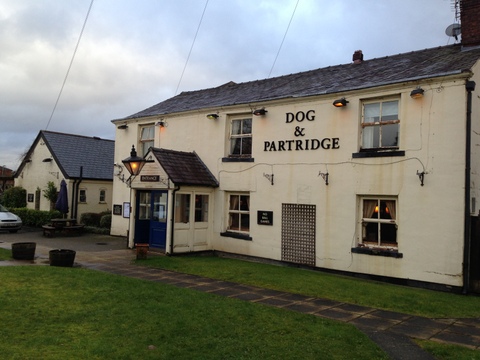 Approximate time of arrival: 3.45pm
So here we go again. We arrive, with spaceman selecting Becks Vier and The Toad pointing wordlessly at Hobgoblin, pints of the two setting spaceman back £5.89. Not too bad a price, although it could have been better as spaceman notices – too late – the missed opportunity of Carlsberg for £2.60.
If only we'd known about this beforehand.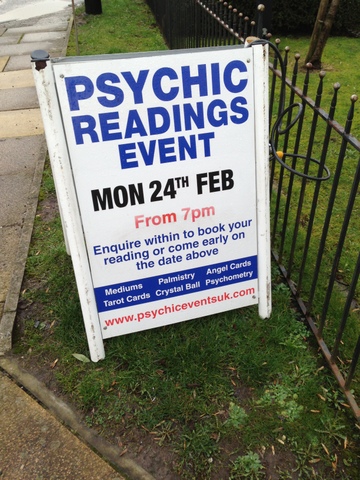 Another sign outside had offered a Valentine's Day meal - two courses for £8.99, available from 10th to 16th February. It's certainly a pub with lots of different offers on – in particular, spaceman notices a large blackboard on the wall proudly displaying the Daily Deals.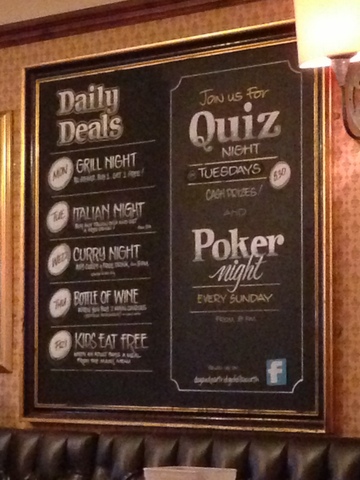 The Toad notes that the Hobgoblin is quite flat and sour tasting – it's not off, it just has a distinctive taste. It's not sinking well yet, not like a Timothy Taylor would.
The Dog & Partridge is busy, certainly when compared to some of the places we went for the Stockport pub crawl, despite it being a similar time of day. This is The Toad's local, a mere 3 minutes walk down the road, and The Toad says that it is a popular pub with good meal deals on, as previously established.
There seems to be a birthday party towards the back of the pub as The Toad spots people arriving with cards. The Toad notes that the beer garden at the back is really good as we discuss our Valentine's Day arrangements (this was the previous day). The Toad had cooked steak with peppercorn sauce, served with vegetables and potato wedges, for the Toad's girlfriend. Spaceman had quiche, chips and salad (but not quiche, beans and salad, which would be crazy) with spacegirl, although the presence of spacegirl's mother may have dampened the romance somewhat.
The pub is quite large – a spacious interior around the centralised bar. There are plenty of people eating, even though it is not yet 4pm. This seems a strange time to eat on a Saturday – somehow perfectly acceptable on a Sunday, but not on a Saturday. Perhaps it was the knock-on effect of a big breakfast, we speculated, or some pre-drinking sustenance (not to be under-estimated).
There are a couple of fruit machines and a quiz machine within sight, and spaceman notices that the pub hosts a poker night on Sundays (on the Daily Deals blackboard above), which would be tempting if spaceman was a local (The Toad is, and does play poker, but spaceman is not).
It's early days so we don't need the toilet, and so we cannot comment on the facilities; we simply finish our drinks and head straight for the door, recording, on The Toad's request, the leaving time as well as the already-captured arrival time (which was introduced as a feature for the Stockport pub crawl based on the photograph date stamps).
Approximate time of departure: 4.15pm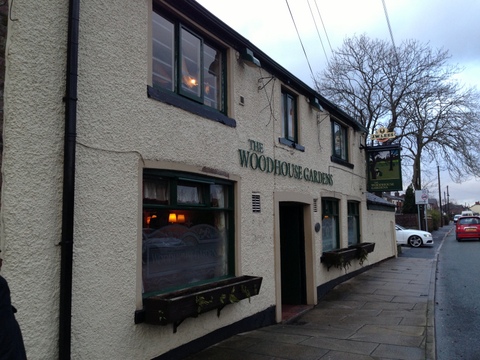 Approximate time of arrival: 4.20pm
On our way to the Woodhouse Gardens, we saw this building, which looked a bit like a scout hall.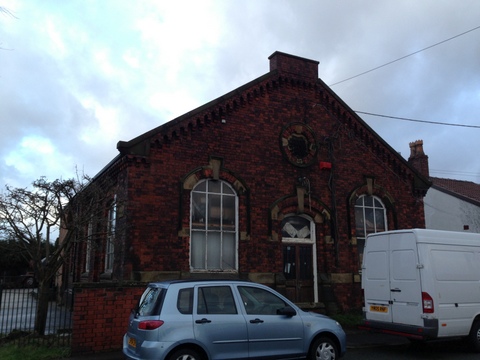 We decided against venturing in the Woodhouses Working Men's Club (apostrophe added free of charge), as it didn't really fit in with our pub crawl template, being, y'know, a club and not a pub. (It had been on The Toad's list as an optional venue.)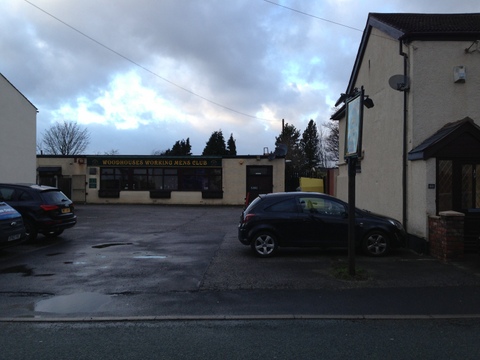 Anyway, after thinking that starting off the pub crawl with weaker lagers would be wise, spaceman is too distracted by Bohemia Regent, a premium Czech beer (eschewing Carlsberg), while The Toad opts for Drayman's Cheer, an amber bitter. This costs £6.40. As spaceman stands in shotgun position at the bar, with The Toad doing the buying, a conversation between two children beside them was worth capturing. The younger boy, perhaps eight, uttered "it's only got three letters: S – E – X equal sex" to his slightly older brother. They are not at the bar alone – they are with their dad – but it's an amusing quote nevertheless since it seems clear they don't really know what they mean.
This appears instantly a classy establishment, from the wooden panelling, the real fireplace, and feta & olives offered for £1.50 on signs behind the bar. You don't get olives just anywhere. The Toad spots the someone who he thinks is the seller (and therefore previous owner) of his newly-bought house stood at the bar (although he has his back to us so there is no opportunity for chatting or waving).
The Toad has eaten here a couple of times, noting that it was very impressive, although the example given, chilli burger, is perhaps not what spaceman expected. Nevertheless, it is served with chilli jam and was quite hot, but not eye-watering.
It's strange to think that this is a JW Lees pub. The Toad comments that there's not a great selection of real ales, like say at Rain Bar in central Manchester, but there is a reasonably choice of lagers, although spaceman can actually only see Carlsberg, San Miguel and the Czech number, which is turning out to be a contrast in both taste and colour to the Becks Vier in the Dog & Partridge. The specialised beer glass informs us that the beer was established in 1379. That seems rather a long time ago.
The Toad is suffering mildly from a nasty finger cut, incurred when chopping cabbage the previous weekend and instead chopping a finger. Careless. Thankfully, though, it is a finger on the right hand, not The Toad's drinking hand.
It was busy when we came in, with quite a few people stood at the bar, but suddenly it all seems a bit quiet – all is calm. A fan in the wall nearby us tries to counter the heat from the two fires – one either side.
Talk of cut fingers, rather than observation of the multiple fires, leads naturally to an in-depth discussion of illnesses and resulting time off work, of which neither of us appear to have had much. Ah, the human body, eh.
We then turn to talking about gardening – it's time to plant the tomato seeds soon. A guy sits down nearby and asks us if the football is on – we can't see a TV but The Toad says that there is one the other side of the fire. But they don't seem to be showing the match, which is Man City vs Chelsea in the FA Cup.
There's a sign up behind the bar saying something along the lines of: "Steve & Cate invite you to our welcome evening, this Friday. Live entertainment with the fantastic Morgan." Perhaps the Toad will attend, but perhaps not.
As we leave, spaceman notices there is a food area round the side and back. There is also a beer garden and a massive car park.
Approximate time of departure: 4.55pm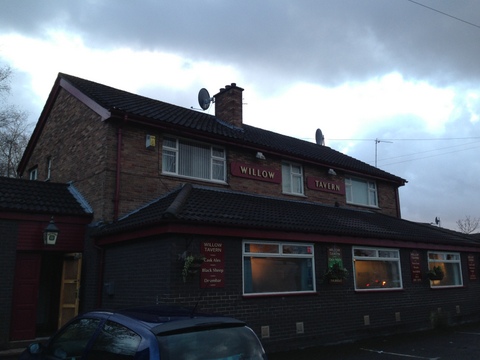 Approximate time of arrival: 5.05pm
After a reasonably long walk between pubs with not much shelter from the wind (but no rain thankfully), it's good to arrive at our third pub, where pints of Carling (there wasn't much in the way of choice on the lager front) and Black Sheep are purchased for £5.90. The football is on here – quick let's find that random bloke we saw in the Woodhouse Gardens. Well, it's not on yet as we're still on the pre-kick off filler.
The Toad notices some pork scratchings behind the bar and amusedly recalls The George on our Stockport pub crawl. It was beginning to get dark outside, as the photo above illustrates.
We're in the smaller section of the pub – spaceman isn't sure if this is the "right" part of the pub to be in but we've not been moved on thus far so we're probably ok. A pool table resides in a sort-of alcove section, with yellow and blue balls featured, which is a little unusual.
The distinct lack of chairs mean that we decide to perch at the bar on stools, hoping that these have not been allocated (it's not *that* rough in here, but it is somewhat of a contrast to the genteel Woodhouse Garden).
The football kicks off while spaceman chats to operation_good_guys via the mobile Skype app. They are using an orange ball (what is it with strange-coloured balls this afternoon?), perhaps expecting some snow. It certainly is cold in northeast Manchester – we're just that little bit higher up than in the Heatons.
We both need to take a visit and spaceman "cracks" first (quite happy with lasting until the third pub, though). They are in (well not "in" but accessible from) the more spacious, carpeted section (our area is tiled) which has more TV screens (we have a combination of a TV on the wall and a big screen now in action). There is a strange different carpet bit in the interim hallway to the gents, perhaps to keep in the moisture, then a predictable 3-slot urinal, 1 cubicle and 1 sink combo.
On spaceman's return, The Toad enquires about the "cubicle" situation but seems to actually mean "urinal". Some confusion later (since spaceman knew it was unlikely that The Toad would need a number two at this point) and we establish that it's basically the same formula as many in the Stockport pub crawl. Did we miss a scientific paper demonstrating the benefits of this particular arrangement?
It's then The Toad's turn to break the seal, giving spaceman the "chance to catch up on beer" (since Skype chat has distracted from consumption). The Toad is generally drinking more quickly than spaceman, who is not finishing too far behind nevertheless each time. Spaceman does have writing to do, though. It's, y'know, journalism. And instant messaging.
On The Toad's return, there is disgust expressed at someone not washing their hands after using the facilities.
Shelves of trophies suggest a strong local team, although spaceman can't tell who. A poster of "Man City Legends" shows the pub colours. Actually, a sign on a noticeboard nearby says that it is the MCFC official supporters' club – Failsworth branch (we seem to have already moved on from Woodhouses). As spaceman is perusing the memorabilia, City nearly score, although the ITV cameraman nearly didn't catch it.
City attack again and this time they do score, taking a 1-0 lead, to big cheers from the gents lining the wall behind us. Spaceman wonders aloud whether we should have celebrated more, so puts up a mock fist: too little, too late and too ironic. Before we head off, spaceman clocks the fruit machine to add to the quiz machine observed on the trip to the toilets, and The Toad orders a tap water with which to sink a pill or two to ease the finger pain.
A couple of sips are taken and, with the beers already finished (such beverages are compatible with the medication, The Toad insists), we head out of the door.
Approximate time of departure: 5.40pm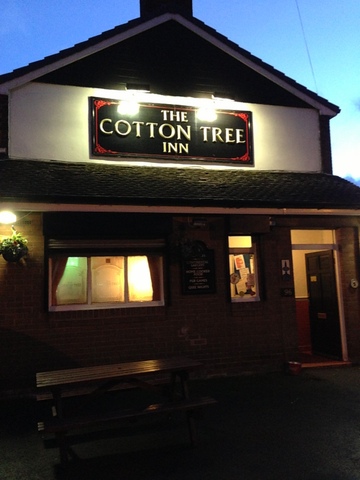 Approximate time of arrival: 5.45pm
On the way to the Cotton Tree Inn, spaceman had a "near death" experience with a big white car which was driving slowly on the pavement towards me to get to a Chinese takeaway – pretty sure pedestrians have right of way on the pavement (if not also the road if they are crossing). Never really in danger, but it was one of those "what is going on here?" moments.
The sun has almost disappeared so the sky is blue but the light is poor. We are fast approaching "night time".
We arrive safely at the planned venue, however, with The Toad ordering pints of Carling (not much of a selection, lager-wise) and Marston's EPA, but forgetting to note down the price it later turns out, although there were some distractions...
Firstly, The Toad chats to the friendly guy at the bar (in front, not behind – he wasn't an employee) who had said "hello" (or something like that – y'know, a common greeting) to us when we arrived. Whilst sat at a table awkwardly without beer, spaceman overhears The Toad giving the "stranger" some background from our previous pub crawls around the Heatons and Stockport.
Whilst thirstily waiting a fourth pint of the afternoon, spaceman at least has the FA Cup match to continue watching. Looking around, it has a cosy living room feeling here. No gimmicks, no deals.
It turns out that the "stranger" is in fact the The Toad's house seller who was observed in The Woodhouse Garden. He evidently had some flicker of recognition of the Toad too, and was also moving from pub to pub although perhaps not in the manner we are. What are the chances, eh?
The Toad remains at the bar for some time chatting with this guy, seemingly getting some good intel on the house (probably getting some information about mystery switches) and things like that, but also ordering some bar snacks. There is later some discussion about the rain and potential flooding.
More importantly, The Toad's choice of snacks is dry roasted peanuts, with a packet of cheese & onion crisps ordered separately for 65p. There is a suggestion that The Toad thinks that not liking pork scratchings perhaps means that peanuts are also a no-go area. Spaceman can confirm that this is not the case, demonstrated by having a good go at the packet.
Having finished our rather short-lived snacks in rather brisk fashion, we are pleasantly surprised by a lady bringing round two trays of sandwiches, one of ham and one of cheese (as in ham sandwiches and cheese sandwiches, not trays made of those substances – should have just said that in the first place and then it would have saved all this unnecessary prose). Spaceman cannot emphasis the following comment enough: this is brilliant.
Spaceman asks whether we can have one of each and she says we can have two of each! Spaceman keeps control, though, and only selects three sandwiches in total (two ham and one cheese in case you were wondering). We speculate whether this would be a good strategy in a pub – cheap and sobering treatment of any drunkards. The cheese in the cheese butties is cheese slices but no matter – spaceman approves of the retro style.
No-one is actually sat in the segment we are in near the front door. We don't think it is anything personal – people are perhaps avoiding the draftiness of the doorway. Meanwhile, spaceman goes to the gents for both research and relief purposes, encountering the magical formula once more (three slot urinal plus one cubicle plus one sink). It's a bit drafty at the back too as there is a door wide open to the back garden, which is an okay looking beer garden, although there is more grass than seating. The door to the gents' toilets is also ajar – it's all a bit airy basically.
On spaceman's return, there are more free sandwiches waiting – love it when that happens. Whilst munching on the bonus sangas, spaceman notices that there is a fruit machine quite nearby, only apparent as some people are on it and chatting. Operation_good_guy is tempted by the prospect of free sandwiches, but only if they are egg mayo.
The second half of the football kicks off – it's still 1-0 to City (no goals during halftime), and they are still using an orange ball. As we leave, spaceman insists that we get the price of the two beers – The Toad confirms with the barman that the price is £5.55. Very competitive.
Approximate time of departure: 6.20pm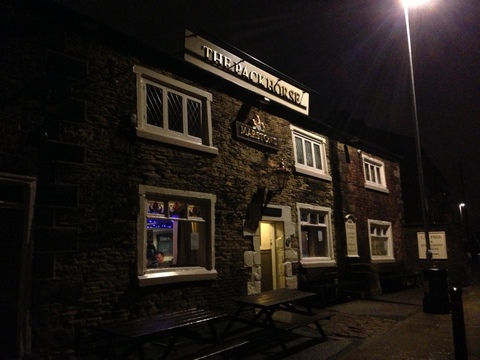 Approximate time of arrival: 6.25pm
This time we order pints of Carlsberg and Marston's Smooth, the latter of which is described on the pump badge (if that's the right term) as "finest creamy", with the promise that "Marston's don't compromise". They cost a very competitive £5.10, which spaceman paying (getting most of the good deals).
On the way here, we spotted an actual scout hall for the, er, 7th Manchester Scout Group.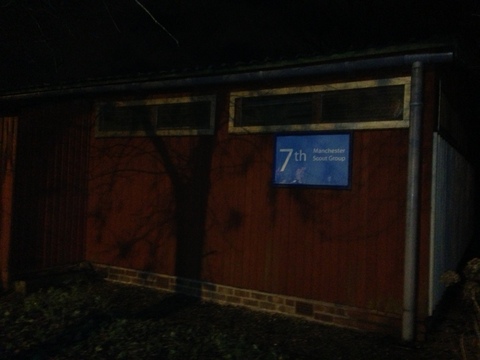 After sitting down at a table with a view of the football, spaceman realises that no photo was taken of the pub (it had accidentally been set to video mode) so dashes back outside to rectify the situation. It's getting cold.
Whilst out there, to avoid looking like the photos were of people in the window, spaceman was doing some unconvincing miming to pretend to be on the phone. On the way back in, spaceman captures the lengthy door policy. Other than The Toad's medicine, we have none of the forbidden items and we are definitely both over 25 and dressed smart casually (or smartly casual).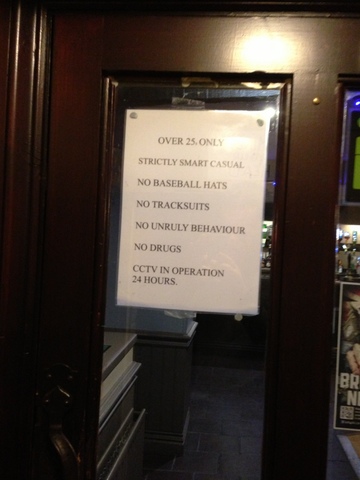 The pub is quite open plan – there aren't many chairs compared to the floor space. It feels a little like a hall where they might host children's parties, etc. Old-fashioned pictures adorn the walls with no obvious theme.
Someone leaves the pub and we suddenly get a strong curry smell wafting across, and for a while we can't figure out whence it cometh. It has that distinct takeaway curry smell. Our eyes eventually catch up with our nasal passages and spot that it's the barmaid who had ordered something and spaceman concludes that it must have been the curry delivery guy who had left to start the whole process off.
City score a second goal which makes The Toad unhappy as City are heavily bankrolled. Spaceman protests that Chelsea aren't much different but it seems to be a matter of time, i.e. Chelsea are now balancing the books (spaceman could not confirm or deny this). Chat then turns to cooking, prompted by the aroma – we are both keen chefs.
The pub definitely seems to have quietened down since we arrived. Either everyone has decided to go and get a curry, or they have decided that the City win is a foregone conclusion. Or they weren't City fans. Or they have gone to watch it elsewhere. Lots of possibilities, basically.
Some heavier chat then follows, covering Scottish independence (one of spaceman's pet subjects at the moment), politics and journalism. Well, not so much chat as spaceman talking and The Toad just swearing at the TV.
The Toad does soften the uttered language enough to comment that it is quite a small pub with a big space for dancing, but with no dancing going on. Spaceman spots a big Gator amp suggesting possible music later. We'll never find out.
Approximate time of departure: 7.05pm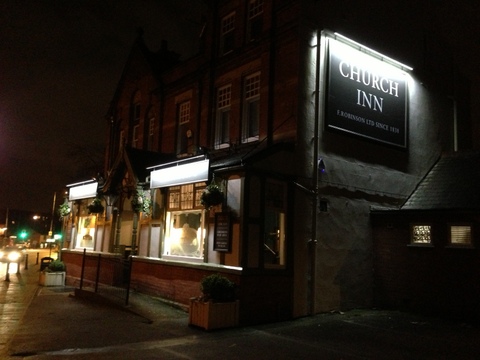 Approximate time of arrival: 7.10pm
There is barely anyone in this pub, perhaps because the football has now finished (it remained 2-0 to City in the end), whilst U2 play on the stereo. Pints of Coors Light and Hannibal's Nectar (best beer name ever) cost The Toad £6.10, while U2 are succeeded by Amy Winehouse's Rehab, which The Toad evidently likes.
The barman confirms that there is a DJ on later ask spaceman asks about the speakers and lights set up. The seats have recently been upholstered reckons The Toad ("impressive"), talking about original beading, or something. Some Might Say by Oasis plays on the stereo.
Looking around, there are signs letting us know that Quiz Nights are on Monday and two Jagerbombs can be purchases for £5 (not solely on Mondays, though). And on that, The Toad disappears to the bogs. "Research mode activated", says spaceman.
It remains quiet in here, a mere three paragraphs after it last was so. Maybe it gets busier later when the DJ is on, although it is 7.20pm. U2 come on again.
The Toad reports back to confirm that there are three urinals and one cubicle, which almost isn't worth writing down such is the default nature of that status. The Toad continues: only the middle urinal had the "refreshing lemon block" which The Toad naturally used (the block smelt rather than tasted of lemon, spaceman felt compelled to check). On spaceman's turn to alleviate urine pressure in the bladder, The Toad is invited to pen some thoughts, much as barney occasionally did on the original Central Manchester slow pub crawl.
The Toad, imbued with such an opportunity, goes on somewhat of a rant, wishing that "all these "celebrity" contests would go away", listing Splash, The Jump and Dancing On Ice. "AWFUL!!" finishes the brief diatribe. Toto by Africa comes on the jukebox, notes The Toad, and spaceman similarly approves.
On the way back from the toilets, spaceman purchases packets of Quavers and bacon fries for £1.75. We're clearly attempting to learn from previous mistakes of not eating enough, but it's just not satiating us completely. The Toad, in between munching on salty corn-based snacks, continues to rail against reality shows.
Elton John now, with I Guess That's Why They Call It The Blues, as the snacks don't last long in the hands of our food-impoverished selves. The Toad had planned in our pub crawl a visit to KFC and is currently thinking of only getting chips. We will see.
There's a pool table which people were playing when we came in. As we think about leaving, one of those chaps asks for the darts for the dartboard. Another Elton John song next, Rocket Man, which has The Toad's disdain whereas …The Blues did not.
The Toad spots a Unicorn beer mat and notices it has less wear and tear than the one previously stolen from the last pub crawl. It's not clear from spaceman's notes whether this shinier version was also pocketed.
Approximate time of departure: 7.40pm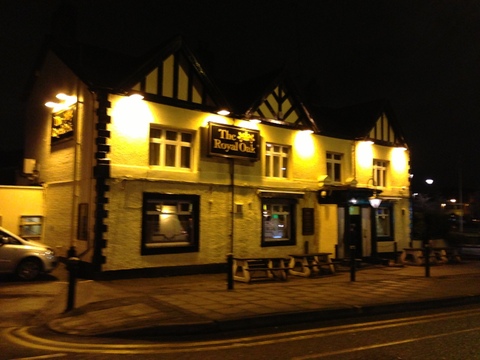 Approximate time of arrival: 7.45pm
On arriving, we naturally head to the bar and order some drinks, specifically two 560ml glasses of Carling (for spaceman) and John Smith's (for The Toad), which the barman insists on us paying £5.70 for (although again we (well, spaceman) find this out at the end by asking in a slightly awkward manner on leaving).
The kids at the bar have shot glasses are apparently children of the barmaid (or perhaps landlady), but presumably not drinking shots. Spaceman jokes about it – "helps them sleep" comes the reply.
Following on from the early evening's FA Cup action, we now have the delights of Spanish football on the TV here. Barcelona are already 2-0 up against "Ray", which turns out to be Rayo Vallecano. Man City face Barcelona in the Champions League on Tuesday, which could be interesting.
A sign on the wall advertises a beer garden and another tells us "Run out of cash – we accept credit & debit cards". A random bloke sits nearby and starts chatting to The Toad, ostensibly about the football as they both purr over Lionel Messi, both members of the Lionel Messi Appreciation Society.
There's a pool table in here too – seems to be another common feature. A sign on the nearby table advertises free jukebox and pool table on Tuesday nights, plus "Big screen retro computer games" on Wednesday nights. Both of these sound brilliant.
Free laptop hire is also available before 4pm with passport or driver's licence left as deposit – a nice way to help those less well off access a computer.
Spaceman takes a visit to you know where. A large urinal bank with maybe 4 slots (but it is not clear – there are no obvious markers), 1 cubicle and 1 sink, which are the usual accompaniment as we have established. The gents were denoted "blokes".
Just before spaceman had set off for the facilities, the DJ's music had kicked in. The venue suddenly starts getting a bit noisy, with people now having to talk over the music. The first song is apparently Drops Of Jupiter by Train (which was presumably confirmed by The Toad since spaceman is not so familiar), followed by the Manic Street Preachers' If You Tolerate This…, which spaceman does both know and like.
Approximate time of departure: 8.15pm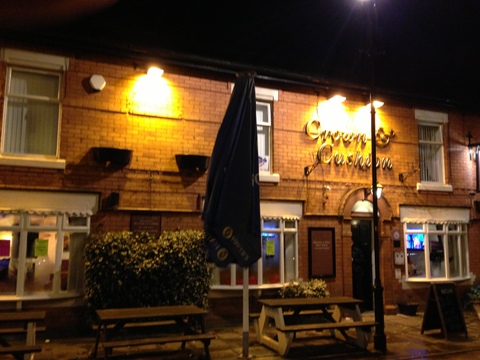 Approximate time of arrival: 8.20pm
At the bar, we order pints of John Smiths and Kronenbourg (spaceman this time favouring the stronger beer over Carling and Coors Light – perhaps feeling a bit cocky) for £6.05. Some good 80s rock guitar balladry is in evidence as we arrive, with lyrics "Suddenly, it's just the way we are" or something like that (although subsequent internet searching is coming up with nothing).
There's a reasonably good atmosphere in here – it has a warm, welcoming feel so perhaps that is the attraction. It looks like we have the treat of a DJ, although all the pubs round to here seem to do them – perhaps it's a competition or, at least, a minimum requirement.
Some chat later and Pharrell Williams comes on (spaceman is assured), who The Toad thinks is absolutely terrible. There's no sign of the DJ, though – is he hidden somewhere? Oh hang on, there is a guy sat behind the speakers who seems to be playing the music, which hasn't yet comprised any great songs. Spaceman accepts it's never going to go into indie hour.
Get Lucky by Daft Punk comes on, but we're finished and it's time to leave.
Approximate time of departure: 8.50pm
Sustenance interlude
That would be quite a good name for a band. Anyway, there were a couple of possibilities for a swift stop at an eatery before we did the make-or-break nine-ten-jack of our pub crawl. The Toad had initially mentioned KFC, which was on the walk between the Crown & Cushion and the Mowbray Arms, but spaceman was keen to veto that one.
Before we got there, though, we spotted the Kurry Express. Whilst it was not a great name, we thought we would give it a try.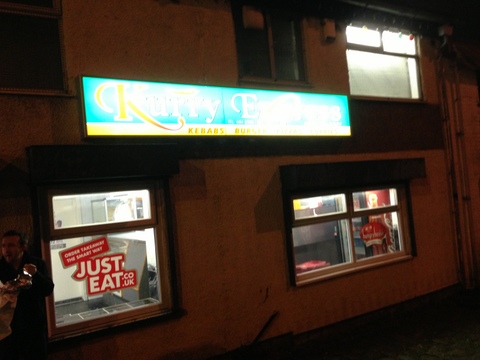 There was quite a selection in here. Spaceman went for a chicken and seekh kebab on a naan bread, or perhaps a pitta. Spaceman thinks that the Toad was contemplating going for chips but may have ended up going for a chicken kebab, or having chips and then a bit of spaceman's kebab.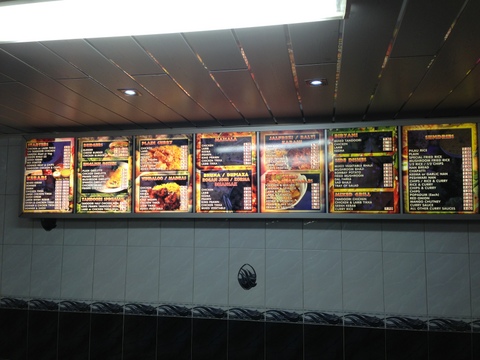 After that brief-ish break for grub (it was only moderately fast food), we were on our way. Not only were our stomachs now lined, but half an hour of not drinking would hopefully stand us in good stead for the finalé, starting with the ninth pub.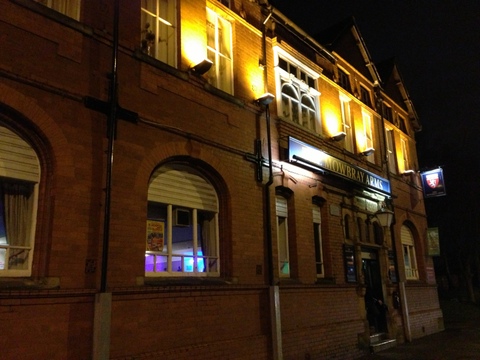 Approximate time of arrival: 9.20pm
It's a mere £4.70 for Kronenbourg and John Smiths, which prompts spaceman to ask if there is a deal on, but the barmaid confirms that it is just cheaper prices. They are indeed. There was another DJ on when we arrived, although he seemed to be singing. It's very busy in The Mowbray Arms, although that is not surprising if the beer is so cheap.
It's so busy, we are limited for choice of seating so we perch at a standing location, with lips still slightly aglow from the nice chicken kebabs we had. Spaceman shamefully had to find a sheltered but convenient spot for an outdoor wee (we had waited a while for the kebabs to be cooked and they had no facilities), whilst The Toad survived until we got here, but now succumbs.
Whilst The Toad is away, spaceman accidentally has some of The Toad's drink – ew. There are a couple of "fruities" nearby, as well as a door denoted "function room". We don't venture in although some people do come out.
On the way here, we spotted another possible bar, although it may have been more of a club; we weren't sure. Anyway, it wasn't on our list and we weren't prepared to complicate things now, so we passed on by.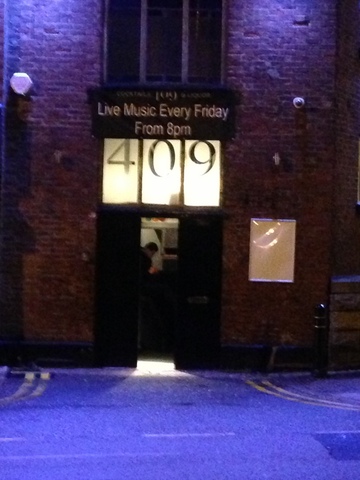 The gents were busy, reports The Toad, confirming the presence of a long urinal (you could "squeeze four people in there") but just one cubicle. Not bad generally, says The Toad; "pretty clean".
A couple of other people head into the "secret" function room, as some more come out. There's more Spanish football on the TV but it's not Barcelona any more – presumably they won (comfortably, it turns out).
The Toad is interested by an old picture of someone who looks like Bernard Cribbins, with something like "Leonard Boot & Shoe Repairer" and a sign saying every Tuesday and Saturday dirt track racing at Rochdale Belview.
There was this building opposite-ish the Mowbray Arm, previously known as 'Brown Cow'. A closed-down pub, perhaps.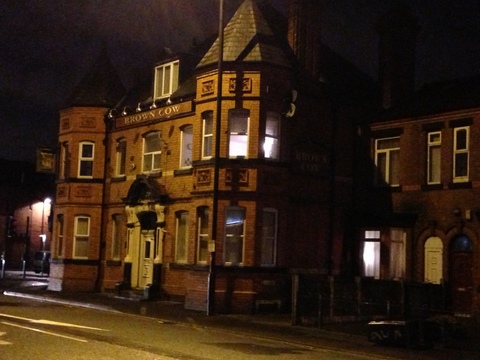 Update on the function room: more people go in and others come out, so who knows exactly what's going on. We may never find out. But it could be some sort of function.
Approximate time of departure: 9.55pm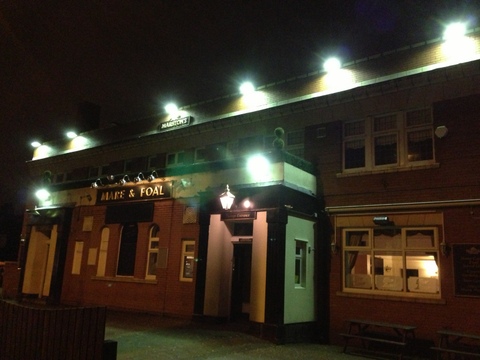 Approximate time of arrival: 10.00pm
So we're right at the business end of this pub crawl, and venturing into areas that The Toad is possibly less comfortable with. It waas another reasonable walk to this place [check] and when we arrive we get Carlsberg Extra Cold ("everything is cold in here" and John Smiths for £5.10. Having seen many before us today, we decide to play pool for ourselves since we have access to a pool table.
The Toad takes the first game, then the second after spaceman misses a few sitters (hey, it's been a long afternoon and evening of drinking) while The Toad gets a fluke. Spaceman does pull one game back, and we can hear plenty of banter from the main bar.
It's now 25 past 10 and we're doing ok. We have one more pub to go, but we're enjoying the pool, conscious that we only have so long before we need to get to our final destination. The Toad takes the final game, to win 3-1. Spaceman's aim was distinctly out, a little like Robocop after he gets shot up and has to re-calibrate, but if he was doing that after 10 lagers.
Not sure there's much point in actually saying this, but the toilets comprise 3 urinals, 1 cubicle and 1 sink. And they're a bit smelly.
Approximate time of departure: 10.35pm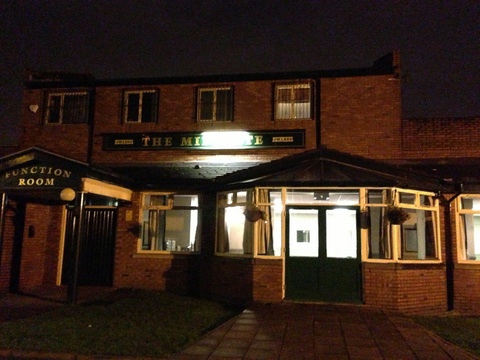 Approximate time of arrival: 10.40pm
We get our final drinks of the night: the end-of-crawl scribblings suggest "MPA" for £2.40 and Carlsberg for £3.10, so £5.50 in total. We must have mentioned that this was our eleventh pub of the night to the barmaid, since she seemed initially curious for our motivation. When spaceman explained, though, she didn't seem to care too much.
We get a place near the TV and note that Jonathan Ross is conducting interviews, as is his wont, at first with a "Sunday morning guy" (perhaps Andrew Marr?). It's a very expansive (by which spaceman means large and open plan) and we find ourselves near a fire.
We begin, hopefully not too prematurely, to congratulate ourselves on a job well done. It's always an achievement to get to the end; we're often worse for wear but this time we're doing ok. (Signs of this are: not crazy handwriting and spaceman can remember being at the pub.)
Jonathan Ross is not as good as Graham Norton at interviewing, or in terms of the guests, although he does have Uma Thurman on. We think about a way home, i.e. taxi etc. As we watch the interview, our night is definitely feeling like it is drawing to a close. That said, the atmosphere in here is still going strong, it being after 11pm on a Saturday night. Who knows when this place shuts?
We briefly talk about the football tomorrow – unfortunately the live game on main TV is Everton vs Swansea – not a classic-sounding game. Spaceman manages to order a local taxi, which according to textual records came at 11.10pm. The Toad was dropped off first, naturally, and spaceman headed back to the Heatons, seemingly arriving home at around 11.35pm. All in all, not too shabby.
Approximate time of departure: 11.10pm
This was a well-planned mission organised by the Toad, and it also benefited from a bit of distance between some of the pubs and, of course, some stodgy food to soak up the alcohol. Thus we finished in control of our senses, experiencing relative clarity of thought and speech.
It was the first time that we had ventured outside the Stockport area for our pub crawl tour thus far, following the Toad's move away to pastures new. It all started as a way of trying out all the Heaton Chapel/Moor pubs in one go, but it is now beginning to expand into something more.
Barney did suggest at one point, perhaps not seriously, expanding the central Manchester slow pub crawl to all areas within the M60, a somewhat daunting prospect that was never properly considered. Inspiration for trying Stockport, rather than sticking in the Heatons, was provided by Likesa and LeCross, and their formula for trying out specific areas each time is something that spaceman and the Toad have effectively started to do.
These expeditions will now have to form part of the Manchester Suburban Pub Crawls and a new page will thus result. Initial plans are for a return to Stockport, to complete what we started, and a possible trip over to Sale, with the aim of bringing in barney for a union of old and new pub crawl companions.
For now, though, spaceman must focus on the arrival of another spacebaby in the near future.
The End