Saturday 19th July 2014
Returning the favour from the Woodhouses pub crawl, spaceman picked up The Toad from a heavily puddled street, drove back to Heaton Chapel, before we walked down the A6 towards Stockport on a humid afternoon.
The plan was to start at the scheduled (but never actually arrived at) end of the first (and previous) Stockport pub crawl, retracing some of our steps from that expedition before venturing eastwards to pastures, and beer-drinking venues, new. Spaceman had formulated a vague plan based on the previous analysis and some useful information from veteran pub website, beerintheevening.com (mostly around whether the places were still open).
As it was feeling fairly tropical, spaceman had decided to wear shorts for the occasion (very possibly a pub crawl first, for the ones documented anyway), but the threat of heavy rain necessitated the carrying, if not the actual wearing, of a waterproof jacket.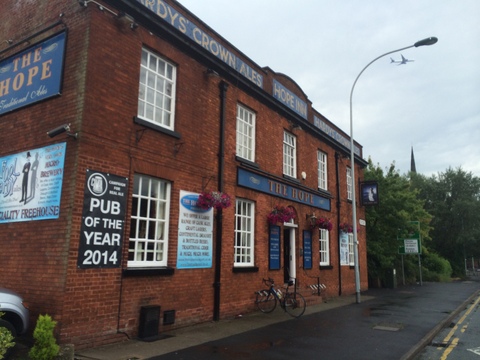 Approximate time of arrival: 3.15pm
We obtained pints of Foolhardy's Reckless Danger (5%) and Kozel (a Czech lager, 4% strength, which the barman had to fetch from the other room) for £5.80. It's very warm in the pub after our brisk stroll so the cold drinks are appreciated. As are spaceman's shorts. Well, by spaceman anyway.
As we walked up to the pub, with spaceman distracted by taking a frontal picture, The Toad pointed out the spacious 'patrons only' car park by the side of the pub, also noting the newly-planted shrubs and trees – all very tidy. Spaceman may have grunted in response.
We have the choice of doors to The Vault and The Lounge as we enter – we choose The Lounge as it sounds somewhat more inviting. As we do so, a guy carries a pint from The Lounge to The Vault, so it seems that there can't be that much of an issue with transition between the two. But we never actually test this theory further.
We perch on small chairs at a small table, for no other reason than it was close to the bar and not too close to anyone else. (Spaceman always feels a bit strange making notes when sober in the obvious eye-line of fellow patrons.)
Moderately populated for a Saturday afternoon, this place has lots of ales on show. The Toad looks around and notices a photo on the wall by the bar, which suggests that the pub was here when trams came down the A6. So it's been around a while, definitely before spaceman's time; perhaps since the 1940s?
Snacks behind the bar include bacon rashers, cheese moments and a range of Seabrook's. Underneath the bar, we notice old-looking tiles featuring ships and dolphins. Meanwhile, a pine table rests nearby, holding newspapers and not remotely matching the mahogany-style finishes of the other tables. The black sheep of tables, perhaps.
We are both recently back from holidays, The Toad having been to Mexico, and spaceman from the no less exotic Mochdre in North Wales. On the subject of the neighbouring country (but not sovereign state), this week's traditional cider is Gwynt y Ddraig, or Black Dragon, an eye-watering 7.2%.
There are lots of bottled continental beers – a beer menu is advertised for those willing to engagement in some serious perusal. Meanwhile, the Foolhardy beers available include Rash (Dash), Risky (Blond), Reckless (Danger), but also Rou Shou and Rudhira. In fact, later research shows that these are in fact brewed at The Hope Inn – see here for details.
Before we leave, spaceman notes down that the opening hours are noon to 11pm on Sundays to Thursdays, and noon to midnight on Fridays and Saturdays. The heat has given us a thirst and we are on our way pretty quickly.
Approximate time of departure: 3.40pm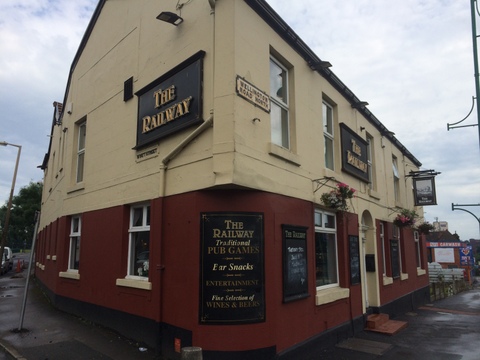 Approximate time of arrival: 3.45pm
This is another first visit for us, but one we have seen a lot of as it sits at the opposite the road coming from B&Q, staring at you, tempting you, as you wait patiently for the lights to change so that you can turn onto the A6. "Fancy a pint?" it says. "No, I must get back," you say, before adding: "But thanks for asking".
We venture in and ask for, nay demand, two pints, one of Becks Vier (fast becoming the go-to drink for moderately-strengthed lager drinkers such as spaceman) and the other of Derventio Summer Solstice, a cracking name for a beer even though it is a bit late (we're about four weeks past), and naturally the request of The Toad. They cost us five pounds and forty pence in totality.
A quick inventory divulges a juke box, two dartboards (at different levels), a piano by the window (which The Toad recalls seeing being played on evenings gone by - ah, those days, those sweet, sweet days), Sky Sports on the big screen (showing the Test match), a pool table in the other side, and a music system with speakers complete the pub's entertainment (well, there may be more but we can't see it, and we don't invent stuff you know). Phew, it's a surprise there's any room for things like tables and chairs. But there is.
The Toad signifies the end of listing objects by pointing out that the barman looks like Ned Flanders. Meanwhile, in cricket news, India start to edge ahead in the game, reaching 84-1 at tea. There's lots of sport on today - Formula 1 qualifying, Tour de France and Open golf.
Outside, live jazz every Sunday was advertised, as this sign demonstrates. There has perhaps been some changing of mind with the name of this one.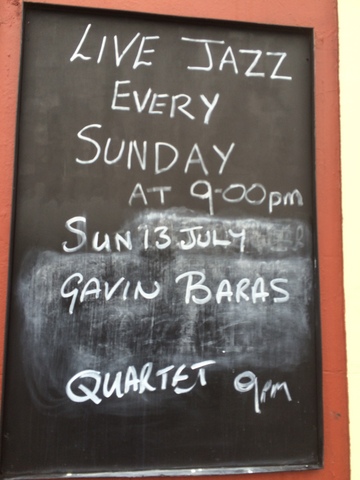 It seemed cooler in here when we arrived but now seems warmer again. Strange. Alas these older pubs don't do air-con. Once again, spaceman feels vindicated by the choice to have knees revealed to the world.

We debate the England (and Wales) cricket team captaincy. Cook seems to be on borrowed time but who could replace him? [In fact, India would go on to win the second Test match at Lord's but Cook was retained. However, England then won the next three matches to take the series 3-1 and the choice to retain Cook was vindicated.]
We reflect on this pub being another with two sides, but this time they are not named as they were in the Hope Inn. There are some people congregated on the other side but that wasn't really obvious when we came in. Some later research suggests that the function room is one the other side, with a retirement party for Mary being held.
Some pub of the year/month awards adorn the wall by the bar; The Toad describes the Summer Solstice as "nice, not bad, pale and hoppy".
Approximate time of departure: 4.10pm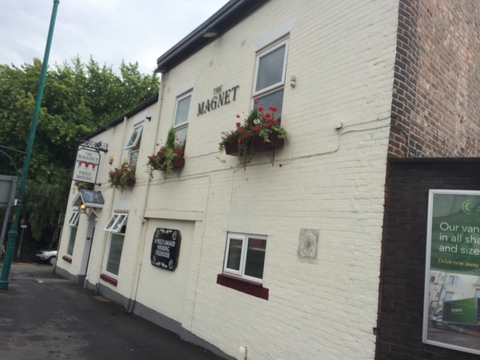 Approximate time of arrival: 4.15pm
The Magnet was the last pub on our previous Stockport pub crawl so it was good to see it in a completely different light, both literally and in terms of sobriety. We order pints of Paulaner Munchen and Black Coral Stout for £6.40.
Spaceman then suddenly realises a big error has been made - the same wheat bear as was ordered on the previous pub crawl. What a mistake! Mind you, it's easily done as there are no clues that it is a wheat bear. Annoyingly, spaceman had contemplated a Becks Vier again, having noticed it on the other side of the bar, but decided to be more adventurous. For adventurous, you can now read foolish. Spaceman did tentatively ask the barmaid if another beer could be obtained, but once it's poured it's too late...
We with our freshly purchased beers, one immediately regretted, one not, and notice a sign about the charity cheese night being held every Monday, at which it is £1 per plate. Looking at their website, their charity of choice is Kidneys For Life. We had seen a sign saying that they had raised £4.2k for charity, but the pub crawl notes then just say "a kidney" so it was worth clarifying.
The Magnet is a free house which says that it is multi-award winning. This is backed up the Awards & Reviews page on the website. Whilst that it is not exactly an independent source, we have no reason to doubt it.
A price guide sits above the bar showing the cost dependent on alcohol by volume, although the amount we were charged doesn't seem to align with the guide, perhaps because we chose speciality beers.
We observe the potentially very useful feature of coat hooks under the bar. The Toad points out that there is also a brass umbrella stand.
On an unconnected note, The Toad then describes the stout as "like a thin Guinness". Meanwhile, spaceman is very slightly acquiring the taste for the wheat beer, with the nasty aftertaste fading and the sweetness rising. "Like sucking bread," muses the Toad wisely, then going on to talk about baking wholemeal loaves.
In an unprecedented step (for our pub crawls - well sort of, as we got two pints back in the first pub, the Hinds Head, on the first ever pub crawl of this type), spaceman nips to the bar to get a half-pint of Becks Vier (for £1.45) after getting through, grimacingly, half of the Paulaner. Spaceman could just not go on. For additional confusion, it gets served in a Bitburger glass.
Whilst at the bar, Sophie was daydreaming so the guy behind spaceman had to shout for her to serve. Sarah, it turns out, was the first barmaid to serve us. Useful information for nothing in particular. Whilst at the bar, spaceman heard the unmistakeable clack of the pool table.
They appear to have pork pies on as two get ordered with mustard. Red, white and blue "Tyrrell's" pennants adorn the area above the bar - is that their crisp of choice we must wonder.
The Magnet offers carry-outs it seems as someone orders a couple to take with him, and there are a number of square cardboard contraptions hanging above the bar which evidently carry two pints each. But in the end, the bloke takes it away in a plastic container.
In the interests of research, spaceman goes for a quick wander and confirms the presence of the pool tablw (which is just as well, as they offer free pool on Wednesday nights according to their website) as well as a beer garden (i.e. smoking area) outside.
Approximate time of departure: 4.50pm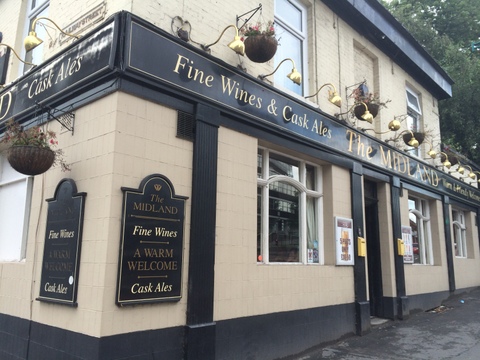 Approximate time of arrival: 4.55pm
Our two pints of Carlsberg and Fool's Gold cost us a mere £4.10, with The Toad's order prompting us both to hum the Stone Roses riff. Spaceman breaks first and goes to the toilet while spaceman orders, requiring a walk round a cat to get there (happens often). There is one cubicle and a urinal bank which probably "houses" two strangers or three very close friends.
We sit where we sat last time, i.e. round the back of the bar, as chosen by the Toad. It took spaceman a while to realise that we are near the dartboard from the original visit, not to mention the aforementioned cat and some generally random other things (such as a bike, upturned chairs, etc). Look, see: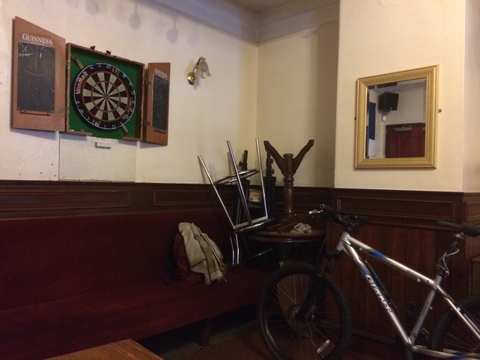 The cat is called Chestnut, it turns out. A boy age around 8 to 10 years old sits nearby and proclaims that he is bored. There appears to be a beer garden out the back. The Toad also inevitably succumbs to pressure and visits the gents. He manages to avoid the cat, having two of his own. Here is the cat so you no longer have to imagine it.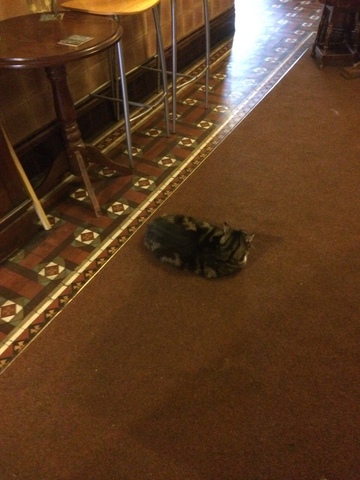 The Toad brings back the tale of going to the cubicle as there was a guy at the urinal. As per spaceman's original estimate, there was room for two, but The Toad was not prepared to stand alongside this total stranger. However, there was no ventilation in the cubicle and so it was horrendous and mouldy. Or perhaps horrendously mouldy.
BT sports football was on the TV as we came in, which is apparently Liverpool playing a friendly. We've only just finished the World Cup! It's too early!

We have wrapped up four pubs in a little over two hours, which is not a bad pace. We thus plot our subsequent path and decide not to do the Crown, where we got some nice pork pies last time. We also choose to skip the chippy, something spaceman had eyed up as a key step in the evening's drinking, as The Toad had evidently lunched well and lunched late.
Approximate time of departure: 5.25pm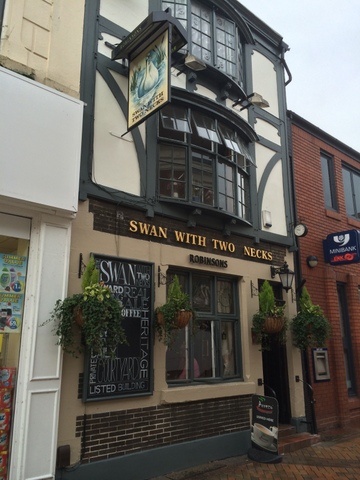 Approximate time of arrival: 5.30pm
We were venturing into new territory now. Our next planned stop had been the Arden Arms, but we diverted for a much-needed cash machine and saw the Swan With Two Necks. It seems that The Toad had thought there was a pub here.
We obtain, with cash of approximately £6.75 it seems, pints of Carling (Budvar was off) and Unicorn. The Toad had originally asked for a pint of Old Tom strong ale but upon discovering that it was £5.70 for a pint and 8.5% in strength, decided to avoid it. Very wise.
The rain had come during out last pub visit so we were finally coated up for some of the journey. Always good to bring a coat out and not just have to carry it all the time. Spaceman's coat was nearly left behind at the previous pub, having been put on a coat stand near the bar when spaceman went to the toilet. It probably seemed like a sensible decision at the time, like putting your phone in an unusual pocket, but it's inevitable that you will run the risk of general chaos by doing so whilst drinking.
Outside, an interesting mix of specials was advertised. Of particular note is the breakfast burger, the ingredients of which you can see below. It's something that spaceman has never had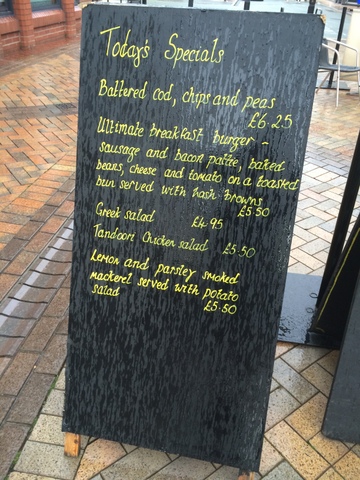 Once we have our beers, we settle down towards the middle of the pub, opposite the side part of the bar in a narrow-ish corridor. Both the front and back rooms weren't massively busy but still had... people, so we sought solitude. We delight in hanging our coats on the hooks under the bar. This is definitely the coathook pub crawl!
The Toad puts the cricket on the iPhone via Sky Player after England take a 4th wicket. Outdoor seating is available, both front and back, but it's very wet so we won't be sampling that, thank you very much. This is the rear area.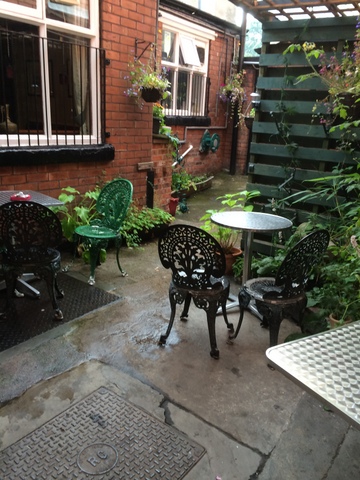 'Wind Of Change' comes on by the Scorpions. "A classic" utters The Toad. In unconnected news, we conclude on reflection that £6.75 seems expensive for the two pints we have purchased.
Spaceman then goes to the gents, which involves heading outside briefly first (genuinely - spaceman wasn't lost... this time). This is probably for the best really given the state of most gentlemen's lavatories in public houses. Keep some fresh air between them and the main bar area. Anyway, there was one cubicle and three segregated urinals, plus a hand dryer. None (or much less) of the social awkwardness of The Midland, it turns out.
Macarena comes on just as spaceman returns. Very much not a classic. In the front room, there is a busy picture on the wall depicting Manchester and Stockport pubs, ostensibly as part of a pub crawl. Spaceman recognises it from time gone by - in fact, it's from 2001. Inevitably, many of the bars featured have been frequented by spaceman or are shut. Or both.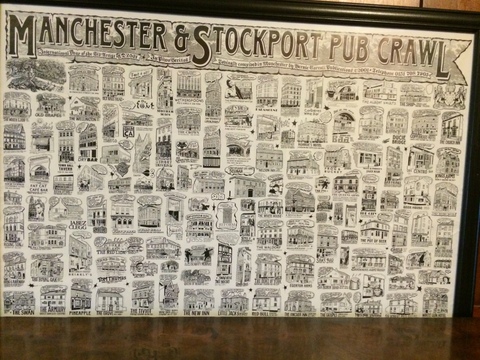 The Toad is drawn to a picture of "Heroes" back from 1995 (it says here), possibly football heroes. Further inspection confirms this, as it shows Pele, Fred Goodwin, Colin Price, Phil Neale and some other randoms. It's sunny again outside, and coats are not needed as we head off. We do at least remember to pick them up off the under-bar coat hooks.
Approximate time of departure: 6.10pm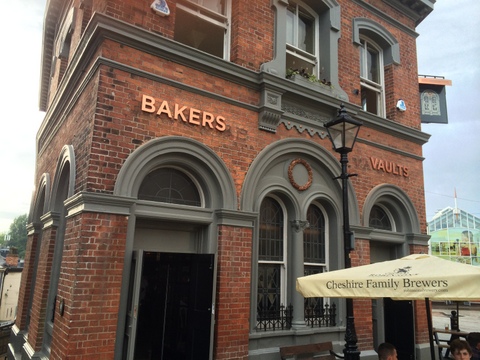 Approximate time of arrival: 6.15pm
Our pints of Amstel and Trooper set us back £6.90, which is expensive but this is a happening place. In other words, it's very busy and has been newly done up - spaceman's research had revealed that it had recently (re-)opened. So much so that we just about manage to obtain two stools at the bar, one commandeered (but peacefully) from another table.
Worthy of note on our journey to the Bakers Vault (apostrophe as yet unsighted) was this hilariously named shop.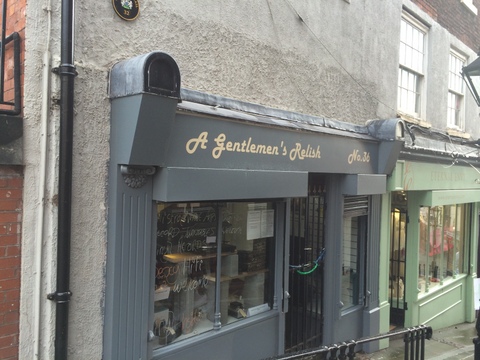 Well, spaceman thought it hilarious anyway, not that we ventured in. (We had drinking to do. This is a job, you know.) We also had this short but steep walk to get here.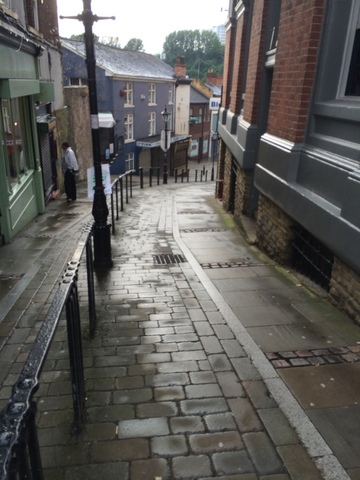 So the Bakers Vault is another Robinsons pub, which comes as a surprise since, in The Toad's opinion, they are normally old-fashioned, so this one goes against the grain somewhat. (Spaceman's notes then state that Robinsons are Cheshire's family brewers, which is relevant enough information.)
An old-style jukebox appears to be playing; we discover there are no more England wickets to report. We contemplate our next food option, having now moved too far from the originally-planned-but-then-rejected chippy just off the A6.
It appears that the place is so lively that we don't actually note anything else worthy of being written down, and we're soon on our way. Good venue, though.
Approximate time of departure: 6.45pm
Arden Arms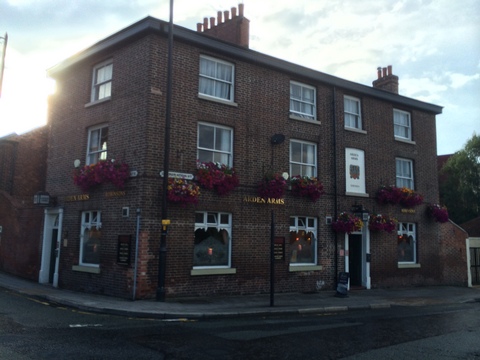 Approximate time of arrival: 6.50pm
The Toad goes to the bar out of turn (oops) to get pints of Becks Vier and Citra something or other for £.50. We contemplate our food options at what is somewhat of a gastropub. We had previously gone down the hill in search of good but noticed this place and the smell of chips coming from within was far too strong for our non-existent willpower.
As the sun started to go down, the pleasant evening light still offered some good pictures, here of Stockport's not-a-cathedral.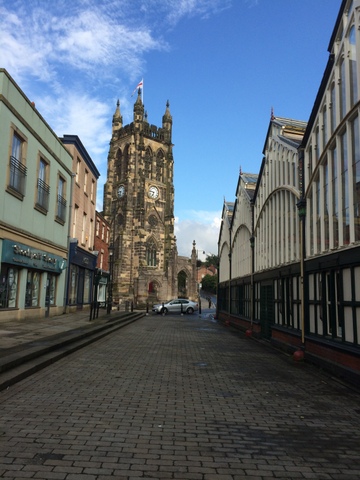 The Boars Head opposite the Bakers Vault was an option but we need food, and we need it bad(ly). The walk here felt like quite a touristy section - its an area that neither of us think we have been to (particularly spaceman). Spacemen then heads off to order food (we had found a table round the back rather than get a table in the restaurant-y bit as it was fully booked. We request chips, new potatoes (they sounded enticing and were at least something slightly different to chips) and garlic bread.
We appear to have stumbled across quite a popular venue. It's pretty busy and the bar area in particular is very crowded. The Toad is wearing a beer T-shirt ("I love beer" it says, which is demonstrably true, and it displays the logo of Corona Extra), and this reminds spaceman of the plan to also wear a beer T-shirt. A plan which was woefully failed to be executed.
Whilst the pub is busy, the area we have sensibly located is quiet; a perfect place to wait for our salty carbs.
This is the feast we received. You will note that some of the garlic bread is plain and some is cheesy. We do not mess around.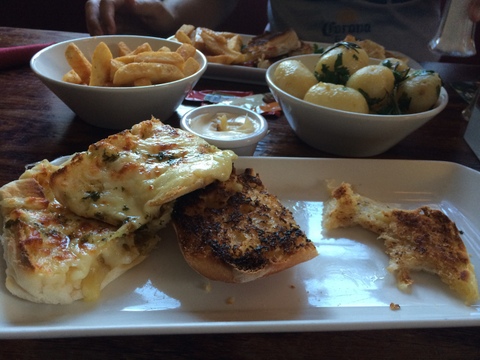 The boiled potatoes are a bit big and so not that amazing, despite being with rosemary. However, we use our culinary skills to make them more exciting, crushing them with seasoning and garlic mayo.

Whilst eating (i.e. during the period in which we consumed the food, rather than actively chewing), we both venture to the gents, which are a lot cleaner than those of the other pubs we have visited today (not least the horrendous experience(s) that The Toad had suffered). For the toilet quantification enthusiasts amongst you, there were three urinals and one cubicle, with possibly a dining door as you enter (it says here). Ever professional but forgetful, spaceman has to go back to confirm the arrangement.
During eating, spaceman speeds up with the beer drinking, a common occurrence not generally shared with many others, including The Toad, who slow down. The Toad therefore falls behind in pint consumption and is surprised to learn of spaceman's position.
Undeterred by this potentially crucial mismatch, we both end up with empty glasses. although not necessarily at the same time. All the while we formulate a plan for the next few pubs. It requires us to travel back whence we came after a relatively lengthy stop here.
Approximate time of departure: 7.40pm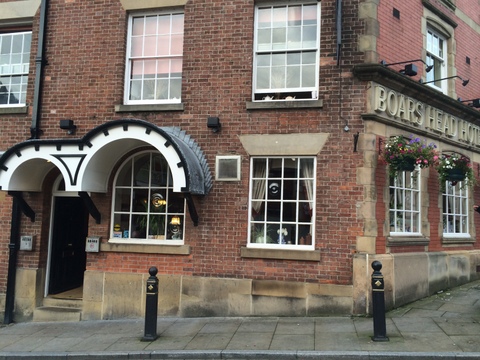 Approximate time of arrival: 7.45pm
At the Boars Head (seemingly no apostrophe), or the Boars Head Hotel according to the sign on the side, we spend a mere £3.80 (or possibly £3.50) on a pint of Samuel Smith's "old brewery bitter" and a pint of Double Four lager (which is The Toad's suggestion).
There's some old guy causing a bit of trouble as we get there but he eventually leaves. He was basically shouting at everyone, not us. We chat with some of those who remain behind.
It is turning into a glorious evening, full of blue skies and our coats now seem like a waste, an unnecessary burden. We look across to the Bakers Vault, one of our earlier destinations, and there is quite an obvious contrast of old man's pub vs new trendy bar.
A couple of fans, one floor-mounted and one in the wall, keep us cool. Whilst it is quite humid, it's hardly the hottest day of the year. We spend much of our time here watching older people interact. Maybe we're tired. They are fairly vocal, though, so it is quite distracting.
The beers go down slowly; we are kinda content. It's also our 8th beer, of course. That probably explains a lot. We continue to listen to the locals' conversation, which is quite entertaining, although we forget why. Probably because they gleefully, and regularly, take the piss out of each other.
As we leave, the sun is well and truly out, our coats rendered redundant.
Approximate time of departure: 8.25pm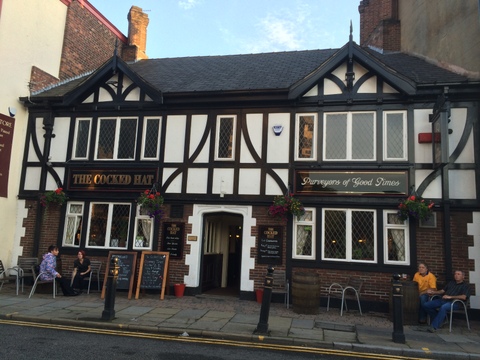 Approximate time of arrival: 8.30pm
We hand over £6.10 for pints of Estrella lager (something different for our pub crawls) and Trapper's Hat bitter (The Toad's choices always being a little bit different). It's not too busy in here, which probably suits us. A football match of Bulgaria vs Germany is on the TV, which confuses us for a short while since the World Cup has only recently finished. We figure out that it must be junior football, showing the desperation of football fans to have something, anything, to watch. (It is later confirmed to be the under-19s.)
A guy sets up for some live music, and it looks like he will be playing acoustically. He quickly opens with Wonderwall by Oasis, at least mixing it up a little by changing the pitch and tempo very slightly. He says no-one was here last time. Unfortunately, he follows this statement with a cheesy ballad which people seem to fawn over. Here he is.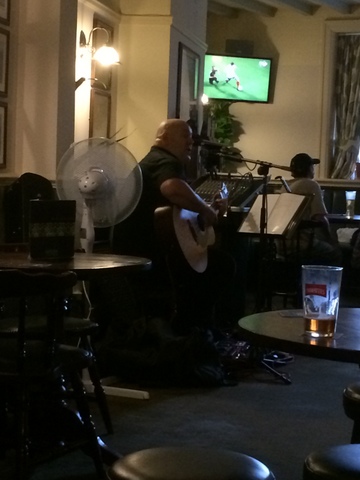 The singer/guitarist continues to play a number of tunes. He's not bad, although it would be better if he didn't resort to songs such as "You're Beautiful" and other similarly cheesy numbers. We debate the next place to go to during a musical include. Not sure if we actually decided, but we do continue to our last venue of the day.
Approximate time of departure: 9.15pm (presumed)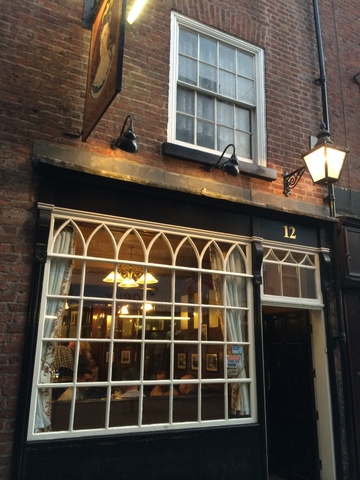 Approximate time of arrival: 9.20pm
In developments uncannily similar to those in the Boars Head, we spend £3.80 on pints of Double Four lager and Samuel Smith's brewery bitter. This wasn't quite what we were planning for as our finale. The barman was convinced that our two points and one packet of crisps was £3.80, but spaceman persuaded him that it did in fact exclude the crisps. Go spaceman.
We decide to stand at the bar since it's fairly busy and there's no obvious seating. Besides which, we also can't be bothered moving after having that prolonged pricing discussion with the barman. We've completely lost track of whose round it is and who ordered what, especially since spaceman got the food order in. It doesn't really matter.
The beef crisps just aren't beefy enough so we get some chilli peanuts, which do have a satisfying spice kick and are very tasty. We either have a bit more banter with the barman about prices, or spaceman has noted down a repeat of the earlier exchange. The barman certainly joked about keeping the change every time spaceman ordered some more chilli peanuts or the like.
As we note that there is no sign of the forecast thunderstorms, our talk turns to how to get home, especially for The Toad as he lives a way away. As we head, after a whole afternoon and evening of taking notes, spaceman nearly walks out of the pub without the precious notepad. That would have been crushing (and you wouldn't have been reading any of this now). Spaceman wisely nips to the toilets before finally heading but no information survives that trip.
Approximate time of departure: 10.20pm (presumed)
As headed back to the centre of Stockport, we noticed this weird roundabout.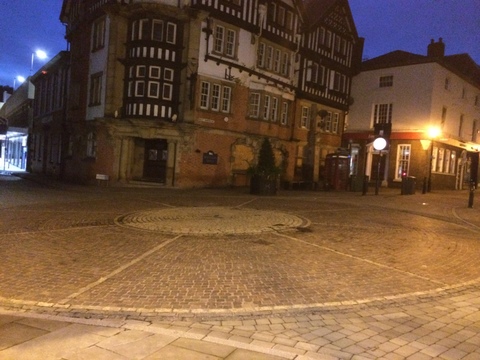 We retraced some of our steps, going back past the Swan With Two Necks. For some reason, we engaged in some banter with those who sat outside, possible because of this guy holding on to the tree, or he may have done this in reaction to having his photo taken. (The previous photo that spaceman took was of the pub itself.)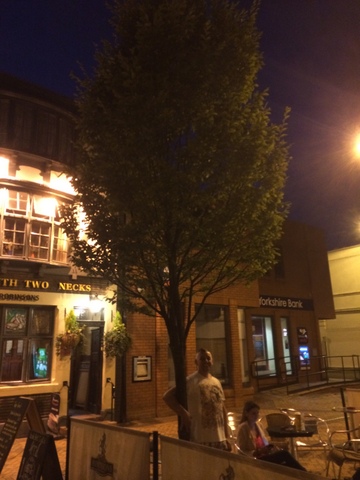 The Toad got picked up by the other half, whereas spaceman perhaps got on a bus back up the A6 (it's not too far, but a bit too far to walk after ten pints). That rounded off a satisfying coverage of pubs in Stockport which we had missed out in the first first Stockport pub crawl, although we can only do so many in one go.
We are eyeing up going a little further west next time, expanding our suburban Greater Manchester pub crawls to either Didsbury (home to Eddie) or Sale (home of barney from the original pub crawls).
As we rapidly approach the end of the year (it's nearly November as spaceman writes this), however, it seems likely that the next in the series will take place in 2015.
The End