| | | |
| --- | --- | --- |
| | CurryHouseReview | Home |
MelonFarmLinks: Socialising ♦ SlowPubCrawl ♦ RestaurantReviews ♦ PubGuide ♦ PubStagger
Latest updates:
5 October 2023 - once again belated reporting on the last visit, to Rajdoot
16 March 2023 - a double header, separated by winter, of Dishoom and Wah Ji Wah
6 June 2022 - a catch-up on Sangam and Akbar's
19 October 2021 - and the Curry Night hits 100, inevitably at EastzEast
15 August 2021 - a bit of a catch-up after two virtual nights and the 99th at Scene
17 March 2020 - a report from our latest trip to Indian Tiffin Room
1 March 2020 - a catch-up of the 2019 visits to Wah Ji Wah and Rajdoot
24th March 2019 - a bit sharper with the Sangam review, a place which had everyone raving about it
23 February 2019 - in every sense belated: last year's Scene visit
16 August 2018 - well-earned upgrades to full reviewer status for AliG and V-Ro
12 August 2018 - a trip back to Zouk prompted mixed thoughts on the set menu
19 July 2018 - eventually got round to recounting a slightly disappointing trip to Lal Qila in town
CHR ♦ Venues ♦ Reviewers ♦ TopCurryHouses ♦ RusholmeMap ♦ History ♦ Links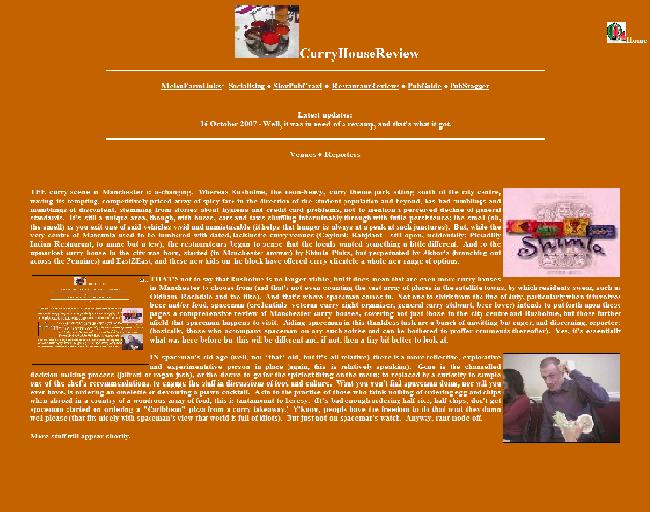 THAT'S not to say that Rusholme is no longer viable, but it does mean that are even more curry houses in Manchester to choose from (and that's not even counting the vast array of places in the satellite towns, by which residents swear, such as Oldham, Rochdale and the like). And that's where spaceman comes in. Not one to shirk from the line of duty, particularly when it involves beer and/or food, spaceman (credentials: veteran curry night organiser, general curry stalwart, beer lover) intends to put forth upon these pages a comprehensive review of Manchester curry houses, covering not just those in the city centre and Rusholme, but those further afield that spaceman happens to visit (or maybe not as the case may be). Aiding spaceman in this thankless task are a bunch of unwitting but eager, and discerning, reporters (basically, those who accompany spaceman on any such soirée and can be bothered to proffer comments thereafter). Yes, it's essentially what was here before but this will be different and, if not, then a tiny bit better to look at.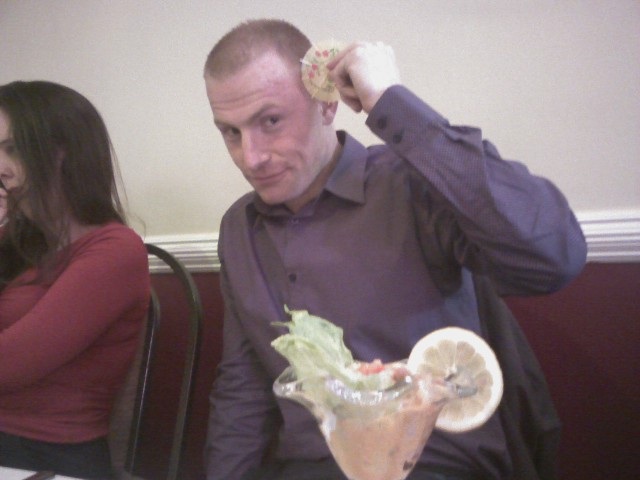 IN spaceman's old age (well, not *that* old, but it's all relative), there is a more reflective, explorative and experimental person in place (again, this is relatively speaking). Gone is the channelled decision-making process (jalfrezi or rogan josh), or the desire to go for the spiciest thing on the menu; to replaced by a curiosity to sample one of the chef's recommendations, to engage the staff in discussions of food and culture. What you won't find spaceman doing, nor will you ever have, is ordering an omelette or devouring a prawn cocktail. Akin to the practice of those who think nothing of ordering egg and chips with a pint of Carling when abroad in a country that is home to a wondrous array of food and drink, this is tantamount to heresy. (It's bad enough ordering half-rice, half-chips; don't get spaceman started on ordering a "Caribbean" pizza from a curry takeaway.) Y'know, people have the freedom to do that what they damn well please (that fits nicely with spaceman's view that world is full of idiots). But just not on spaceman's watch. Anyway, rant mode off.
10 January 2018 - finally time to recount the reviews of EastzEast for the 20-year anniversary spectacular
17 October 2017 - eventually adding in May's trip to Akbar's, an old favourite
22 March 2017 - a long-awaited return to Swadesh (after the Saffron Room was closed)
13 November 2016 - we revisit EastzEast on Blackfriars after a four-year gap
2 October 2016 - a belated catch-up of the summer trfips to Spicy Mint and Indian Tiffin Room
1 March 2016 - it's not long before we have another, Mowgli Street Food, to try
1 November 2015 - another brand new Manchester curry house to visit, namely Asha's
27 July 2015 - another venue opens in town and in a flash we're there (at Scene)
27 May 2015 - after five years, we headed back to Khan Ba Ba for the 80th Curry Night
15 December 2014 - the undisputed best curry house of Rusholme, Ziya, was recently stumbled across
7 October 2014 - belated addition of a review for our July visit to Imli by Lal Qila
9 February 2014 - a new venue, Spice Lounge, added to the list
23 December 2013 - another visit to Zouk towards the end of 2013, plus Litmus becomes an official reviewer
27 November 2013 - belatedly putting up the 75th Curry Night, an emotional (ish) return to Akbar's
29 May 2013 - a relatively rare trip to Rusholme, and rarer still to Al Bilal
7 March 2013 - Ashoka is another place we hadn't been for a while
11 November 2012 - a return to Rajdoot after a four-year break sees a number of reviews offered
3 November 2012 - the History page has been updated following new information which came to light
25 September 2012 - tales of poor service at Bollywood Masala, another addition to the town crowd
8 May 2012 - time passes, curries get eaten, and reviews get penned - for EastzEast (Blackfriars)
23 February 2012 - Mughli was visited, although reviews were thin on the ground (spaceman had to beg, dammit)
26 October 2011 - a new era of franchising takes us to Zaika
10 October 2011 - a return to Swadesh, not quite indundated with reviews, so belatedly put up
19 February 2011 - a new year, a new curry house to visit (this time Zouk)
15 November 2010 - some reviews of t'other EastzEast, plus a promotion to reviewer for Mayhem
11 October 2010 - finally put something on the TopCurryHouses page
9 October 2010 - curry nights cropping up with reckless abandon, so here's Shahi Masala
27 September 2010 - the visit to the new (ish) Lal Qila in Manchester is now reported
24 July 2010 - historic 50th Curry Night at Lal Haweli documented
22 June 2010 - belated(ly received) reviews of (new) Zaika up
5 March 2010 - Shimla Pinks closes!
27 February 2010 - on a roll as the reviews for Swadesh are quickly posted
24 February 2010 - page added for Khan Ba Ba, plus King Cobra and Zaika (both shut, alas) finally revamped
16 November 2009 - page added for Al Nawaz
24 August 2009 - page added for Ashoka after Curry Night
18 March 2009 - page for Punjab added following recent Curry Night
13 December 2008 - Shezan and Spicy Hut pages revamped
7 December 2008 - Rajdoot page and reviews added
12 October 2008 - Mughli page revamped and latest reviews added
1 August 2008 - Karims page and reviews added - worth a look
23 June 2008 - Royal Naz and Sangam pages revamped
15 June 2008 - Lal Qila page revamped
14 June 2008 - Al Bilal reviews added for latest visit
1 June 2008 - Al Bilal and Lal Haweli pages revamped
27 May 2008 - Hanaan page revamped
20 May 2008 - Curry Night history added
15 May 2008 - Brungerio's review of EastzEast finally supplied (and added the same day)
28 April 2008 - EastzEast added
11 February 2008 - Shahenshah added
29 November 2007 - Shaandaar revamped, shut or not
27 November 2007 - Lights Of India revamped
25 November 2007 - Latest reviews of Shimla Pinks now on
21 November 2007 - Shimla Pinks and Akbar's now on
13 November 2007 - All the reviewers now on there
16 October 2007 - Well, it was in need of a revamp, and that's what the Curry Night Review got